1

Protect your hair from sunburn when going out
Avoid exposing your hair to the sun
Avoiding sun exposure is one of the most effective ways to protect your hair from sunburn. Exposing your head to the sun not only damages your hair, but also causes a lot of damage to your skin.
For protection, tie your hair, braid your hair, wear a wide-brimmed hat, use a turban, etc. These are useful accessories that help you shield your hair and prevent your hair from being exposed to harmful sunlight.

Use sunscreen spray for hair
Under the impact of UV rays caused by the sun, your hair can hardly be restored, at these times using sunscreen hairspray is the optimal solution to help your hair avoid UV rays. touch.
You don't have to worry that using sunscreen spray on your hair will cause stickiness problems because sunscreen sprays have a light texture, they won't make your hair greasy, sticky, or uncomfortable on your scalp. friend. In case you need to use sunscreen urgently, you mix a little water with normal sunscreen, mix them well and apply it to your hair.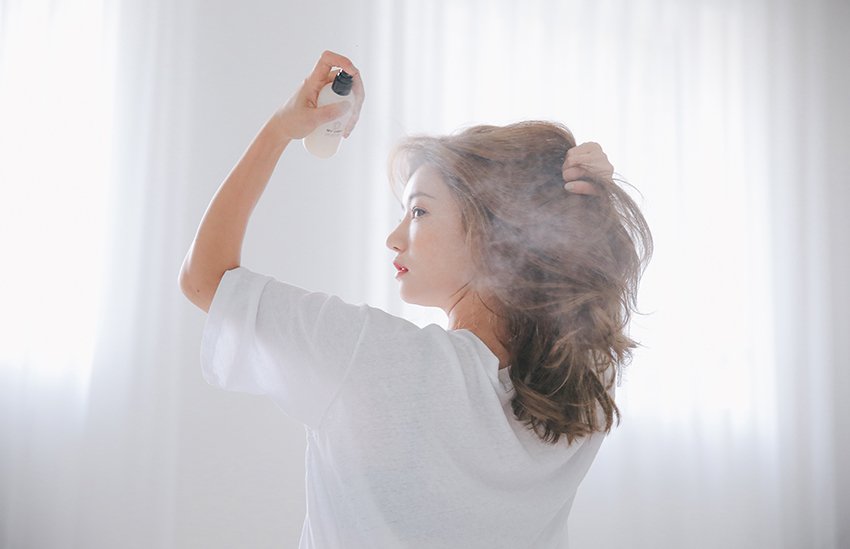 Use hair oil
Hair oil will help your hair be healthier and more bouncy to resist the hot summer sun rays. In addition, they also provide a great number of nutrients for your hair.
Besides, essential oils contain mild ingredients, bringing a feeling of relaxation, comfort, and a faint fragrance that is hard to fade. Essential oils also contain many nutrients, balance moisture for hair, and make hair softer and smoother after every day out.
Limit the use of hair styling chemicals
Most styling gels or sprays will contain alcohol or peroxide. These substances cause hair to dry out and absorb more sun and leading to sunburn.
So on hot summer days, you should limit the use of chemicals to style your hair.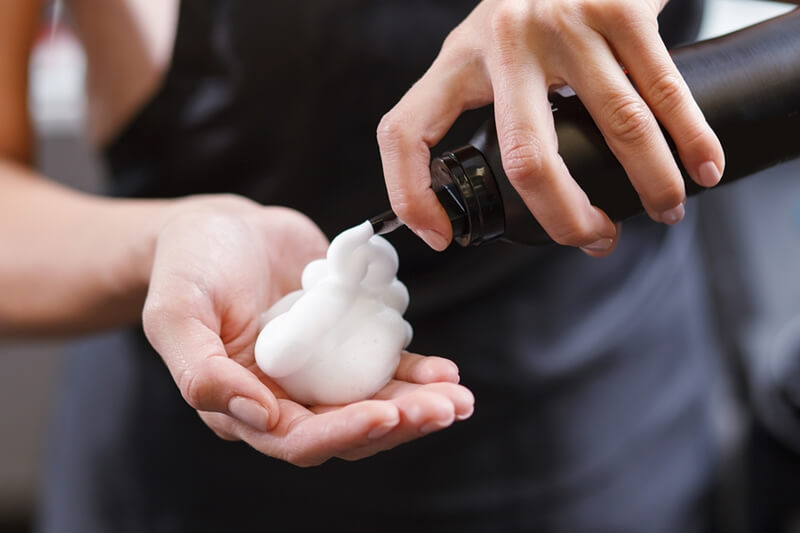 Do not go out in the sun while your hair is still damp
You may not know, if your hair is wet, it will become weaker in the sun. Therefore, you need to avoid going outside when your hair is still wet or you do not want your hair to get sunburned.
In case you go swimming or bathe, remember to use a hat or turban to prevent direct sunlight on your hair.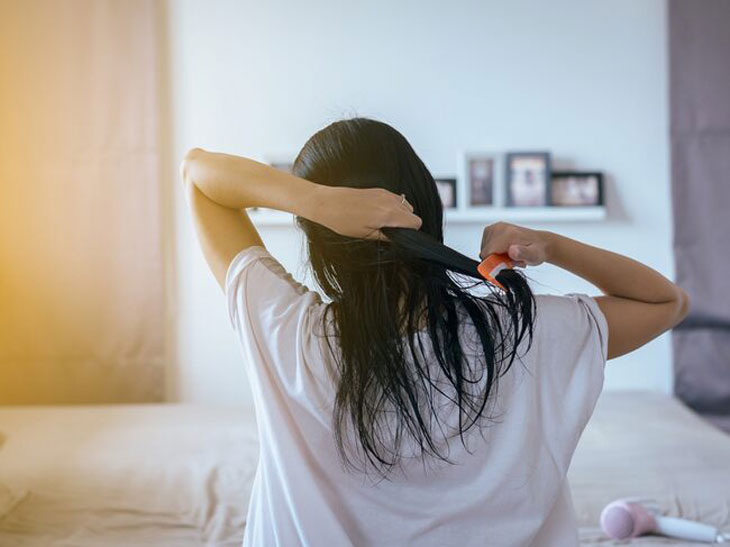 2

Take care of healthy and beautiful hair at home
Trim your hair regularly
Regular trimming has many benefits for your hair during hot summer days. The process of trimming hair will help remove dry ends and also stimulate faster and healthier hair growth.
This also contributes to minimizing the condition that the ends of the hair are often badly sunburned under the sun.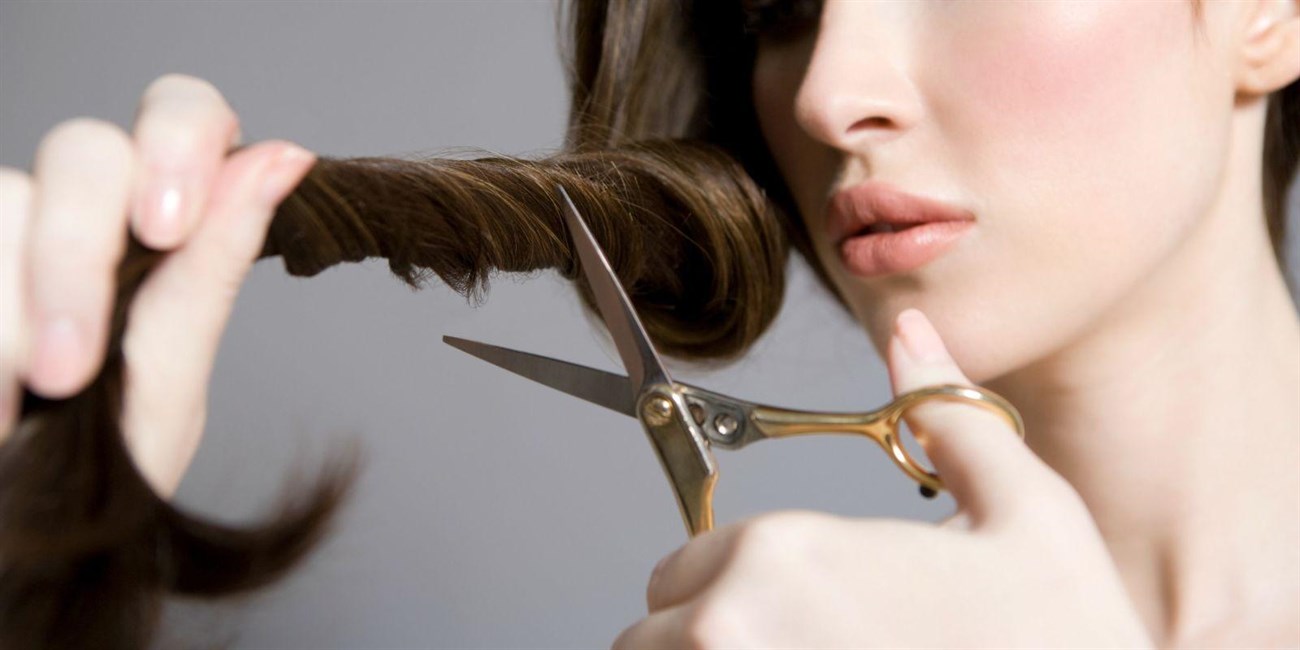 Use a hair dryer properly
To keep your hair healthy and full of waves, you should also know how to use it properly, here are a few notes when using a dryer that you need to know:
Dry your hair long before drying: Drying your hair will help the drying process quickly and limit the heat from the dryer causing damage to your hair.
Choose the right drying mode: Normally, the dryer will have a cool drying mode and a hot drying mode. The cool drying mode only blows out the wind, no heat will help your hair get the best protection. However, the hair drying time with this mode is also longer.
Maintain a distance between the dryer and hair: Holding the dryer close to your head does not help you dry faster, on the contrary, it also damages hair and scalp. It is recommended to keep the machine from 15-20 cm away from the hair and tilt the machine at an angle of 30 – 45 degrees to avoid the hot steam from the machine directly affecting the hair.
Dry only the roots: If you want to use a hair dryer to style your hair, you can dry it the way you want. In case you just want to blow-dry your hair to go out, you should only dry the roots and let the ends dry naturally. This will make your hair less dry and less prone to split ends.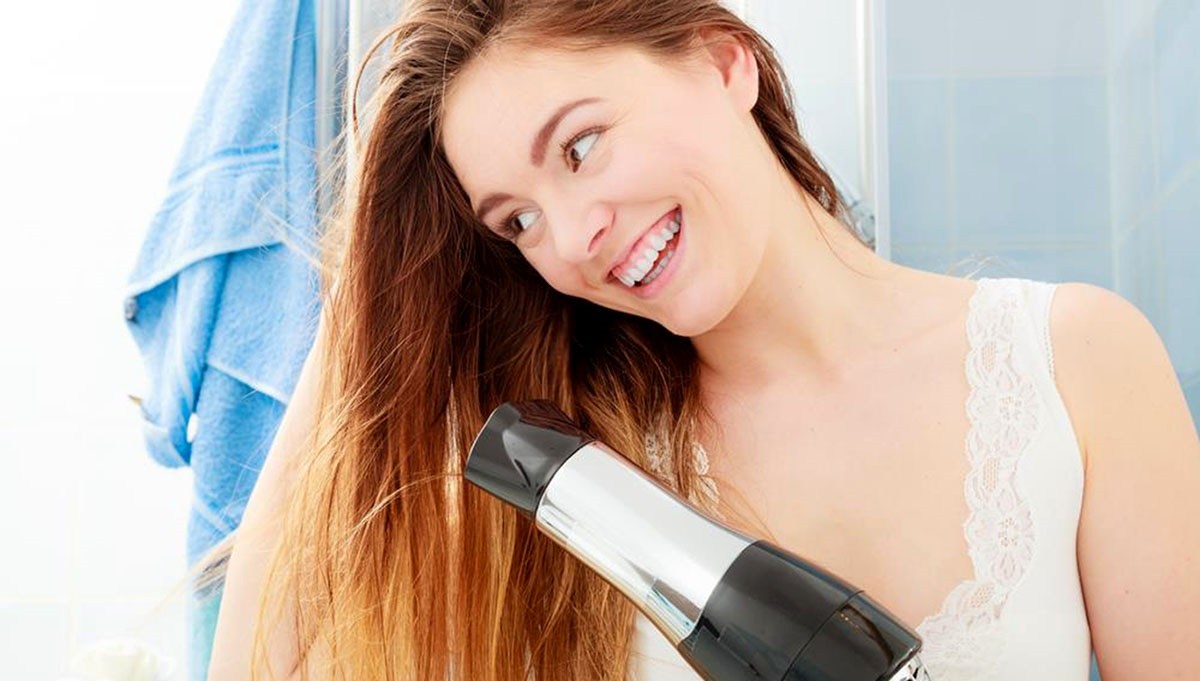 Restores hair when there are signs of dryness, split ends
Hair restoration has many different implementation methods, you can go to the hair salon for a quick recovery or restore your hair at home by the ways below.
Use honey: Honey is a natural humectant, helping to attract and retain water, and contributing to improving sunburned or dry hair. You need to use 1/2 cup of honey to massage into wet clean hair (if long hair can be used more) and leave for about 20 minutes, then rinse with warm water. To make the honey less sticky and easier to apply to your hair, you can add a little olive oil (about 2 tablespoons). For severely damaged hair, you can mix honey with a protein-rich substance like butter or egg yolk as often as once a month.
Use yogurt: After each shampoo, apply yogurt evenly on your hair in the direction from root to tip. Massage for 5 minutes, then cover your hair with a warm towel for 30 minutes and then rinse with cool water. Do this 2 times a week.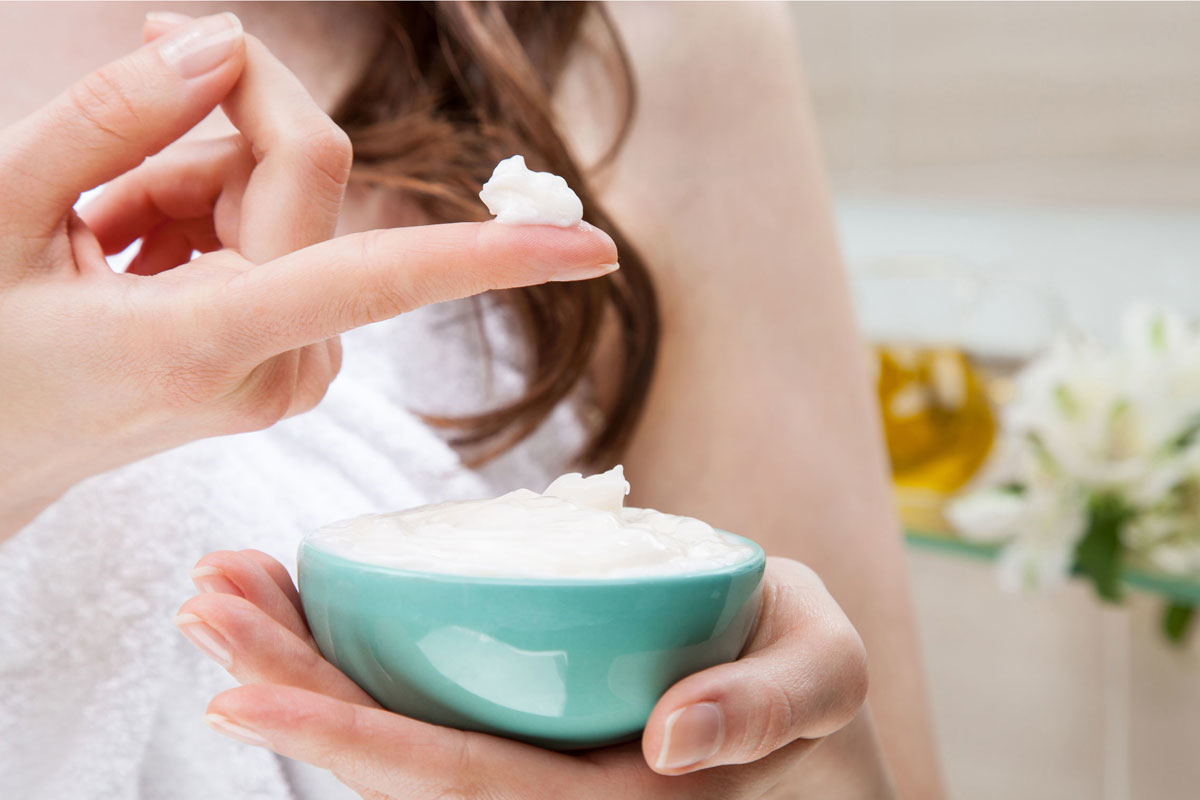 Incubate your hair with papaya: Choose medium-sized ripe papaya, peel it, put it in a blender, puree it, then add half a cup of unsweetened yogurt and apply it to your hair. Wait about 20 minutes and then wash it off.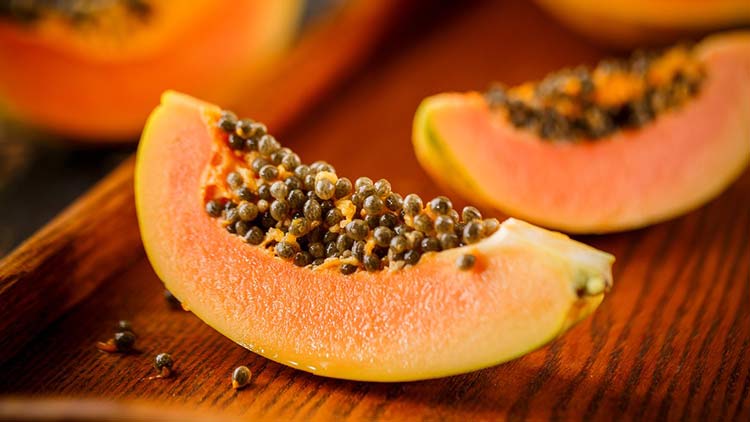 Incubate your hair with pears and olives: You can make nutrients from pureed pears mixed with heated olive oil, then apply them to your hair and incubate with a towel. This type of nutrient not only helps you prevent split hair but also gives you shiny hair thanks to the olive oil content in it.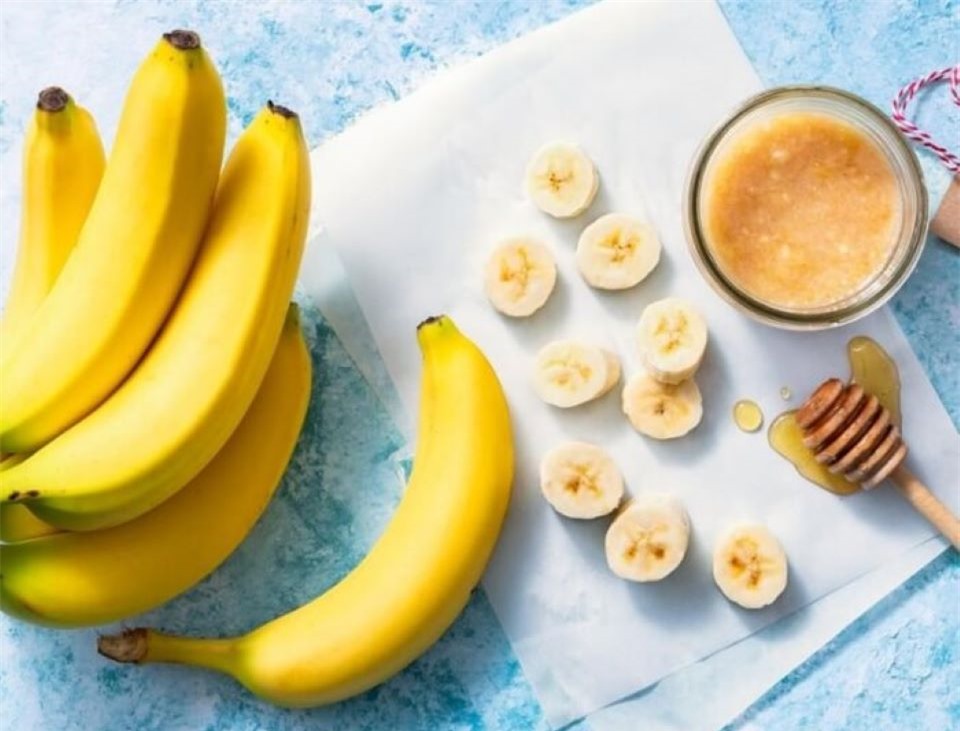 Hair conditioner with banana and honey: You puree banana and honey. Then, you apply it to your hair and massage it for about 20 minutes to condition your hair. If you do this with a frequency of 2 weeks/time, the hair will become healthy and shiny.
Above is an article that guides you through 8 ways to protect your hair from sunburn in the summer. Wish you the successful implementation of the above methods and have beautiful healthy hair!