Step 1: Clean the oil on the skin
The characteristics of acne skin often secrete a lot of oil, sebaceous glands are easily blocked by dirt due to skin exposure to the external environment, even previous layers of cosmetics. So, before you start applying makeup, you need to clean this oily layer.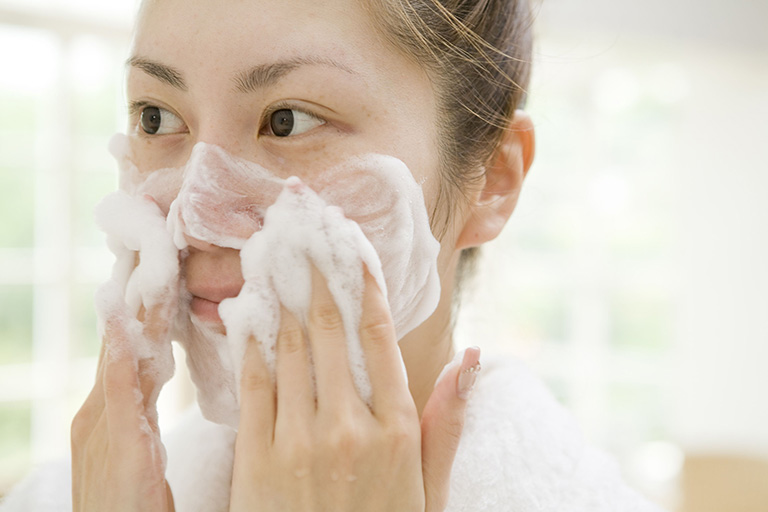 Please clean the skin by using a daily cleanser with a pH between 5.5 – 6 and containing salicylic acid (from less than 1% ), because this acid helps the skin to be cleaned of dirt, preventing bacteria from spreading. Acne-causing bacteria are located deep in the pores but still do not lose the necessary nourishing film.
Step 2: Use a skin moisturizer
Oily skin is the skin that easily loses water and the oil glands are overactive. Therefore, after completing the facial cleansing step, proceed to apply moisturizer to the skin.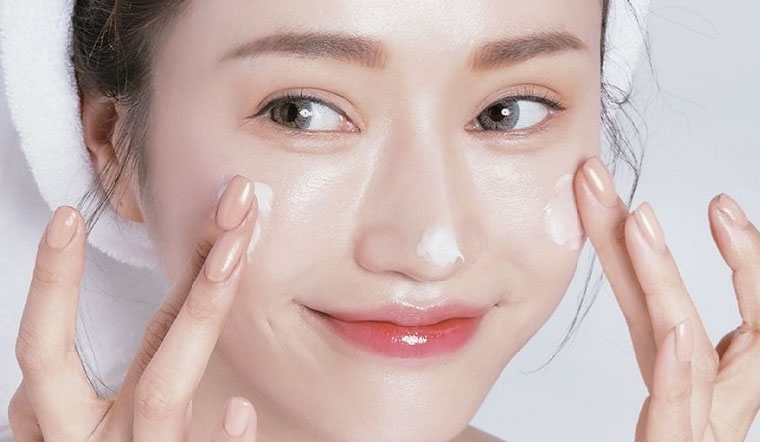 Products containing hyaluronic acid and glycerin are very moisturizing for oily skin.
You should choose moisturizers for oily skin, providing water in a thin form such as moisturizing gel, essence , skin serum. They make it easier for oily skin to penetrate without clogging the skin after makeup steps for oily skin.
Step 3: Apply sunscreen
This is an important step for those of you with oily, acne-prone skin that shouldn't be forgotten. The summer weather is very hot and the ultraviolet rays will be even more harmful to your skin.
You should choose a sunscreen suitable for oily skin, with an SPF of 30 or higher. In addition, to ensure that the cream is absorbed into the skin and promotes the best effects, do not forget to apply them to the skin 30 minutes before going out.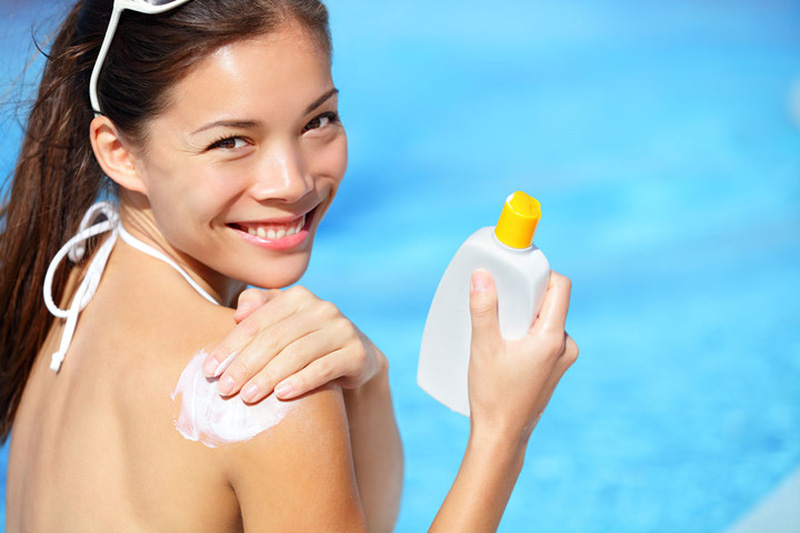 Step 4: Apply primer and foundation
You should use a primer that moisturizes and contains nutrients to help tighten pores for the skin. You need to choose transparent gel creams or colorless creams for the following makeup steps for oily skin.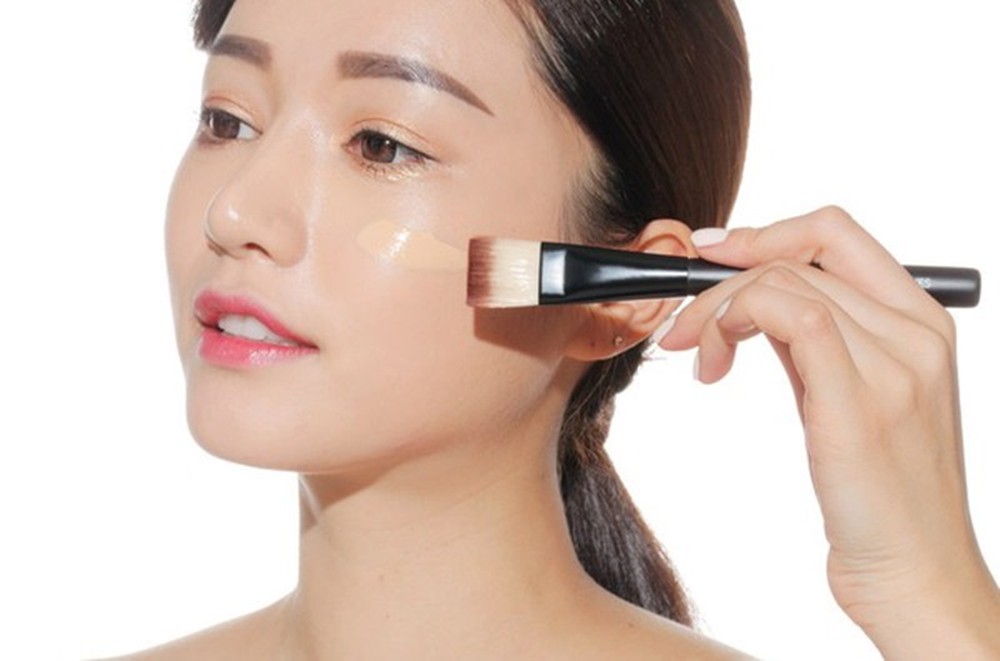 Hot weather, you need to apply thin cream , new skin will not clog pores and generate acne. You should use types like cushion (water powder – foundation in water form), because they have a liquid texture for a light foundation, helping you to own a beautiful natural makeup that is not heavy because of the thick layer of cream. .
To choose a foundation for oily skin, look out for words like "oil free", "for oily skin", "no-sebum", "for matte", "be matte". These are the golden keywords for you when choosing products for oily skin, as these products will assist in controlling and limiting excess oil on the skin's surface, helping to reduce shine, and at the same time reduce the appearance of oily skin. clogging pores and thereby reducing the risk of acne formation.
Step 5: Use powder and blush
Powdered powders are more hygroscopic than compact powders, but still do not thicken makeup, providing a beautiful, smooth, but natural matte makeup. When using, you just need to apply a thin layer of powder to the skin is enough.
Next, you can help your face become more beautiful and sharp with a little blush.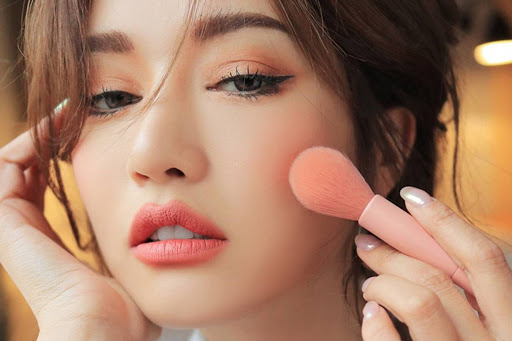 Step 6: Make up eyebrows and eyes
Depending on the style and preferences of each person, there will be different eyebrow and eye makeup. To match the current trend, you can choose to draw eyebrows in brown, dark brown or black tones.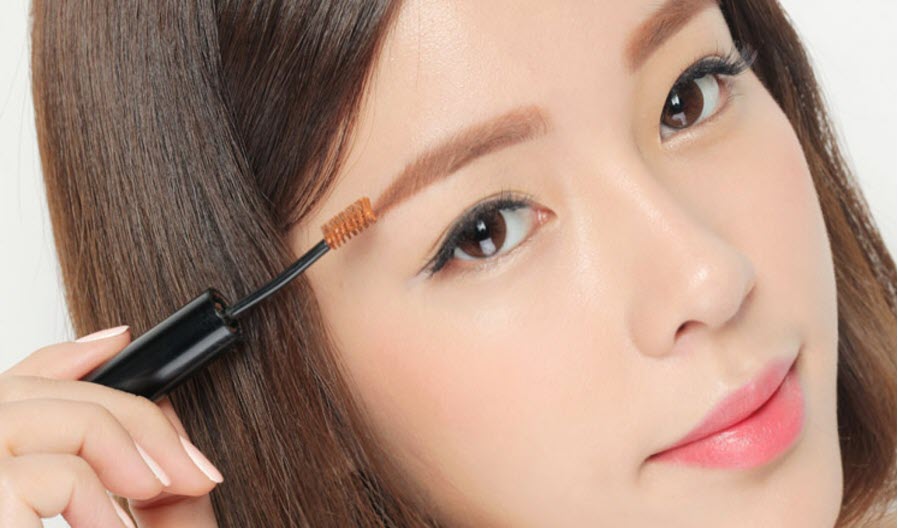 Oily acne skin, you should choose a gel-based eyebrow pencil, to help your eyebrows always last longer. Always choose eyeliner (eyeliner) and mascara with a water-resistant function – "Waterproof", so as not to smudge the eye makeup when the eyelids are oily.
Step 7: Lipstick and mineral spray
Using a lipstick you love to make your lips more beautiful is one of the last steps when applying makeup. You can choose the right color tone for your style and personality to help you feel more comfortable and confident.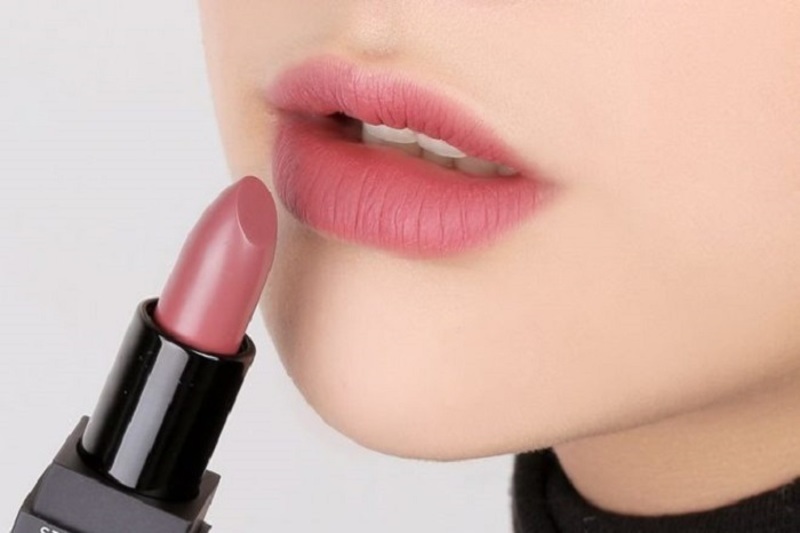 Finally, before going out, don't forget to spray mineral water! This will support the foundation to last all day on the skin, even if it is oily, the makeup will last for a long time and still be beautiful.
Hopefully, the above article will guide you effectively on how to apply makeup for oily skin in the summer. Any questions please leave a comment below!