Korean cuisine is known for its diverse and delicious noodles. With variations in flavor and preparation techniques, Korean noodles offer something for everyone. Explore the regional specialties and discover your favorite type of noodle.
Korean Noodles: Exploring the Unique Flavors
Korean noodles distinguish themselves with their larger and firmer round strands in comparison to Vietnamese noodles. A standout characteristic of Korean noodles is their bold and spicy chili aroma, complemented by a gentle hint of garlic and a delightful sweetness that provides a refreshing taste. Join us as we delve deeper into the world of Korean noodles in the subsequent article.
"Try the Authentic and Spicy Flavor of Samyang's Traditional Chicken Ramen"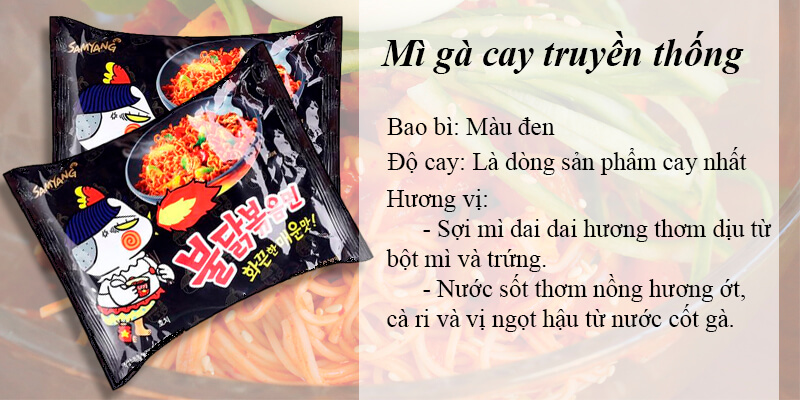 Samyang Ramen
Samyang Ramen is a popular brand from Korea known for its hot and appealing spicy flavor.
The product is made from fresh and delicious ingredients, featuring firm noodles, a subtle aroma from wheat flour and eggs, and a flavorful and sweet broth derived from chicken extract.
Packaging: Black
Spiciness: The spiciest product
The flavor of our product is:
Our noodles are made from high-quality wheat flour and eggs, resulting in a firm and chewy texture. They possess a subtle yet delightful aroma that adds an extra layer of deliciousness to every bite.
Experience the bold and tantalizing flavors of our signature sauce. Our artisanal blend combines the fiery kick of chili and savory spices of curry, balanced perfectly with the subtle sweetness derived from chicken extract. Indulge in the exceptional taste and rich heat that our flavorful sauce brings to your culinary creations.
"This noodle costs about 25,000 Vietnamese dong per pack."
Double Spicy Chicken Samyang Ramen Challenge Sparks Viral Frenzy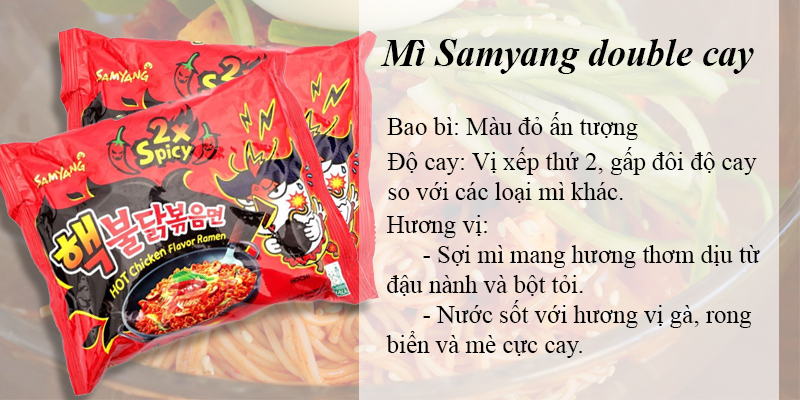 If you are a fan of spicy food, we highly recommend trying the Double Spicy Chicken Samyang Ramen. This unique Korean dish is known for its intense heat, offering a double dose of spiciness compared to other spicy noodles.
Our noodles are expertly crafted using a blend of top-notch potato starch and premium wheat flour, utilizing cutting-edge techniques. With every bite, you'll experience the delightful softness and chewiness of our noodles, ensuring a satisfying and enjoyable meal. Our sauce boasts a tantalizing combination of spicy chicken, seaweed, and sesame seeds, resulting in a robust and flavorsome delight.
Packaging: Exceptional red color
Spiciness: This type of noodle is considered the second spiciest option, with double the spiciness of other noodle varieties.
Flavor:
Soft and Chewy Soybean and Garlic Noodles
Indulge in the delightful experience of our delicious soybean and garlic noodles. These noodles are crafted to perfection, combining soft and chewy textures with a tantalizing aroma of savory soybeans and garlic. With each bite, you will be transported to a world of rich flavors and irresistible savoriness. Treat yourself to this incredible culinary creation today!
Seaweed Sesame Chicken Curry Sauce: A delectable blend of robust curry, succulent chicken, savory seaweed, and aromatic sesame seeds with a tantalizing spicy kick. Enjoy a burst of intense flavors in every bite.
"This noodle costs about 30,000 Vietnamese dong per pack."
US Launch of Curry Spicy Chicken Samyang Ramen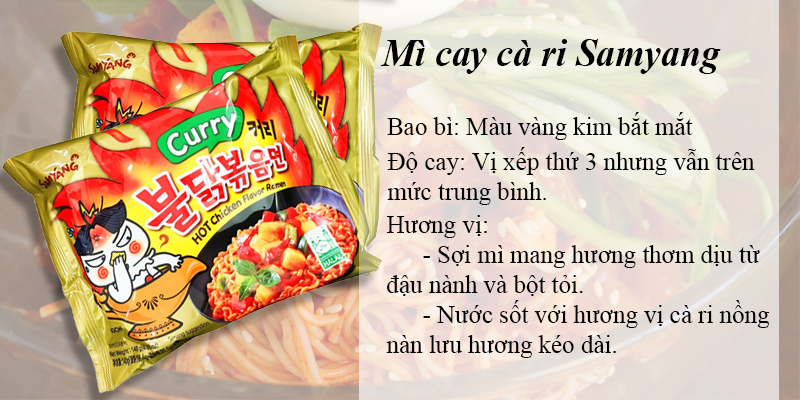 Curry Spicy Chicken Samyang Ramen
Experience an unexpected combination from the Samyang Spicy Chicken Ramen product line. With its fragrant aroma of curry and the familiar spiciness of Korean noodles, this Curry Spicy Chicken Samyang Ramen is sure to leave a lasting impression. Don't miss out on the chance to try its unique flavor!
Packaging: Our product features an eye-catching golden yellow color that is sure to grab attention.
Spiciness: Ranked third, with an above-average level of spiciness.
Flavor:
Soft and Chewy Noodles
Our soft and chewy noodles are made from the finest soybeans and flavored with a hint of garlic. The mild aroma and delicate texture make them a perfect choice for any meal. Enjoy these delicious noodles on their own or add them to your favorite stir-fry or soup recipe for a satisfying and flavorful dish.
Curry Sauce
Indulge in the delightful flavors of our curry sauce. Made with the finest ingredients, this sauce offers a rich curry taste that is sure to satisfy your taste buds. Its lingering fragrance will leave you craving for more. Perfect for adding a touch of spice to your meals, our curry sauce is a must-have in your kitchen. Try it today and elevate your dishes to a whole new level.
"This noodle costs about 25,000 Vietnamese dong per pack."
Japan Launches Samyang Ice Spicy Chicken Ramen Cold Noodles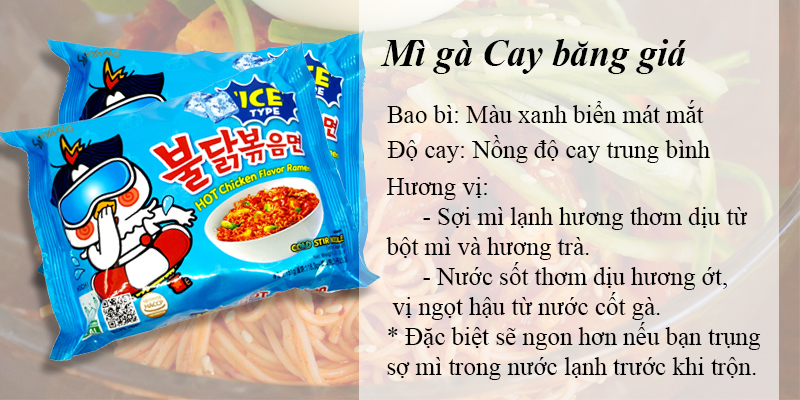 This dish is a popular choice for hot summer days, inspired by Korean cold noodles. It is known for its refreshing flavor of noodles made with flour and tea, paired with a mildly spicy sauce and a hint of sweetness from chicken broth. For optimal taste, it is recommended to rinse the noodles in cold water before mixing them.
Packaging: The product is packaged in a refreshing blue color.
Spiciness: This dish has a moderate level of spiciness.
Flavor:
Cold, fragrant noodles made from flour and tea.
A flavorful sauce infused with the delicate essence of chili, featuring a sweet undertone derived from high-quality chicken broth.
To enhance the flavor and texture of the noodles, it is highly recommended to rinse them in cold water before incorporating them into your dish. This simple step can greatly elevate the taste and overall experience of your meal.
This noodle costs approximately 30,000 Vietnamese dong per pack.
New Flavor of Samyang Ramen: Spicy 5-Cheese!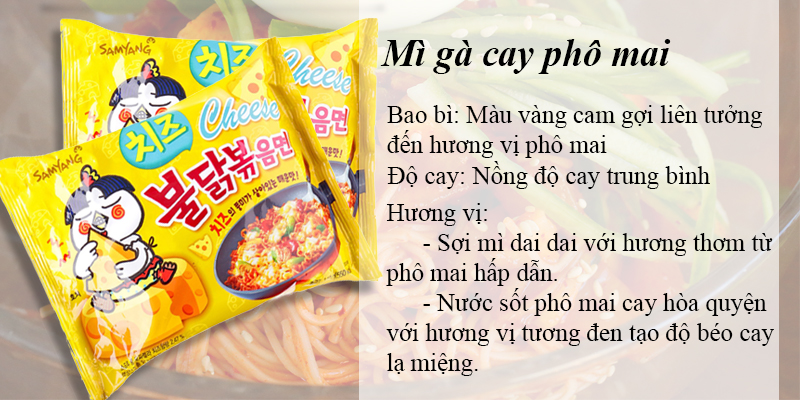 Cheese Spicy Samyang Ramen
If you're a fan of cheese chicken, our Cheese Spicy Samyang Ramen is perfect for you. It offers a delicious fusion of chicken and cheese flavors in the seasoning pack, complemented by chewy and fragrant ramen noodles. Prepare yourself for a truly satisfying meal with an irresistible cheesy aroma.
Packaging: The packaging is designed in an orange color scheme to reflect the delicious and vibrant taste of cheese.
Spiciness:
Moderate level of spiciness
Flavor:
Chewy Cheese Noodles
Indulge in a delightful bowl of chewy noodles that are infused with the irresistible aroma of cheese.
Experience the perfect blend of flavors with our Spicy Cheese Sauce. Made with a delightful combination of black soy sauce, this sauce offers a creamy and satisfyingly spicy taste that will leave your taste buds craving for more.
"This noodle costs about 30,000 Vietnamese đồng per pack."
Malaysia Has Sold Out of 6Spicy Water Samyang Ramen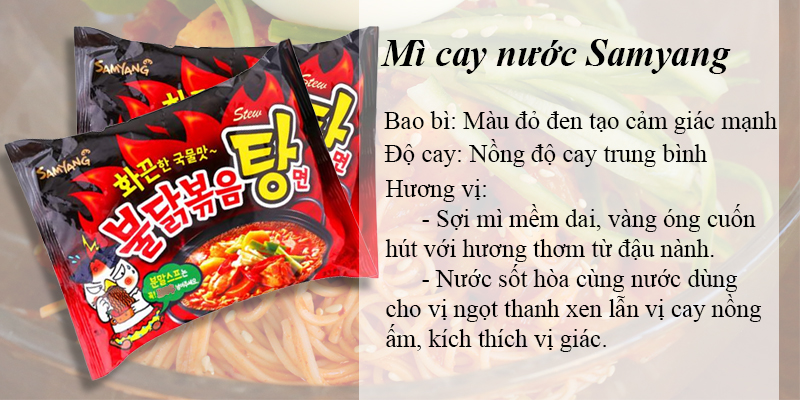 Spicy noodles have gained popularity among individuals with hectic schedules. If you enjoy Korean noodles, make sure not to pass up the chance to savor the Spicy Water Samyang Ramen. These noodles boast a delightful golden hue and a soft texture that pairs seamlessly with the flavorful and mildly spicy broth, resulting in an incredibly appealing and nourishing dish.
Packaging:
We use a combination of strong red and black colors for our packaging, which gives it a bold and eye-catching look.
Spiciness: This dish offers a moderate level of spiciness.
Flavor:
Soft and Chewy Soybean Noodles
Indulge in the delightful taste and texture of our soft, chewy, and golden noodles. Made from high-quality soybeans, these noodles boast a mild aroma that will awaken your senses. Whether stir-fried, steamed, or enjoyed in soups, our soybean noodles are sure to satisfy your cravings. Perfect for any occasion, these noodles will add a delightful touch to your meals. Elevate your culinary experience with our delicious soybean noodles today.
The combination of the broth and soy sauce creates a delectable blend of sweetness and spice, enticing the taste buds.
This type of noodle is priced at approximately 29,500 Vietnamese dong per pack.
New Spicy Octopus-Flavored Samyang Ramen Now Available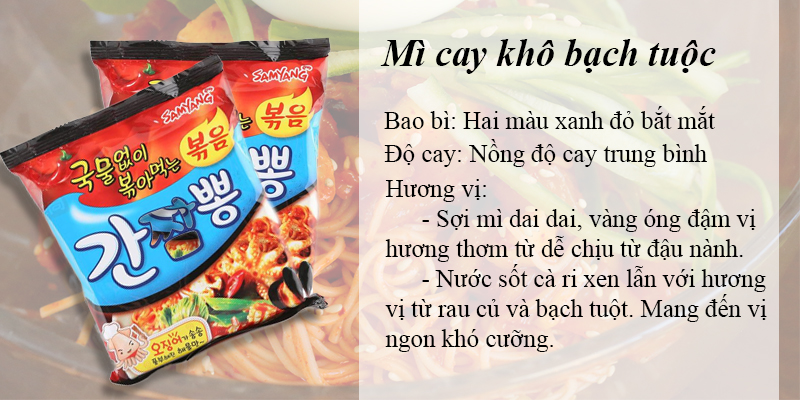 If you have a tolerance for moderate spiciness, indulge in the delectable Octopus Spicy Samyang Ramen. This extraordinary product features the unique flavors of octopus and vegetables in its delectable sauce pack. Complemented by its delightful combination of soft, chewy, and crispy noodles, this dish promises an irresistible dining experience.
Packaging: The product is packaged in an eye-catching combination of green and red colors.
Spiciness:
This dish has a moderate level of spiciness.
Flavor:
Indulge your taste buds with our soft, chewy, and golden noodles that are crafted from the finest soybeans. These noodles are not only visually appealing but also carry a delectable aroma that will entice your senses. Made with care and precision, our soybean noodles are a perfect choice for those seeking a satisfying and flavorful meal. Give your palate a treat with our exquisite soybean noodles.
The sauce perfectly complements the harmonious blend of vegetables and octopus, resulting in an absolutely delectable flavor.
Samyang's Spicy Beef-Flavored Sutah Ramen Now Available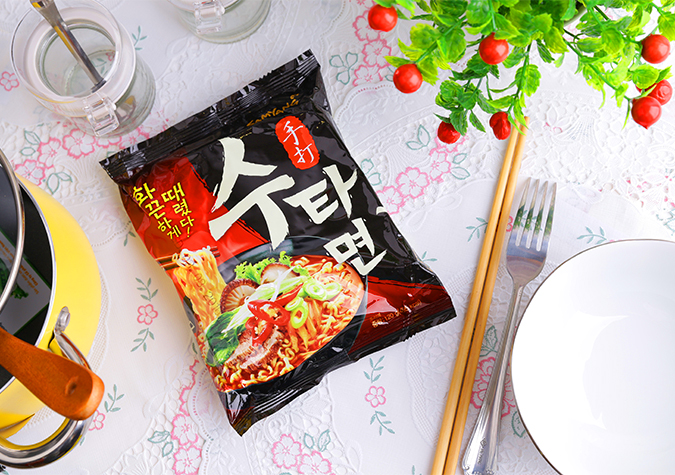 Discover the irresistible taste of Sutah Ramen, a must-try brand from Samyang. Spoil your taste buds with the delectable beef flavor and captivating broth, delivering an unforgettable experience especially on rainy days. Prepared with a perfect balance of spiciness, this noodle is bound to satisfy your cravings. Don't miss out on the ultimate Korean noodle experience!
"This noodle costs about 21,500 Vietnamese dong per pack."
Samyang's Olive Oil Tofu Ramen Hits Store Shelves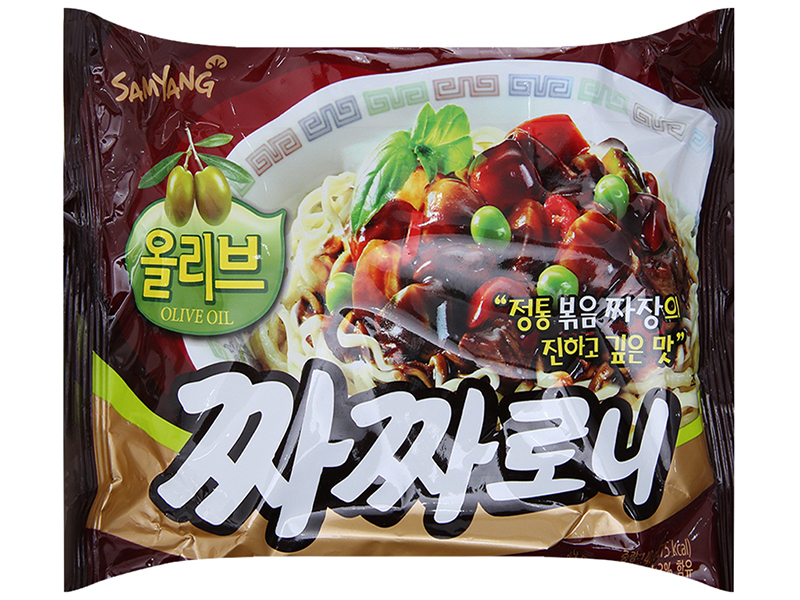 Are you a fan of Korean noodles but can't tolerate spicy dishes? Give Samyang Olive Oil Tofu Ramen a try! These noodles are crafted with premium wheat flour and potato starch, employing state-of-the-art techniques to guarantee a delicate and visually appealing golden texture.
The delightful essence of the special sauce, infused with the rich flavor of olive oil, harmoniously complements the noodles, ensuring a delectable experience with every bite of this sumptuous bowl of noodles.
This noodle costs about 24,000 Vietnamese dong per pack.
Trying Out Samyang's Kimchi Ramen!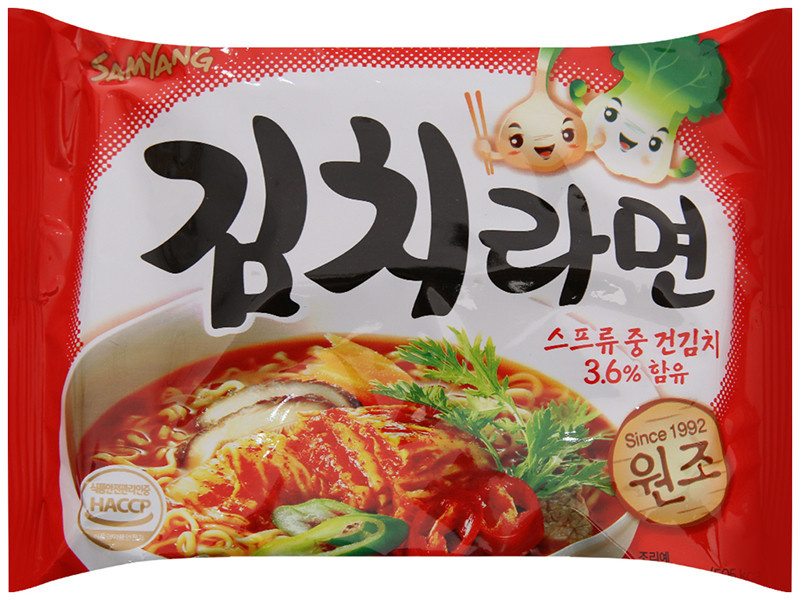 Kimchi is a well-loved traditional Korean dish that should not be missed. If you are a fan of this delectable dish, then you must try the Samyang Kimchi Ramen. This delightful dish requires minimal effort to prepare and is enjoyed by numerous individuals. It is truly a quick and enticing meal that should not be passed up. So why wait? Indulge in the savory goodness of Samyang Kimchi Ramen today!
"This noodle costs about 18,500 Vietnamese dong per pack."
U.S. Now Offering 11Samyang's Spicy Carbonara Chicken Ramen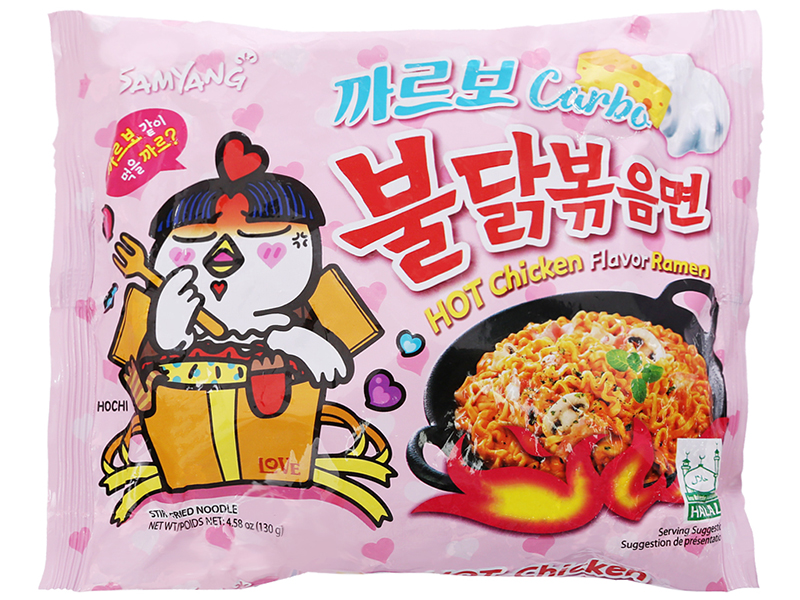 Introducing our latest offering, the highly coveted new noodle from Samyang. This product is generating buzz and is currently in high demand among consumers. Each package contains a delicious combination of ramen noodles, complemented by a Carbonara sauce pack and an accompanying spicy Carbo sauce pack.
Indulge in a culinary delight with our irresistible Carbonara noodles.
Experience the perfect texture of soft and chewy noodles paired with the heavenly combination of creamy and savory Carbonara sauce, enhanced with a spicy Carbo sauce.
Rest assured, our product is not only delicious but also safe and nutritious, as it boasts a delectable beef flavor that will satisfy all consumers.
This noodle costs approximately 31,500 Vietnamese dong per pack.
Expand your culinary horizons and indulge in the irresistible allure of our delicious and visually appealing noodles. Elevate your dining experience by learning more about the art of noodle preparation and savor the flavors that will leave you longing for more.
Due to their flavors, these noodles should only be enjoyed in moderation as part of a well-balanced diet. Excessive consumption can have adverse effects on your health, particularly on your digestive system. So, savor them as a delicious addition to your meals while maintaining a mindful approach to your overall nutrition.