1. Ingredients
Banana pudding:
30g of melted butter
60g of cooled melted butter
25g of brown sugar
55g of sugar
1 sliced ripe banana
2 mashed bananas
1 large egg
1/2 teaspoon of cinnamon powder
30ml of milk
125g of flour
1 teaspoon of baking powder
Caramel cream:
300ml of heavy cream
100g of brown sugar
80g of butter
2. Instructions for Making Banana Caramel Pudding with Electric Rice Cooker
1. Prepare the cake:
Line the greased baking paper into the rice cooker pot. Pour 30g of melted butter onto the paper and sprinkle evenly with 25g of brown sugar on top. Arrange sliced bananas around the pot.
Next, mix mashed bananas, melted butter, sugar, egg, cinnamon powder, and milk in another bowl. Use a sieve to sift flour into the mixture and stir once again. Pour everything into the prepared rice cooker pot.
Set the cooker to cook for 5 minutes, then switch to keep warm mode for about 10 minutes. Continue to switch to cook mode for another 3 minutes, then switch back to keep warm mode for an additional 10 minutes. Repeat this process 2 more times until the cake is cooked. Note that during the cooking process, the pot should not be opened.
Remove the cake, peel off the baking paper, and let it cool.
2. Prepare the caramel cream:
Clean the rice cooker pot. Pour the cream, sugar, and butter into it and stir well, then bring to a boil.
While the mixture is boiling, stir constantly for about 5 minutes until the sugar has dissolved and the butter has completely melted to create the caramel cream mixture. Pour the cream mixture into a heatproof dish.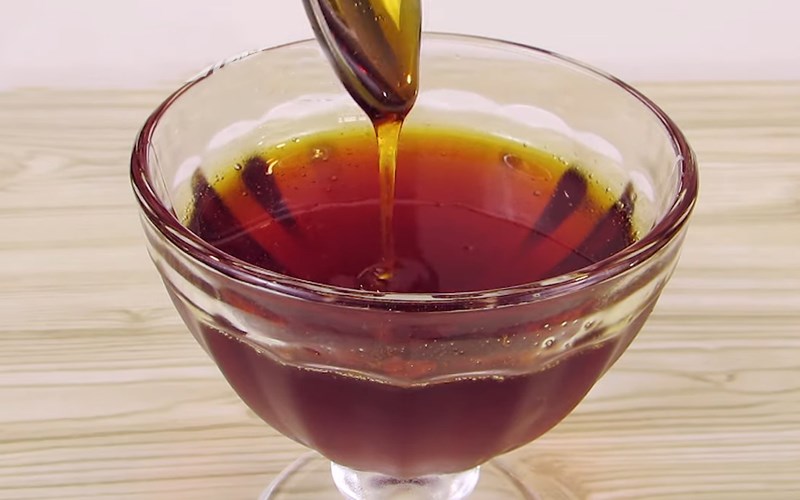 A delicious banana pudding with caramel flavor
Now, pour the cream evenly over the freshly made banana pudding cake and enjoy.