Chili is a familiar spice in the daily kitchen and is an indispensable spice in many people's meals. However, if stored improperly, peppers will wilt and wilt. The following article will tell you some ways to preserve fresh chili, not dry, for a long time to eat gradually for a whole month.
Preserving chili
Store chili in the freezer compartment
Chili peppers stored in the freezer will keep fresh for a long time.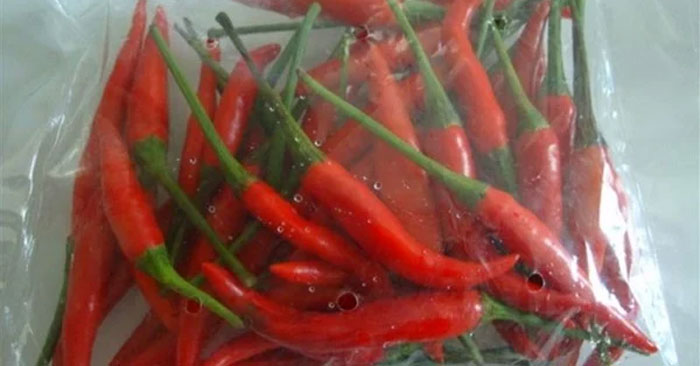 Wash and cut off the peppers.
Drain the water, then put the chili in an airtight container, put it in the freezer.
When you need to use the chili, take it out, rinse it with water and the chili will be soft again.
Preserving peppers by soaking in vinegar
Soaking chili with vinegar will make the chili have its own unique taste.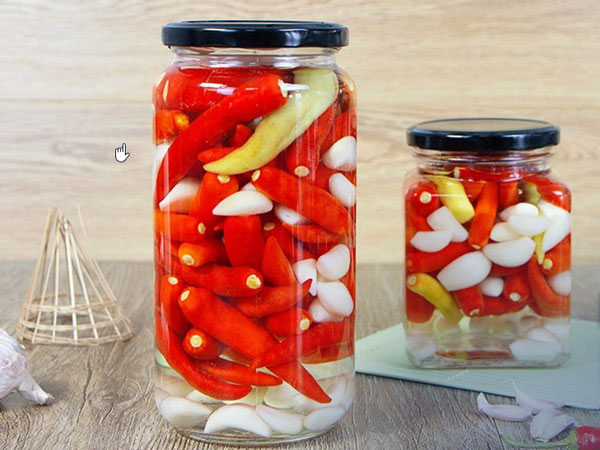 Wash the peppers, cut off the stalks and drain.
Use a needle to puncture many holes in the chili and put it in a glass jar. Pour vinegar over chili.
Peel the garlic, wash and drain. Chop the garlic into thin slices and then put it in a jar of chili vinegar, close the lid.
Preserving chili by drying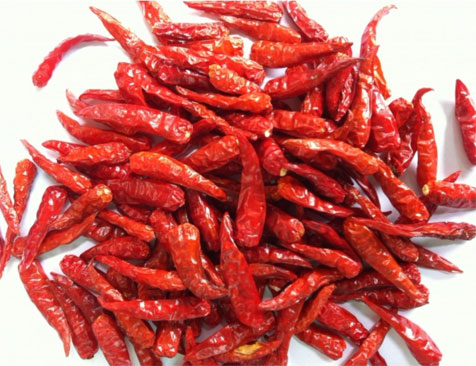 Wash the peppers and cut off the stalks.
Use a knife to cut a few lines along the pepper or you can cut the seeds in half.
Let the chili soak in warm water for about 10 minutes.
Pick up the chili and put it in a basket and then let it dry in the sun until it dries.
Dried chili is put in a sealed jar or bag, kept in the refrigerator for later use.
Preserving chili in fish sauce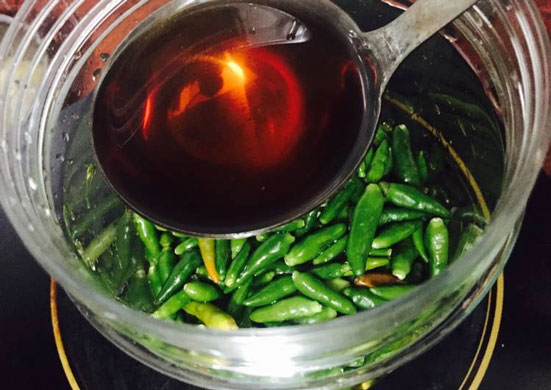 Chili is only washed, soaked with diluted salt water for a few minutes and then removed to drain. You can also slice the peppers lengthwise to remove all the seeds.
Peel garlic, leave whole.
Take a large sieve or tray, line it with a thin layer of cloth, then put chili peppers in garlic and dry them in the sun. When the peppers and garlic are slightly wilted, it's fine.
Heat the sugar with fish sauce when it is a bit wobbly, then turn off the heat and let it cool.
Wash and dry glass jars.
Arrange chili, garlic alternately in the jar (striped chili). Pour the cooled sugar fish sauce into the chili, garlic. Close the lid and shake gently.
After 2-3 days at room temperature, put the jar of chili sauce in the refrigerator and use it gradually.
Whether it's fresh chili, dried chili, pickled chili or pickled chili, you should be careful not to eat chili that looks spoiled. Discard immediately if you see air bubbles inside, the chili is soft, moldy, or has an unpleasant odor.
You can refer to how to preserve some other foods such as pork , bean sprouts , straw mushrooms , ripe bananas …