The sink or sink is very easy to get dirty and has an unpleasant odor after a period of use. Therefore, how to clean the sink, deodorize the sink simply, quickly and with high efficiency is what many women are interested in.
The following article will tell you some easy and effective ways to clean and deodorize the dishwasher.
Article table of contents
How to clean the sink at home is simple
Cleaning the sink with baking soda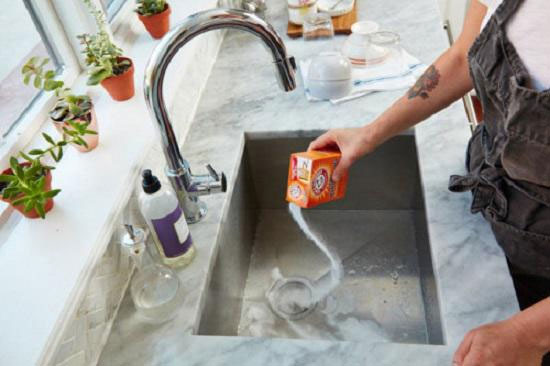 Sprinkle baking soda over the damp surface of the sink and let it sit for about 5-10 minutes.
Note: You can use a mixture of vinegar and Baking soda to increase the cleaning efficiency of the sink. After pouring the baking soda, gently pour the vinegar over the surface of the sink, being careful not to wash the baking soda away.
Then, scrub the surface with a sponge or old brush a few times. Finally, you just need to rinse with water to have a clean, shiny sink like new.
Combine salt and lemon to clean the sink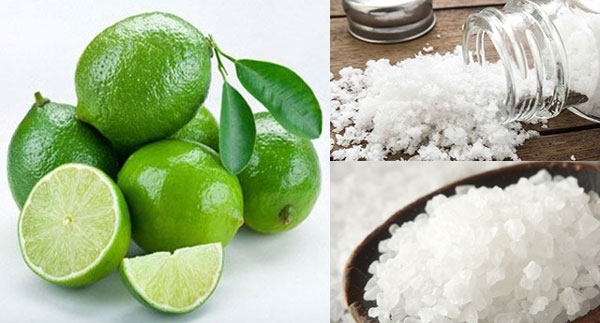 Salt and lemon, when combined, make a great natural cleaner that helps remove all stains on brass and stainless steel sinks.
Use a mixture of salt and lemon to rub all over the sink and let it sit for a few minutes. Then you remember to rinse the tub with water.
Brush the sink with lemon
If you only have lemon, you can still clean your family's sink. Cut a lemon in half, then rub it on the counter, countertop, and then rinse the sink and faucet with a wet towel.
Salt, vinegar, and hot water help eliminate odors in the sink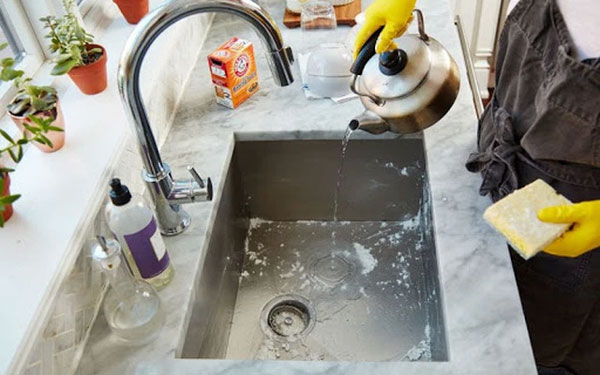 To get rid of odors from your sink or drain, pour at least a tablespoon of salt down the drain along with 1/4 cup of white vinegar and let it sit. After about 1 hour, add hot water.
You should do this a few times for best results.
Use kitchen cleaners
Specialized detergents will help you clean the sink quickly and effectively.
Note: When using cleaners, remember to wear gloves during the process to avoid allergies to the ingredients in the solution.
Note when cleaning the sink
To clean and deodorize the sink effectively and safely, you should pay attention to:
The current sink is made of many different materials such as: 201 stainless steel, 304 stainless steel, 316 stainless steel, marble, .. Therefore, to avoid scratching the surface of the basin, you should choose the right cleaning method. .
You should clean the sink every day to keep the kitchen clean and limit bacteria that are harmful to family health.
Hopefully the above tips will help you choose the right dishwasher cleaning method with available fuels effectively.