The cutting board is an indispensable tool in the kitchen of any family in Vietnam. However, not everyone knows how to use cutting boards properly, especially wooden ones. Here are 8 mistakes when using a cutting board, you need to know to avoid making them to ensure the health and safety of yourself and your family.
1. Don't choose good wood
Wooden cutting boards are the first choice of many families because of their high elasticity, heavy weight, suitable for chopping and chopping food. The most popular good wooden cutting board today are grinding wood cutting board, bamboo cutting board, mother of pearl wood cutting board, tamarind wood cutting board, pressed rubber wood cutting board…
However, wooden cutting boards also have disadvantages, which are easy to absorb water and odors, humus, easy to rot, crack and warp quickly.
Therefore, when choosing to buy a cutting board, you should not choose cheap wood, which has no clear product origin, and has a colored surface. Should choose a wooden cutting board with high elasticity and good, not easy to warp or rot.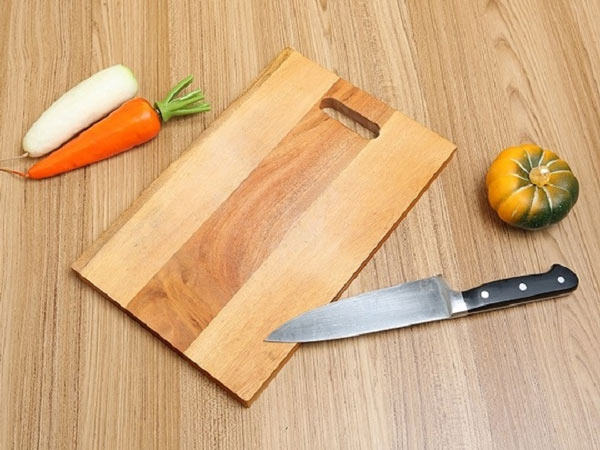 2. Use a cutting board that has a lot of cracks
Many families often use cutting boards for a long time, even up to ten years. However, wooden cutting boards often used for a long time often have cracks on the cutting board, which is a haven for many types of bacteria. Therefore, according to experts, users should change the cutting board after about 2 years of use.
3. Use both sides of the cutting board
Many people often use one side of the cutting board to chop vegetables and raw food, and the other side to slice cooked food. In fact, the surfaces used to place cutting boards are usually the floor, kitchen shelves … very dirty places, containing many bacteria. When you put the cutting board down, bacteria will stick to the cutting board. Therefore, to ensure safety and hygiene, only one side of the cutting board should be used.
4. Put the cutting board in the dishwasher
Cutting boards are not utensils that should be put in the dishwasher, whether wooden or plastic because they will be exposed to heat and water for a long time. This can make the cutting board more prone to warping and cracking. To clean cutting boards safely and hygienically, you can refer to the article " Synthesis of simple and effective ways to clean wooden cutting boards ".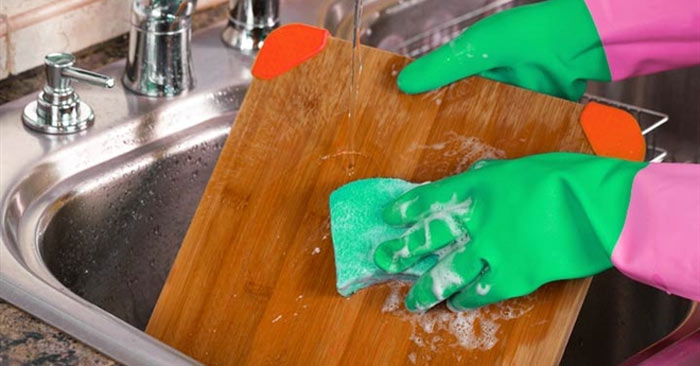 5. Use cutting boards made of glass, marble, or Corian
Cutting boards made of glass, marble, or Corian are beautifully decorated, attracting many housewives. However, these cutting boards are very slippery making it difficult to chop food and will also damage your knives at an amazing rate.
6. Using a cutting board that is too small
Using a small-sized cutting board can cause food to easily fall out, which is not hygienic. Therefore, it is recommended to use cutting boards with a slightly larger size, the diagonal of the cutting board is longer than the length of the knife.
7. Cut meat and vegetables on the same cutting board
Using the same cutting board for all kinds of food is very unhygienic and easily causes digestive diseases for everyone. Therefore, it is recommended to use a separate cutting board for cutting meat and a cutting board for cutting vegetables separately to avoid cross-contamination.
8. Keep the cutting board wet
Wet surfaces are a favorable environment for bacteria to grow, so make sure your cutting board is completely dry after washing it before placing it on the rack. This greatly reduces the chances of pathogens multiplying.