When it comes to cleaning an air fryer after use, there are typically two methods people use: scrubbing with a brush or soaking the fryer for an extended period of time. However, both of these methods have drawbacks. Scrubbing can scratch the non-stick coating, while soaking wastes time. Fortunately, we have a simple and effective tip for quickly and effortlessly cleaning your air fryer.
Efficient Air Fryer Cleaning Method
Important note: After removing the food from the air fryer, allow the fryer to cool completely before cleaning. No matter which cleaning method you choose, always remember to wait until the fryer has cooled down. Even if you clean it with hot water at 100°C, there is still a significant temperature difference between the water and the fryer, usually around 180-200°C.
Once the fryer has cooled down, pour a layer of dishwashing liquid into the fryer and fill it one-third full with water.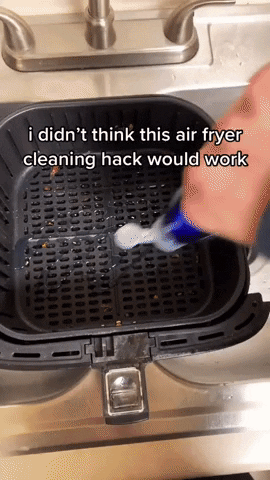 Next, turn on the air fryer, set the heat level to 370°F (approximately 187°C), and set the timer for 5 minutes. The results are truly impressive!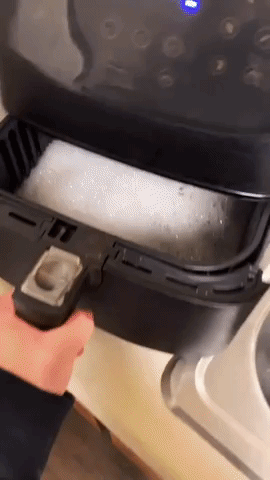 By following this method, you only need to rinse the air fryer gently with water, and it will be completely clean without the risk of scratching the non-stick coating.
3 Things to Avoid When Using an Air Fryer
In addition to cleaning the fryer after each use, there are three things you should avoid to maintain the durability of your air fryer:
1. Avoid overcrowding the fryer with too much food: An air fryer relies on circulating hot air to cook the food. Overloading it with too much food leads to uneven cooking and longer cooking times.
2. Avoid setting the temperature to 200°C for more than 30 minutes continuously: While 200°C is the highest temperature setting for an air fryer, it's important not to maintain this temperature for extended periods. Doing so can cause the fryer to operate at an excessively high temperature, leading to overload and overheating, which can shorten the lifespan of the appliance.
3. Avoid turning the timer knob backward: If your air fryer has a timer knob, never attempt to reduce the cooking time by turning the knob backward. This can cause the timer to become tangled. If your food is cooked but the set time hasn't finished, simply turn off the fryer to stop the cooking cycle.
With these tips and information, we hope you'll have a better experience using your air fryer!