1

Difference between hand baggage and checked baggage

Any airline in the world has strict rules and procedures for checking baggage. To ensure flight safety for passengers and crew before possible aviation incidents.
Luggage
Hand luggage, also known as carry-on-bag, is a type of luggage that passengers are allowed to bring directly into the cabin of an aircraft , these are often necessary items to serve personal needs.
Many airlines stipulate that passengers can only bring one piece of luggage and cannot bring prohibited goods. According to regulations, the size of hand luggage is the length, width, and height which must not exceed 115cm . That is, you can bring a suitcase 56cm x 36cm x 23cm or other sizes that do not exceed this number.
Once it's been rigorously screened, you'll feel free to enter the boarding lounge and place your luggage in the overhead locker. And when the plane finally lands, you don't have to wait for it to be picked up like checked baggage.
Signed luggage
If your goods are too much and cannot be carried on board, then you must use a consignment service. Checked baggage, also known as check-in bag, is a type of luggage that you must carefully pack and not bring with you.
These are often bulky and heavy utensils and goods. After completing the procedures at the airport, the goods you checked in will be put into the aircraft's own luggage compartment.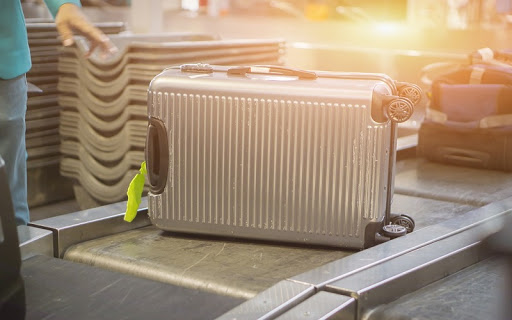 Each airline will have different regulations on this issue. However, most of you will have to pay a fee depending on the weight and size of your checked baggage. However, those things must also comply with the strict regulations of the airlines so as not to make mistakes.
Checked baggage will be stamped with an identification code. It will also be on the same flight as you, and when you get off the plane, you will have to wait to pick it up and go through customs as required.
2

Regulations on the size of checked-in suitcases of domestic airlines
Vietnam Airlines
With hand luggage, you can bring one main piece (size 56 x 36 x 23 cm) and an extra piece such as hand bag, briefcase, backpack, suitcase (size 40 x 30 x 15 cm). The total weight of hand baggage must not exceed 12 kg for economy class passengers. Business and Premium Economy passengers are allowed to bring two pieces and one extra piece with a total weight of less than 18 kg .
In addition, if you travel on the airline's flights, you will get one free checked baggage 23kg. However, if your luggage is too much, you need to pay a fee to have your goods checked. It should be noted that the total weight of the suitcase can only be less than or equal to 32kg.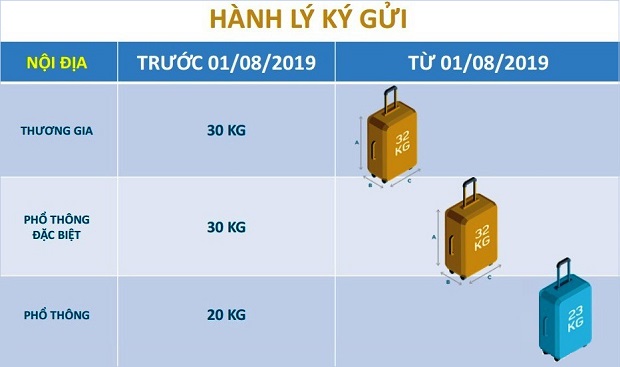 According to the regulations on the size of checked baggage on Vietnam Airlines aircraft, the total dimensions of the three dimensions (length, width, height) must not exceed 158cm/62inch . And for business class, you'll automatically be able to check in 30kg of baggage and 2 pieces of hand baggage.
You can find out more about Vietnam Airlines' baggage policy HERE
Vietjet Air
When flying flights of this airline, checked baggage is not included in the ticket, but only 01 main piece of hand luggage, maximum 7kg , size 56cm x 36cm x 23cm and 01 piece of hand luggage small hands according to regulations.
The weight of checked baggage must not exceed 32kg, nor should the dimensions exceed 119cm x 119cm x 81cm.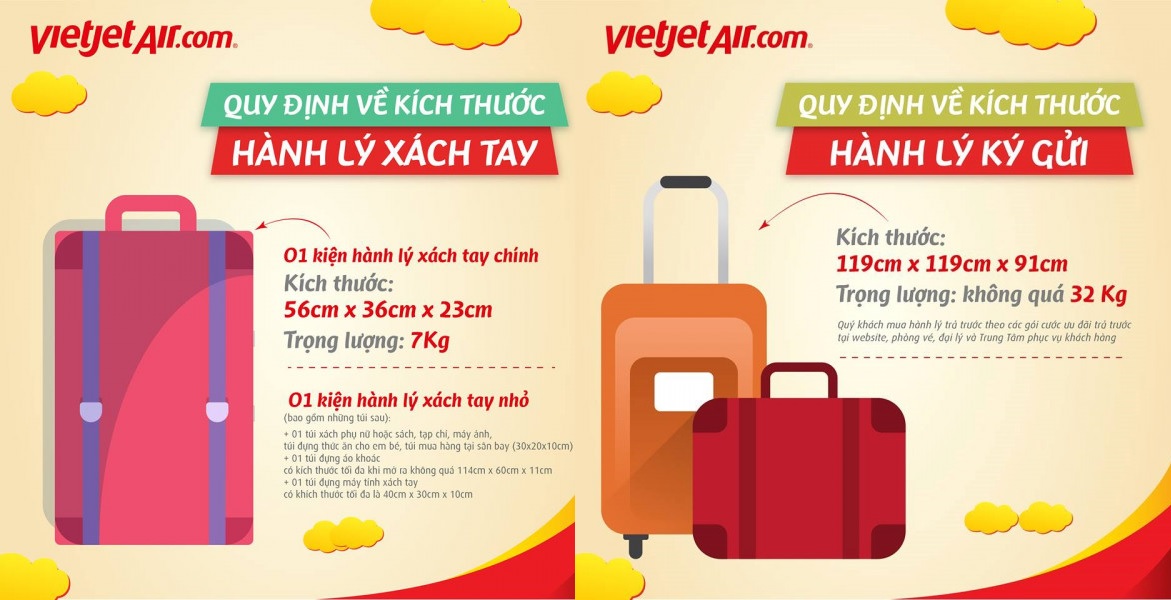 The minimum initial checked baggage allowance is 15kg , if it is more than 15kg passengers will have to buy more kg at the counter. You can purchase an additional 5kg limit at the check-in counter at the airport.
You can find out more about Vietjet Air's baggage policy HERE
Pacific Airlines (old Jetstar Pacific)
For Pacific Airlines, you will be allowed to bring 7kg of hand baggage with dimensions of 56cm x 36cm x 23cm .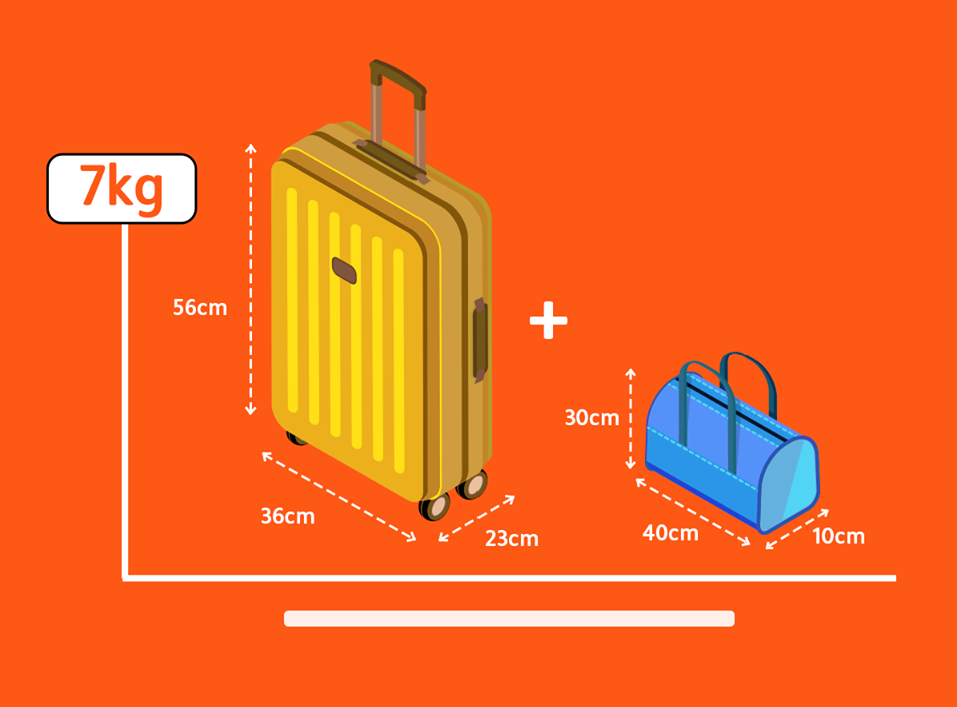 All Jetstar Pacific cabin classes do not include checked baggage, so passengers must purchase baggage before boarding at the booking agent.
Each piece of checked baggage must not weigh more than 32kg , if a passenger has a checked baggage allowance of 35kg or 40kg, it must be divided into at least two pieces with a maximum weight of 32kg each. The 32kg limit does not apply to wheelchairs and electric scooters.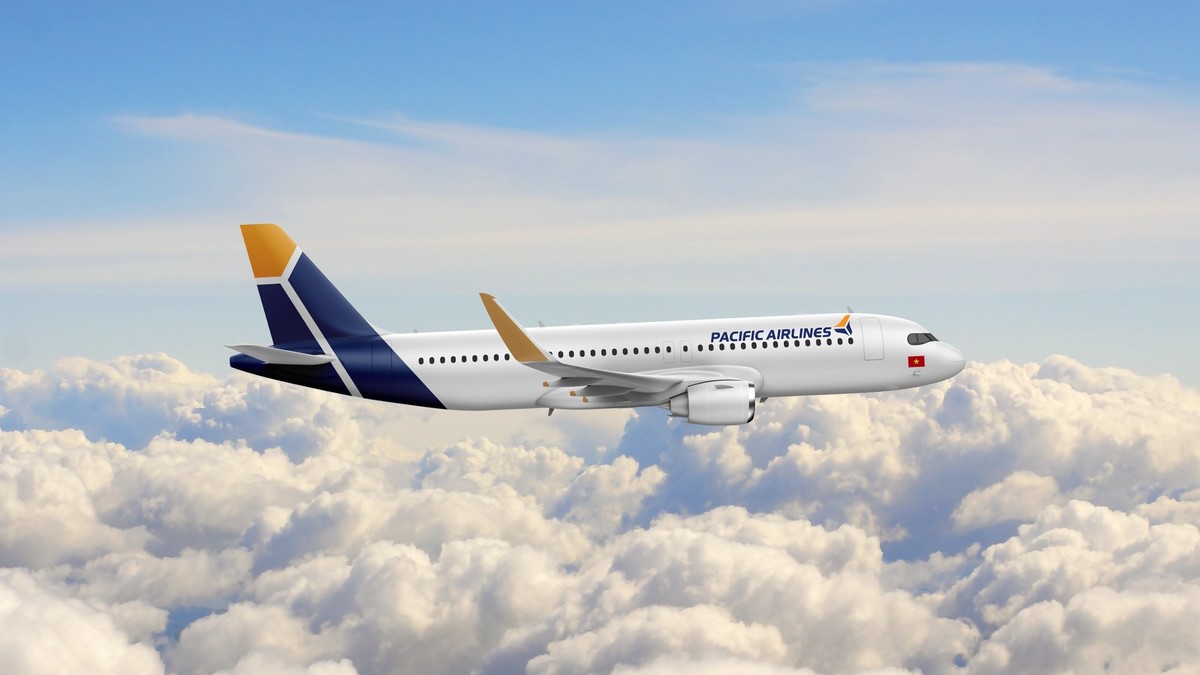 Bamboo Airways
Business class hand baggage. Business class passengers are allowed 2 pieces of hand baggage. With a maximum weight of each piece not exceeding 7kg.
Economy class passengers are allowed 1 piece of hand baggage. With a maximum weight of 7 kg . The size of hand baggage is regulated not to exceed 56cm x 36cm x 23cm.

Bamboo Airways checked baggage. Each piece of checked baggage must not exceed 32kg . Total 3 dimensions (length + width + height) must not exceed 203 cm . For checked baggage, at the check-in counter, you will be issued a baggage tag for each piece of carry-on.
You can find out more about Bamboo's baggage policy HERE
3

Notes when using checked baggage service

If you buy more prepaid baggage at websites, ticket agents or Customer Service Centers, you will get a better price. If your luggage exceeds the specified amount, you will have to buy extra baggage with a higher shipping fee.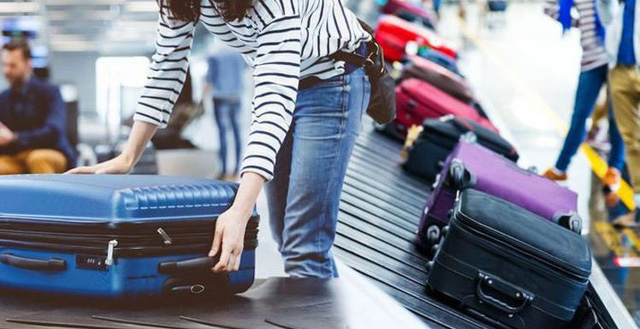 You should keep valuables close to you, in hand luggage to avoid loss as well as minimize the value of lost checked luggage. You can also divide the goods into different suitcases to avoid the situation that the suitcase size exceeds the standards set by the airline.
And hopefully the information on Dien May XANH shared above will help you have a smooth and safe journey.