Melamine is a type of plastic commonly used in the production of household appliances. With diverse, beautiful designs and good quality feel, melamine utensils are being trusted by many users. So what is this melamine resin, is it good, is it safe for health? Read the article below to get the answer.
What is melamine resin?
Melamine is a high-grade plastic line commonly used to produce dishes, chopsticks , and cooking utensils. Melamine resin with the advantage of being easy to shape and decorate by heat treatment, looks very similar to ceramics, so it is very beautiful, diverse in colors and designs.
In addition, melamine resin is very durable and scratch resistant, shiny surface, easy to clean, heat resistant up to 120 degrees Celsius.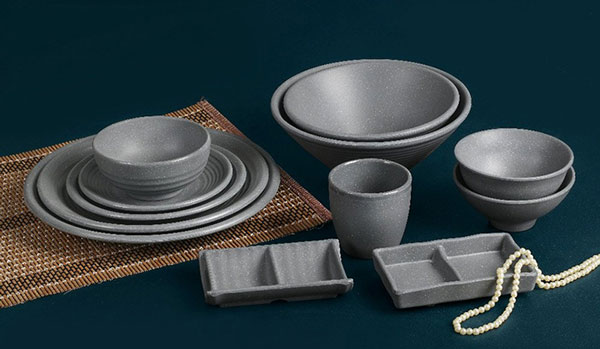 Is melamine resin safe?
Melamine has a very stable molecular structure, when it comes to food it can hardly "migrate" into food, so it is quite safe for health.
Experiments have proven that, in conditions of use that do not contain highly acidic products and at temperatures below 130 degrees Celsius, melamine resin is extremely durable, safe for users' health, and will not be contaminated. plastic ingredients to food.
FDA – The US Food and Drug Administration has issued a safety certificate for the use of melamine plastic utensils on dining tables.
How to use melamine resin safely?
As long as they are used correctly, utensils made from melamine plastic are very durable and safe for users' health.
The thermal safety limit of products from melamine resin is 120 degrees Celsius. Therefore, kitchen utensils made from melamine resin… are not used for cooking, are not used in microwave ovens, are not disinfected with boiling water and are not dried. too hot. It is best to use only melamine plastic utensils on the dining table.
Melamine plastic utensils should be washed by hand, not in the dishwasher.
Do not use melamine plastic items when scratches, peeling, roughness or chipping appear because then their protective layer has been damaged, creating conditions for bacterial contamination and contamination of plastic ingredients in food when stored. contain.
Buy melamine utensils from a reputable seller to avoid counterfeit products of poor quality that are manufactured with harmful substances in the composition, less safe to use.
If possible, check the product's health and safety certificate before purchasing.