A pressure cooker is one of the essential kitchen appliances for modern cooking. With its special design, a pressure cooker helps save time, energy, and preserves the flavor of food.
However, choosing a good pressure cooker requires careful consideration of many important factors. To assist you in selecting the right product for your needs, here are some tips for choosing a good pressure cooker.
1. Choose between a Mechanical or Electronic Cooker based on Your Needs
Mechanical Cooker
Supor mechanical pressure cooker
A mechanical pressure cooker has a similar structure to a regular pot but with a different lid. The lid features a rubber seal and a release valve to create better pressure, resulting in quick and flavorful cooking. Mechanical cookers can be used on gas stoves, electric stoves, induction stoves, and traditional stoves.
Advantages
Compact design suitable for all types of kitchens, including small ones
Saves cooking time compared to regular pots
Preserves nutrients in the food
Lid with a rubber seal ensures tight sealing and prevents boiling water from overflowing
Reasonable price
Disadvantages
May be difficult to calculate cooking time initially
Lacks safety alarms, which can lead to accidents such as explosions or fires
Requires waiting for the pressure to release to avoid burns
Electronic Cooker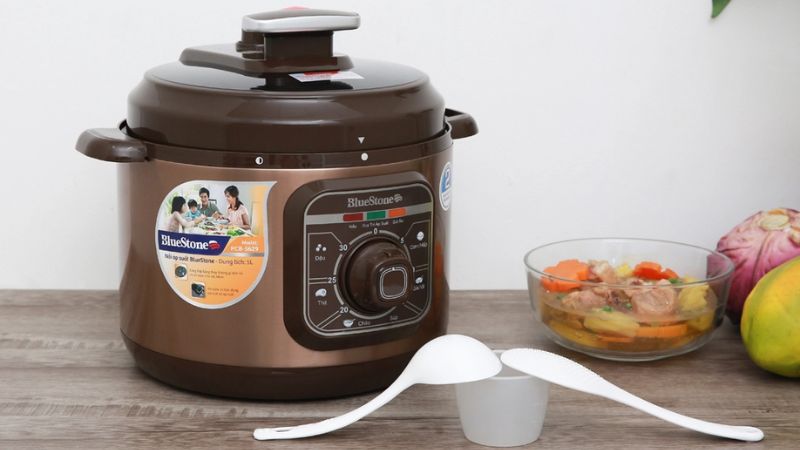 BlueStone electronic pressure cooker
An electronic pressure cooker functions similar to an electric rice cooker, using electricity to heat up the air and create pressure for quick cooking. Most electronic pressure cookers come with automatic cooking modes and safety valves, ensuring user safety.
Advantages
Diverse cooking modes
Automatic cooking function eliminates the need to monitor cooking time
Equipped with a lid locking system for user safety
Automatic temperature adjustment, timing, and power-off when overloaded
Disadvantages
Higher price
Cannot be used during power outages
Bulky design requires a spacious kitchen due to its large capacity
2. Choose the Material of the Pressure Cooker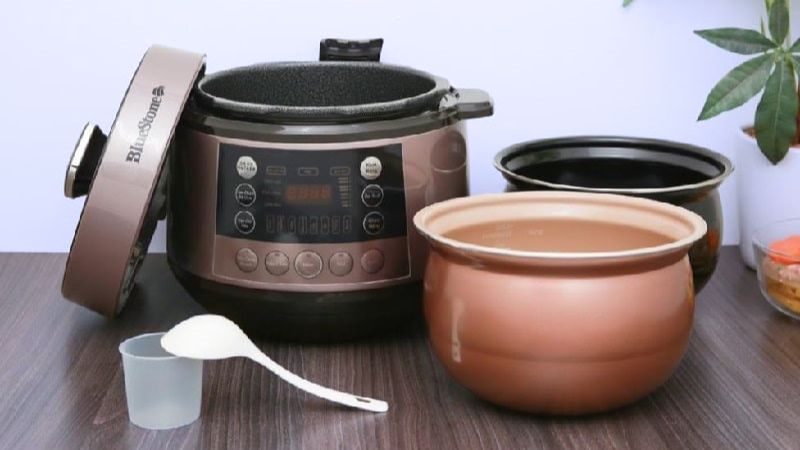 Choosing the material of the pressure cooker
Pressure cookers are made from various materials, so it is important to choose one with the best material to ensure user safety. For mechanical pressure cookers, opt for ones made of high-grade stainless steel or premium stainless steel with a thick base. For electronic pressure cookers, select ones with safe, insulated, and durable exteriors such as stainless steel or high-quality plastic.
Regarding the inner pot, choose a pressure cooker with an aluminum alloy inner pot coated with a non-stick coating or a premium stainless steel inner pot with a high-quality non-stick coating. These materials enable faster cooking, are safe for health, and enhance heat retention. Additionally, the non-stick coating prevents food from sticking to the pot, making it easy to clean.
3. Choose the Appropriate Capacity and Power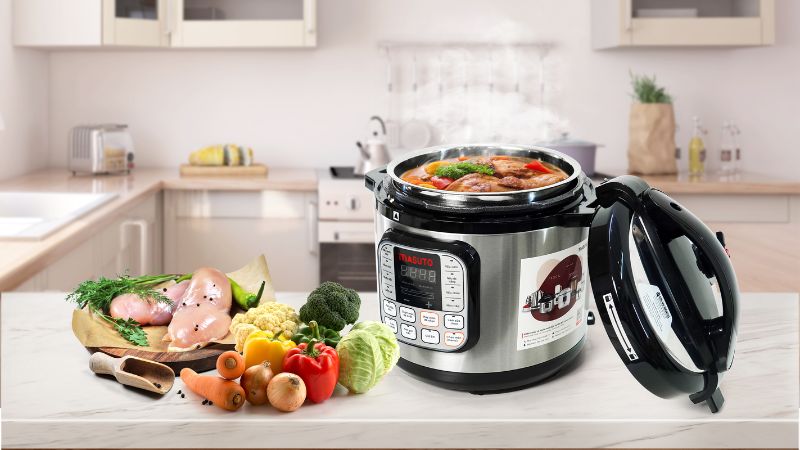 Choosing the appropriate capacity and power
Choosing a pressure cooker with the right capacity and power for your needs and the number of family members is crucial. Oversized cookers waste resources, while undersized cookers fail to meet usage requirements and can lead to explosions.
For families with fewer than 4 members, a capacity of 2 to 4 liters and a power below 900W is recommended. Families with 4 to 6 members should opt for a capacity of 4 to 5 liters and a power of approximately 900 – 1000W. For families with more than 6 members, a cooker with a capacity of 6 liters or larger and a power of over 1000W is suitable.
4. Features and Cooking Modes of the Pressure Cooker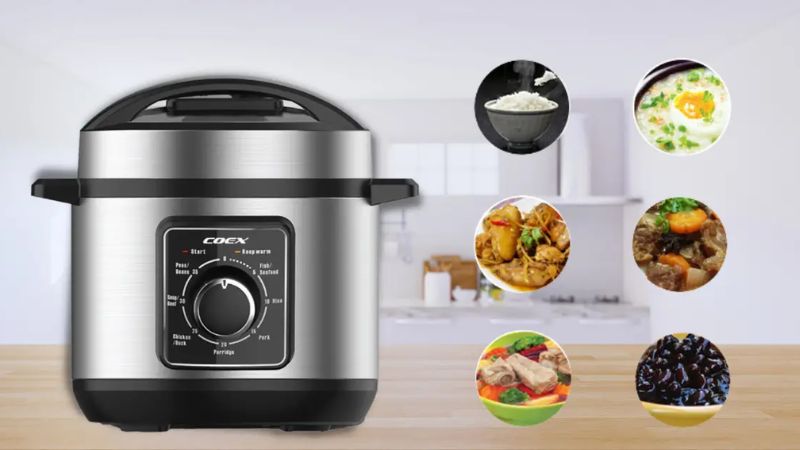 Features and cooking modes of the pressure cooker
Many pressure cookers offer a wide range of cooking modes, including porridge, cakes, stir-frying, rice cooking, soup making, and more. They also come with useful features like automatic release valves, cooking timers, automatic power-off, safety locks, and more. These features simplify cooking and save significant time.
If you prefer simplified cooking and cost-saving, a pressure cooker with 6-8 cooking modes and sufficient features to meet your needs will suffice. However, if you desire diversity in your cooking, opt for pressure cookers with more cooking modes.
5. Cooker with Safety Valve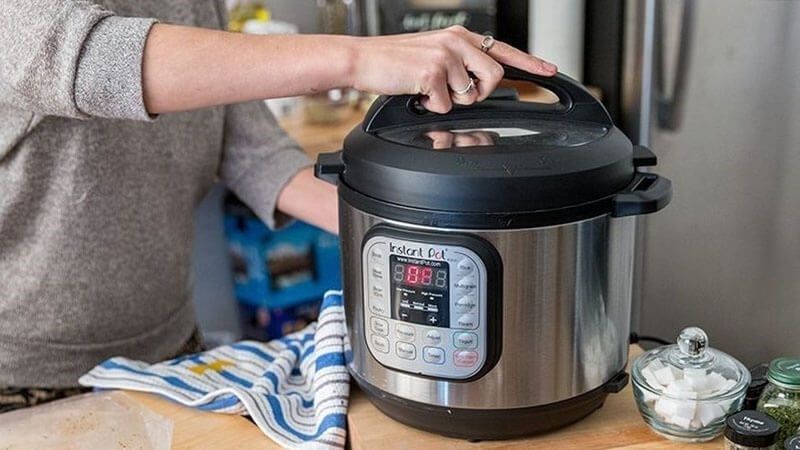 Cooker with safety valve
To ensure the safety of your family and prevent unnecessary accidents, choose a pressure cooker with a dual safety valve design. This includes a main valve that functions as a lock or an automatic power-off valve when the temperature and pressure inside the cooker become too high. Additionally, a secondary valve serves as a pressure release valve to release pressure in case the main valve gets blocked or malfunctions, thereby preventing the risk of explosions.
6. Choose a Reputable Brand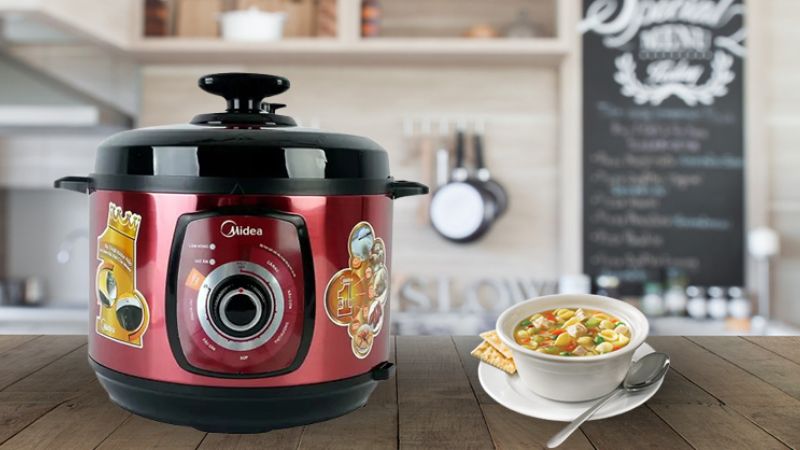 Choose a reputable brand
Prior to purchasing a pressure cooker, research the brand, origin, and product reviews to ensure the product's quality and durability. Some well-known brands include Sunhouse, Tefal, Philips, and more. Additionally, read customer reviews to obtain necessary information on the product's quality and performance.
7. Suitability to Your Budget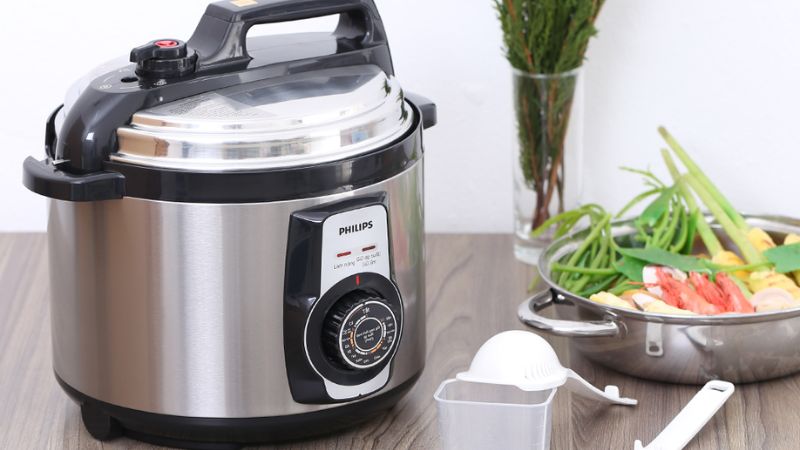 Suitability to your budget
Pressure cookers are available in various price ranges, depending on factors such as material, power, capacity, and additional features. To avoid overspending, choose a cooker with functions that meet your needs and a price suitable for your family's budget.
Pressure cookers are priced between 400,000 to 2,500,000 VND, providing options for different budget levels.
Above are some tips for choosing a good and durable pressure cooker for your family. We hope these suggestions assist you in finding a suitable pressure cooker that meets your cooking needs and your family's budget.