Remove Grease and Oil Stains
To effectively clean your microwave, you can use the steam method by adding a bowl of warm water. This will help loosen any grease and oil stains. For stubborn dirt on the outside of the microwave, a small amount of baby oil on a tissue can be used to wipe the surface and remove the dirt, leaving the microwave polished.
Baby oil cleans grease and oil
If using baby oil, it is recommended to dilute it with 1 part white vinegar and 2 parts water for optimal results. Adding a little dish soap to the mixture and spraying it on the oil layer before wiping it clean with a damp cloth will also help prevent pet hair and dust from sticking to the surface after cleaning.
Keep Stainless Steel Kitchenware Shiny
Stainless steel kitchenware adds a modern and bright look to your kitchen, but maintaining their shine can be a challenge. To properly clean them, first identify the grain of the steel surface and wipe along the direction of these grain lines to avoid scratching the steel.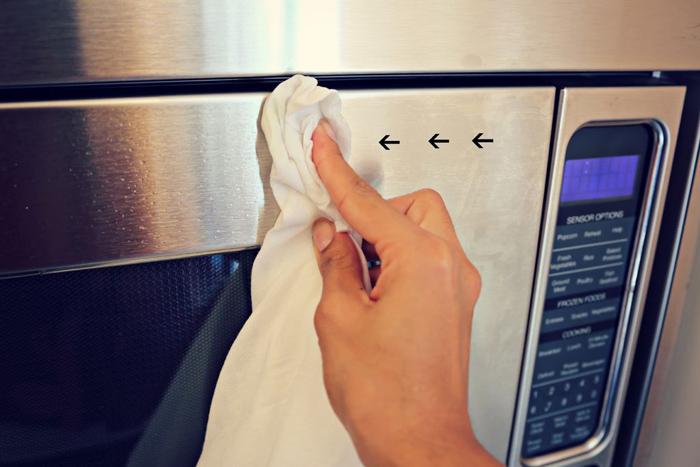 Only wipe in the direction of the grain
To quickly polish your stainless steel utensils, use a tissue dipped in a small amount of baby oil to wipe the steel surface. Afterward, use the dry side of the tissue to remove the oil layer. This method is safe and effective as it does not require any cleaning chemicals.
Above are just a few cleaning uses of baby oil for household items. There are many other ways to clean kitchen items at home. Please feel free to share more tips!