1 VssID – Digital Social Insurance Application
Digital Social Insurance (VssID) is an application on the mobile device platform of Vietnam Social Security .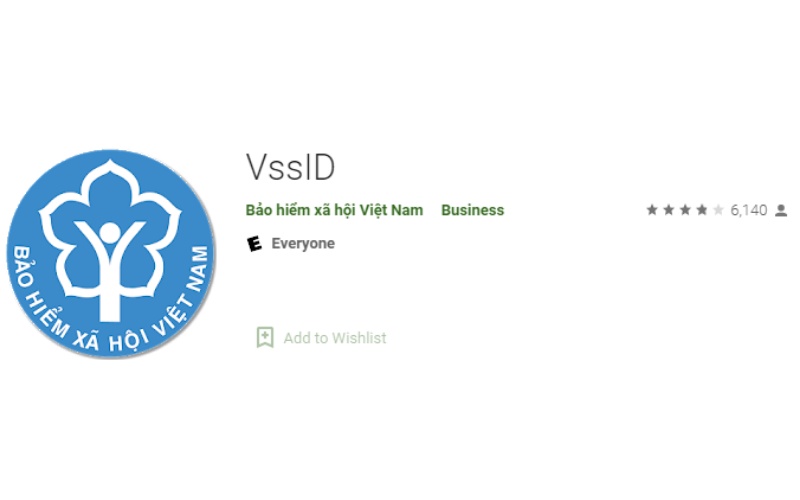 Digital social insurance application (VssID)
On November 16, 2020, Vietnam Social Insurance officially announced to put into use the VssID – a digital social insurance application with many practical features and utilities, helping participants of social insurance and health insurance. , Unemployment insurance can look up benefits, look up the process of participating in social insurance (social insurance) online, track the participation process, benefit history of social insurance regimes and policies, social insurance codes, Social insurance agency, health insurance card …
Through the application, accessing information also becomes easier and more convenient, especially since people can self-monitor and protect their welfare interests.
VssID application information:
Platform: iOS 9.0 and above, Android 4.1 and above
Size: iOS: 24.5MB, Android: 16MB
Publisher: Vietnam Social Insurance
Download VssID here:
2 Bluezone
The Bluezone proximity detection application is deployed by the Ministry of Information and Communications and the Ministry of Health under the direction of the Prime Minister with the aim of protecting the community against the Covid-19 pandemic.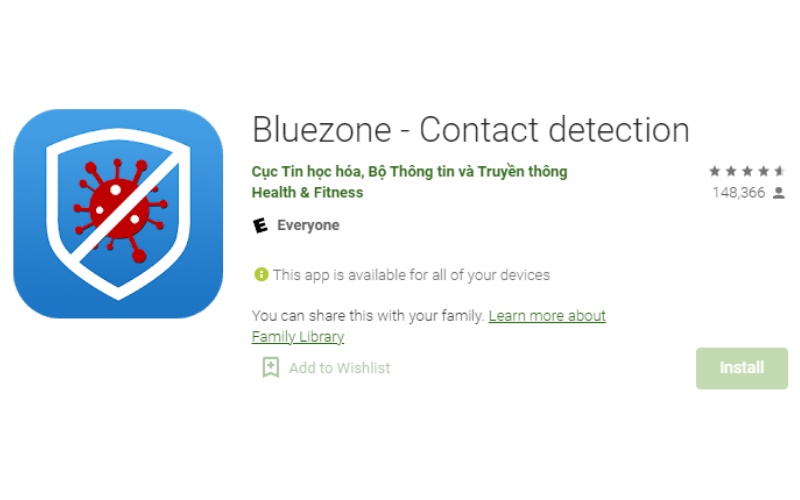 Bluezone app
Bluezone can help to record close contacts between smart mobile phones that have the same installation and use it. Through the use of Bluetooth low energy technology (Bluetooth consumes very little energy), the application will immediately issue an alert if it detects that the user has been in close contact with an infected case, suspected case, or person who has been in contact with the patient. Close contact with infected or suspected cases. This result is based on contact history data stored on the phones of all Bluezone users.
Information security:
Contact history data will only be used to serve health authorities with the consent of the user or in case the user is an infected or suspected case.
Bluezone only saves contact history without saving location, not using or accessing other information on the user's mobile phone.
Bluezone uses Bluetooth technology, which is a widely used device connection standard today and has been proven in terms of security, so you can rest assured that no one will be able to hack your phone.
Note when using Bluezone:
Your phone needs to have Bluetooth enabled at all times. However, you do not need to worry about battery consumption because this application uses Bluetooth BLE low-energy technology (Bluezone only consumes about 10% of battery power if used all day).
To protect yourself and protect the entire community from the COVID pandemic, let's install the Bluezone application together here:
3 NCOVI . Medical Declaration Application
NCOVI application (researched and developed by VNPT Group and major ICT companies in Vietnam) is recommended by the Ministry of Health and the Ministry of Information and Communications to provide information to support the health sector. in order to find out the cases that need attention to ensure proactive epidemic prevention.
NCOVI . Medical Declaration Application
Functions of NCOVI:
Risk factor declaration function (for people who have traveled from epidemic areas, have been in contact with sick people or are suspected of being infected, helping them get timely support from health authorities);
The function of health declaration for the whole people (for people to register health information of themselves and their family members with health authorities);
Health monitoring function;
Function to reflect information (allows users to report to the authorities suspicious cases, need to monitor the disease);
The function of alerting the epidemic area …
NCOVI supports all subscribers of different carriers, compatible with many operating systems and popular smartphone lines on the market.
In the process of creating an account, users must provide information including full name, date of birth, identification number, address, and phone number.
Information security
The application ensures the safety and security of personal data, against network attacks such as denial of service, usurpation, leakage of personal information, etc.
To get real-time updates on the disease status in the area around you or in epidemic areas, as well as view statistics, disease information, and instructions on how to prevent disease effectively and safely from medical professionals. You can download apps here:
4 Applications and websites to look up land planning information
On November 30, Ho Chi Minh City launched an application and website to help people look up detailed information about land planning through smartphones and computers.
People will be provided with essential information when participating in the implementation of procedures for building, mortgaging and buying and selling real estate to ensure transparency and clarity in civil transactions.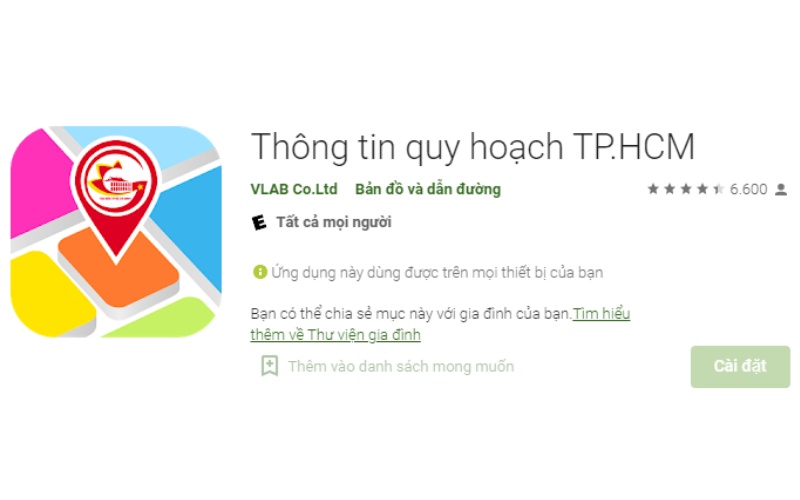 Application of land planning information
Instructions for installation and use:
Step 1: Download the app
Step 2: Launch the application. There are 3 ways for you to look up planning information as follows:
Look up information through coordinates printed on land papers
On the main interface, you select the search icon (magnifying glass) in the left corner of the screen > Enter the coordinate range as instructed.
*The coordinates of the land you can find on your land papers and red book.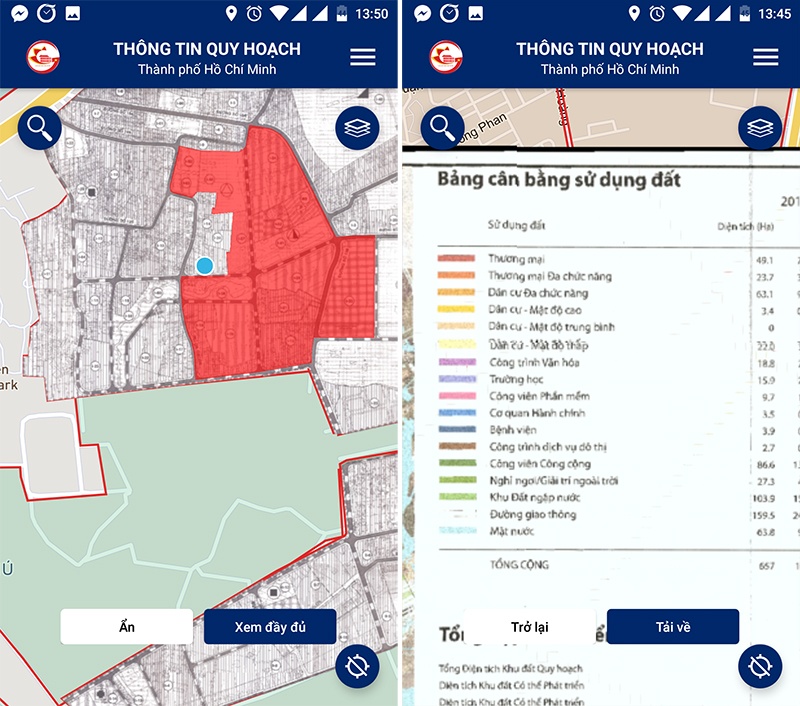 Look up information through coordinates printed on land papers
Look up using GPS location service
Turn on location services on smartphones at Settings > Location > On. Start the application > Select the planning map > Select the icon locating the bottom corner of the screen to see the detailed plan at the location you are standing.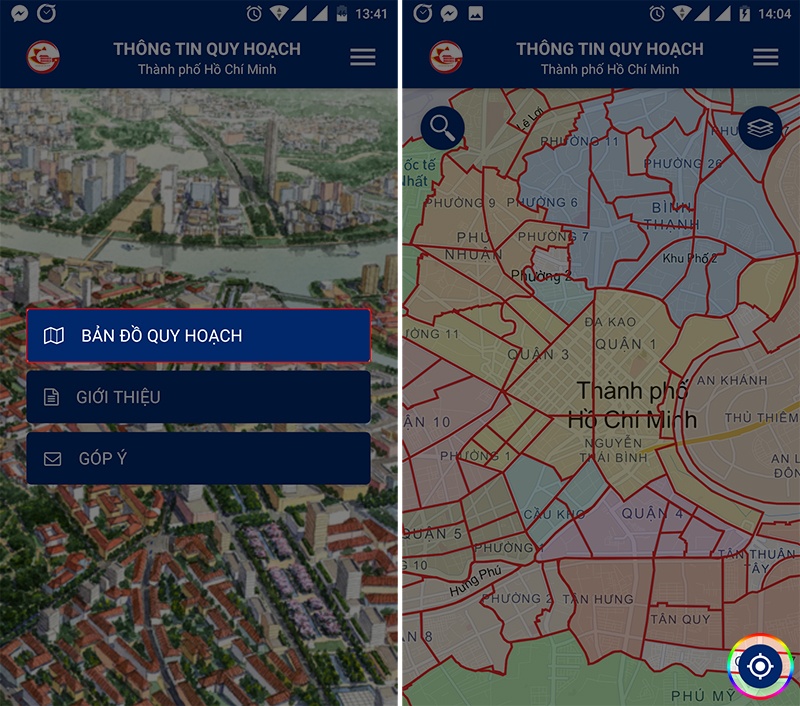 Look up using GPS location service
Use your hand to move and select the location to look up > Select the area to look up, now a paper map (black, white) will appear > Click View full to look up detailed information.
You can also look up information on your computer at the website: thongtinquyhoach.hochiminhcity.gov.vn
5 Applications to look up cold fines nationwide
Nationwide cold fines lookup is an application to look up traffic violations when driving cars, motorbikes, or electric bicycles in Vietnam.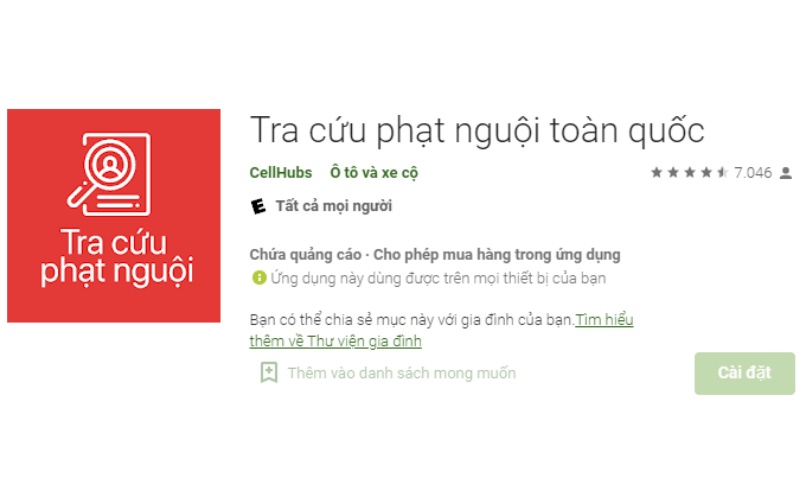 Application to look up cold fines nationwide
Outstanding features included in the application:
Easily look up information on fines for administrative violations and cold fines for motorbikes, cars, and electric bicycles
The national source of violation data, updated directly, continuously, and accurately by the Traffic Police Department, was launched on June 1, 2019.
Automatic traffic violation notification mode: This feature costs VND 30,000 , including removing ads and using functions that are about to be added in the future.
Application information Look up cold fines nationwide:
Platform: Android 4.1 and above
Application type: Cars and vehicles
The application only supports the Android operating system
6 Application Lookup license plate nationwide
Nationwide license plate lookup is an application that helps users easily look up where any motorcycle and car license plates are registered. Moreover, through the application, users also have more geographical and administrative information in the province of that license plate.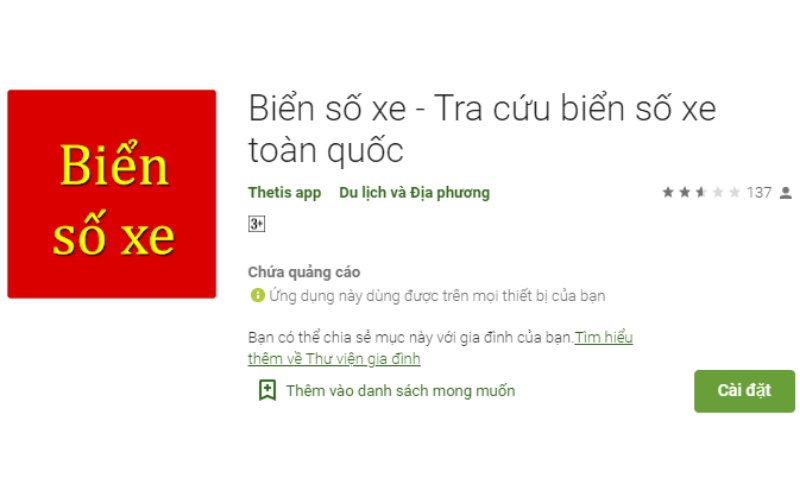 Application Lookup license plate nationwide
Outstanding features included in the application:
Easily look up the details of domestic and foreign license plates without an Internet connection
Details of license plates in which province/district/district, or how many license plates are there in that province?
Information about special license plates for Vietnamese administrative agencies such as the National Defense Academy, General Department of Politics, …
Information about license plates of some other regional countries such as Korea, Switzerland, Russia, …
Through the number plate and registered chassis code information, it is possible to look up information about technical specifications, the most recent inspection, or the payment of road use fees, …
Application information Look up cold fines nationwide:
Platform: Android 4.1 and above
Application type: Travel and local
Hopefully, you will somewhat shorten the complicated processes in life as well as work, through the article about useful and necessary applications that we have compiled!