1. Window decoration with bamboo blinds
The curtain covering the window frame is made of bamboo material, creating a rustic, idyllic and close beauty for the baby's room.
For children who love simple, rural beauty, choosing blinds made of this material will certainly be "enthusiastically" supported by the angels.
In particular, in the spaces chosen mostly with wood or bamboo materials, the addition of bamboo blinds will create harmony and harmony in each design line.
2. Window decoration with fabric cords
The shapes and designs of the fabric are connected with each other by a gentle rope, cleverly attaching them with a moderate level of relaxation to create a soft and eye-catching window frame.
You can encourage your child to cut flowers or animals to stick on the fabric to create a unique and lovely decoration for their own room.
3. Decorate windows with stylized curtains
A curtain with regular patterns and colors may not be enough to create an impressive beauty as well as attractiveness for the baby's room. Buy a piece of curtain with a fringe that has lots of unique lines.
Surely the presence of this curtain on the window will create a luxurious and impressive beauty for the baby's room.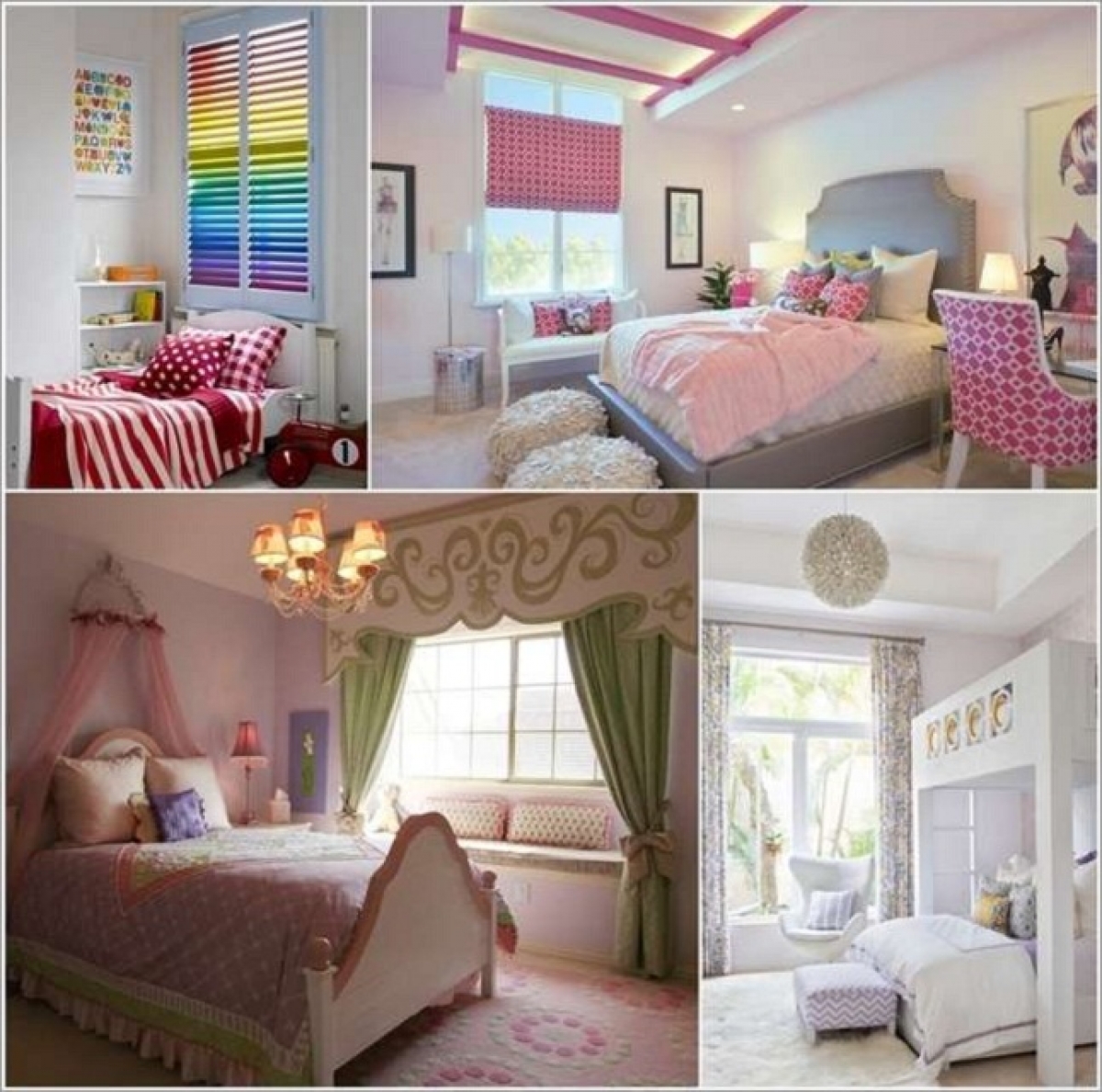 4. Decorate windows with paint
Using old paint cans to beautify the door in your own way or following the ideas that your child suggests is also a way to create new beauty without spending money for your child's room.
The striking colors on the windows combined with natural light from outside will make the baby's room space more attractive and fun.
5. Decorate the window with wool balls
Making wool balls is a pretty simple way that anyone can do it.
However, the spheres strung on a string to create a unique curtain for the baby's room window is an interesting idea that not everyone can think of.
If the window of your child's room is not decorated adequately, invest a little money and effort to create an eye-catching and vivid beauty for the window.
6. Decorate the window with ribbons
The colorful ribbons that have been popularly used in beautifying cribs, cribs or wrapping birthday gifts, creating a lovely bow for baby's costumes now have a new task, that is to beautify. for window frames.
This idea is quite suitable for girls' spaces. You can tie ribbons of equal length on the slider one by one to get a colorful, eye-catching curtain for your child's room.
7. Decorate the windows with white chiffon curtains
Chiffon curtains, thin and gentle, will bring a special charm to the baby's room, especially the girls' room.
Depending on the size as well as the decoration style of the space for you to choose a reasonable "expression".
However, no matter how the curtain is installed, the white chiffon fabric is still enough to bring a feeling of gentleness, elegance and delicate and impressive beauty to the room.
8. Decorate the window with curtains in the same color as the room
If you haven't found the right beauty solution for your baby's room, you can immediately use the simplest solution, which is to choose curtains in the same color as your child's own world.
If your child's room is decorated with a white background and a blue accent color, you should also choose curtains with the same background and accent ratio as the room to create a seamless, harmonious connection of colors as well. like style.
9. Decorate windows with lettering curtains
For children who are learning to read or learn to read, "inserting" more pieces of alphabet curtain is an idea to make them more excited in learning.
Adding curtains with many letters or meaningful words with outstanding colors will not only help the room be beautiful and vivid, but also help your baby develop comprehensively.
10. Window decoration with roller blinds
Many people still think that roller blinds are only suitable for office spaces because of the modern and luxurious beauty they bring.
However, try bringing roller blinds with pictures into the children's room space, this will certainly be a good suggestion for you.
The uniqueness and attraction of the curtain is due to the modern curtain design and the patterns printed on it.
You can choose for children who love nature pictures, plants and fruits, or their favorite cartoon characters, princesses, etc., it will give their room a lively space and they will love your home more.
According to VOV