Fresh flowers are an indispensable part of human spiritual life. Not only a meaningful gift, flowers are also an art form that brings beauty and freshness to living spaces. In 2023, the trend of arranging flowers in Vietnam has changed compared to previous years. The integration of Western culture has brought new and unique flower arrangement styles with high aesthetics.
With the diversity and richness of styles, flower arrangement is increasingly becoming a refined hobby loved by many people. To gain more experience in flower arrangement, let's have a conversation with Ngoc Tran, currently the Founder of Into the Garden Floral Studio.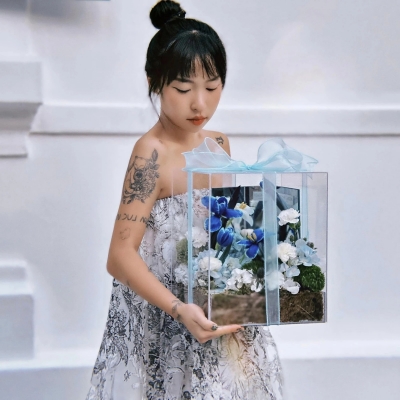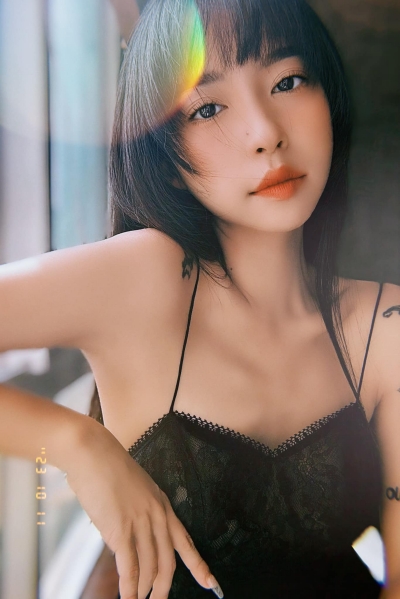 Ngoc Tran (1997 – Founder of Into the Garden Floral Studio)
Hello Ngoc Tran, we can see that in the past 2 years, fresh flowers have become increasingly popular. What is your assessment of the current flower trend among women?
In my personal opinion, the flower trend among women nowadays tends to be minimalist but highly artistic – also a style that is popular and highly regarded worldwide.
The demand for flowers by women is not limited to giving gifts on special occasions, people are starting to develop a habit of arranging flowers to relax and beautify their living spaces, as well as improve their quality of life. That is why there are many classes and workshops being offered to meet this demand.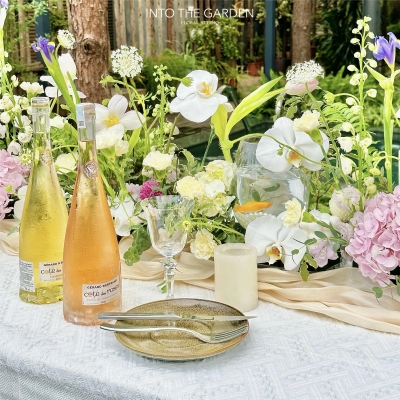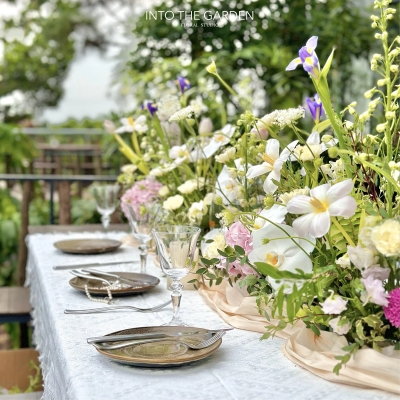 I have noticed that there are many reputable flower shops that quickly update the latest trends in the world, not just simple traditional flower arrangements but also diverse and creative ways of arranging. So attending classes or workshops can somewhat improve the flower arranging skills and flower enjoyment of women.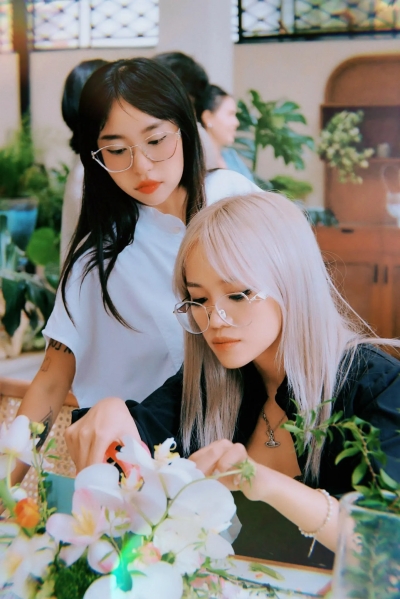 As someone with a lot of experience, can you share some tips to keep flowers fresh for a long time?
There are many ways to keep flowers fresh for a long time. First, when choosing flowers, pay attention to the freshness and firmness of the stems and roots of the flowers. If the cut part at the flower's root is dark, it should not be chosen as it indicates it is an old flower or a cold winter flower.
Next, it is important to prepare the flowers properly: Cut the stem, remove some leaves (as having too many leaves will absorb nutrients from the flowers, especially if you place the flowers in a vase at home, leaving the leaves soaking in water will cause the flower water to spoil and cause the stem to rot quickly).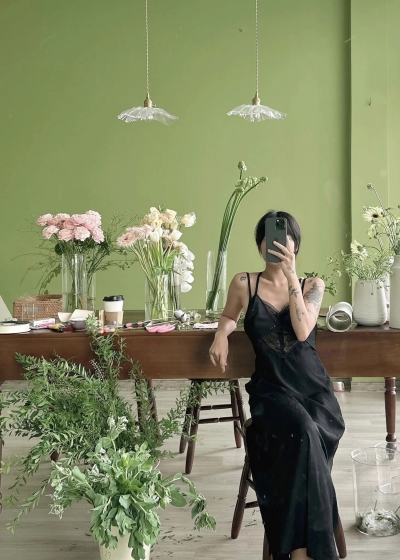 Finally, to extend the lifespan of flowers, it is recommended to change the water daily, and it can be combined with using flower nutrients. Moreover, if you notice the flowers wilting, you can put them in warm water (20 – 22 degrees Celsius) and cut the flower stem diagonally before putting them back in the vase. It is also not advisable to put too many flowers in the same vase because they will not have enough oxygen for the petals to breathe.
In your opinion, which type of flower is the easiest to arrange? Can you give some suggestions for arranging a bouquet in the living room?
I think each type of flower has its own characteristics. Basic flowers commonly used in arrangements are roses, chrysanthemums, lilies, and orchids partly because of their straight and rigid stems, which make them easy to arrange and create simple designs, and partly because they last a long time and are widely used.
If you have little experience with flowers, you can start with these types of flowers (you can also try your hand at tulips, climbing orchids, sunflowers, baby's breath, etc.) and use tall vases with narrow mouths. I also encourage you to participate in short-term flower arranging classes to improve the necessary skills.
Many people think that arranging fresh flowers every day is somewhat wasteful. What is your view on this issue?
If arranging flowers every day is considered wasteful, it is not entirely true because women always love beauty. So, every woman will always love flowers and receiving flowers, which is a feeling that is difficult to describe in words. Therefore, fresh flowers are always a gift that is used on all important occasions for women.
It can be said that fresh flowers are considered as a spiritual food for women. The hobby of arranging flowers is not too costly if you know how to choose and keep flowers fresh. In addition, flower shops nowadays offer many monthly flower packages based on customers' limited budgets to bring fresh flowers closer to everyone – everyone can arrange flowers, everyone can love flowers.
Thank you Ngoc Tran for your insights!
According to Phu nu moi