1

What is the right time to travel to Tay Ninh?

Going in the dry season will of course be more wonderful because you can not have to worry about heavy rains interrupting your journey. However, when Tay Ninh is in the rainy season , it is not always raining. Sometimes there will be times when it's sunny, if you can't arrange the time to go in the dry season, you can go in the rainy season. Just keep an eye on the weather for about 2 to 3 days before you can have fun.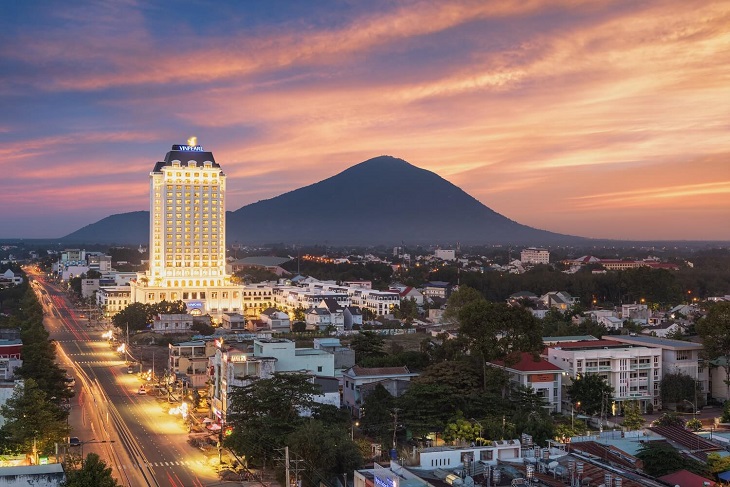 2

The most famous check-in locations in Tay Ninh for you to freely "live virtual"
Dau Tieng Lake
With equally poetic, unspoiled beauty, fresh nature, cool and peaceful surroundings, Dau Tieng Lake becomes a tourist destination not to be missed. You will be able to observe the silence of the giant lake and watch the quiet afternoon and romantic sunset on the horizon.
Ma Thien Lanh tourist area
Only about 100km from the center of Saigon, there are beautiful old forests, creeks through the rocky crevices … making this place an ideal destination for backpackers. Fortunately, not many people know, and tourism has not been taken advantage of, so Ma Thien Lanh still retains its wild look.
Mrs. Black Mountain
With an altitude of 986m, the top of Ba Den mountain is covered with clouds all year round, so if you can, the experience of watching the sunrise on the mountain will be the most interesting thing for your Tay Ninh trip.
To get to the top of the mountain, you can choose different routes. Currently, there is a cable car system in the mountain, which can take you to the top of the mountain within 10 instead of 4 hours walking like before. However, by climbing the mountain by yourself, you can enjoy the surrounding scenery, freely walk in the cool space of Ba Mountain, admire the rose bushes, apricot trees, lilies, tulips, … is blooming.
Tay Ninh Holy See
Tay Ninh Holy See is a monumental religious-artistic work of Cao Dai religion. The design of the Holy See reflects the combination of East and West perspectives, showing the harmonious coordination between heaven and earth and people. This place has become a pilgrimage site for about 5 million followers around the world and is an attractive spiritual tourist attraction originating in Vietnam for many international tourists.
Binh Thanh Ancient Tower
Located on high and fairly flat terrain , the ancient tower area hidden under the shade of green trees brings an extremely poetic, wild, mysterious but equally fresh and peaceful scene. Around the tower, there are immense rice fields in the distance, creating conditions for visitors to feel the relaxation and peace of mind.
The Old Tower of Last Day
Placed on a high mound in the middle of a vast field, the Chot Mat ancient tower relic bears bold traces of the Oc – Eo civilization , which was paved brick by brick by the Oc – Eo people. A special feature is that they do not use cement to create adhesion between the bricks but have created an extremely monumental tower, like a giant pen rising in the middle of the blue sky.
Lo Go National Park – Xa Mat
Lo Go – Xa Mat National Park is the habitat and development of many bird species listed in the Red Book of Vietnam or the world. This place is known as the "lungs" of Indochina , because of the diversity and richness of the ecosystem when the number of plants has up to 696 species and 158 species of trees that can be used as medicine. 58 species, 21 species of ornamental plants, 10 species of food plants and 7 species of vegetable plants.
Long Dien Son tourist area
As one of the ideal tourist destinations in Tay Ninh, with its "charming water" landscape, Long Dien Son eco-tourism area is steeped in Vietnamese tradition and cultural identity, so it attracts a large number of tourists. Many tourists inside and outside the province come to visit and entertain. With countless attractive and interesting games, Long Dien Son is a favorite destination, suitable for all ages from children to adults and the elderly.
Guy Riec Forest
Visiting Chang Riec Forest , the silence, the birdsong, the howling wind, the sound of the stream, everything melts and forms a silence in the vast green, but that's why visitors can easily reminiscing the harsh times during the anti-American resistance war.
Thai Son Pagoda on Cau mountain
With a total area of more than 1600 hectares and surrounding 21 mountains, Thai Son Mountain Pagoda owns many works such as: The Cuu Trung Dai Thap here is up to 36m high and has 9 floors, the Ngoc Chanh Dien is the place built according to Ancient oriental style….
Go Chua Fruit Garden
This place is a familiar destination for many tourists because they come here in addition to visiting the large orchards, you can also try the fresh taste of fruit on the spot.
3

Some notes when visiting Tay Ninh tourist attractions

– Do not litter in the places you go.

– You should wear light, easy to move clothes.

– Bring a jacket, hat, sunscreen, mosquito repellent, insect repellent, stomach ache medicine (precaution when enjoying strange foods). If you intend to climb the mountain by yourself, you should wear sports shoes. or flat shoes and some compact medical tools, necessary to prevent unexpected cases.

– If you plan to have a picnic and spend the night on Ba Den Mountain, you must equip tents, warm clothes, and food.

– Note that when entering Tay Ninh Holy See, you must leave your shoes outside and visit according to the guide.

Please refer to some samples of suitcases being sold at Dien May XANH so that you can best prepare for your trip to Tay Ninh:

Above are the top famous tourist destinations in Tay Ninh that you should not miss during your trip. Wish you have a great trip!