1

The Common Room Project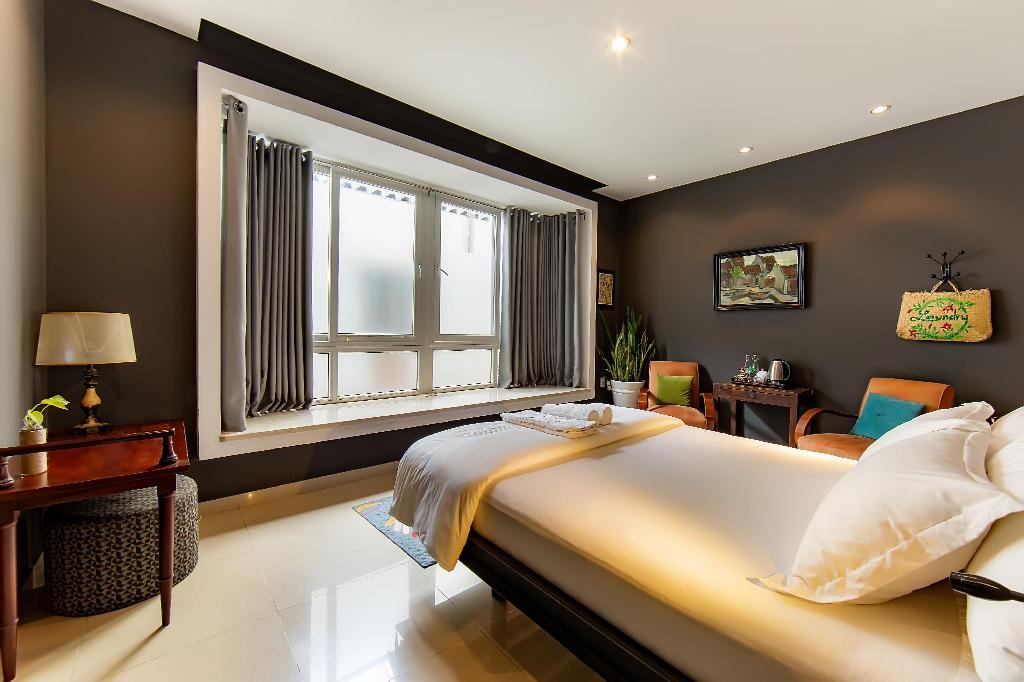 The Common Room Project is located in a small alley in Saigon , designed with a brooch color scheme that blends nostalgia and modernity and turns every corner into a virtual living corner, making visitors with impressive decoration. statue.
This place is called "an oasis in the middle of a crazy city" and there is a place for visitors to chill, which is a rooftop bar called Oasis. The difference of this hostel compared to cheap homestays in Saigon is the kitchen with full cooking utensils.
Oasis bar is open from 18:00 to 24h so everyone can relieve pressure, chat with friends in melodious music, enjoy a cool cocktail in the middle of Saigon's weather.
2

Kaiteki Hotel "capsules"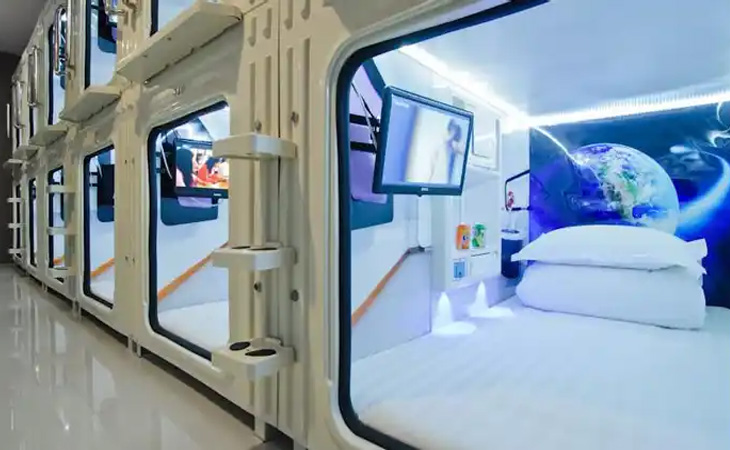 The good application of the "capsule" model here has attracted many visitors and also commended this modernity. For those of you who travel far away, try stopping here if you have the opportunity to pass through Saigon, with a place to lie down and put your things, Kaiteki is your top priority.
Kaiteki Hotel "capsule" all 60 "cocoons" to sleep, each room has an area of 2m2 but has full equipment such as lockers, pillows, and especially magnetic keys so you can Rest assured to leave your things and go out.The separate toilet area is quite clean and modern.
Each "cocoon" is painted white, the head of the bed is the shape of the Earth, you will feel like you are lying in a vast vast universe, flying in the middle of an infinite space.
3

Springfield Cottages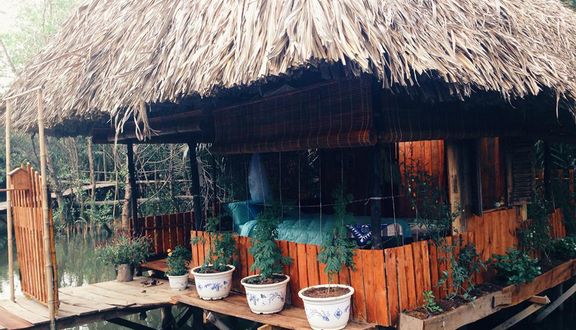 Springfield Cottage is located in Binh Chanh district, about 50 minutes by car from the center . Coming here, you will feel the tranquility and freshness away from the hustle and bustle of the city. However, the phone signal here is weak, so you can separate the technology to enjoy the peaceful suburban scene.
The price of this homestay is quite cheap, idyllic in the countryside , dispelling worries and chaos. Homestay is built on the water, surrounded by ponds and lakes, decorated with many kinds of flowers to help you feel the natural and comfortable space like never before.
4

Stay in Saigon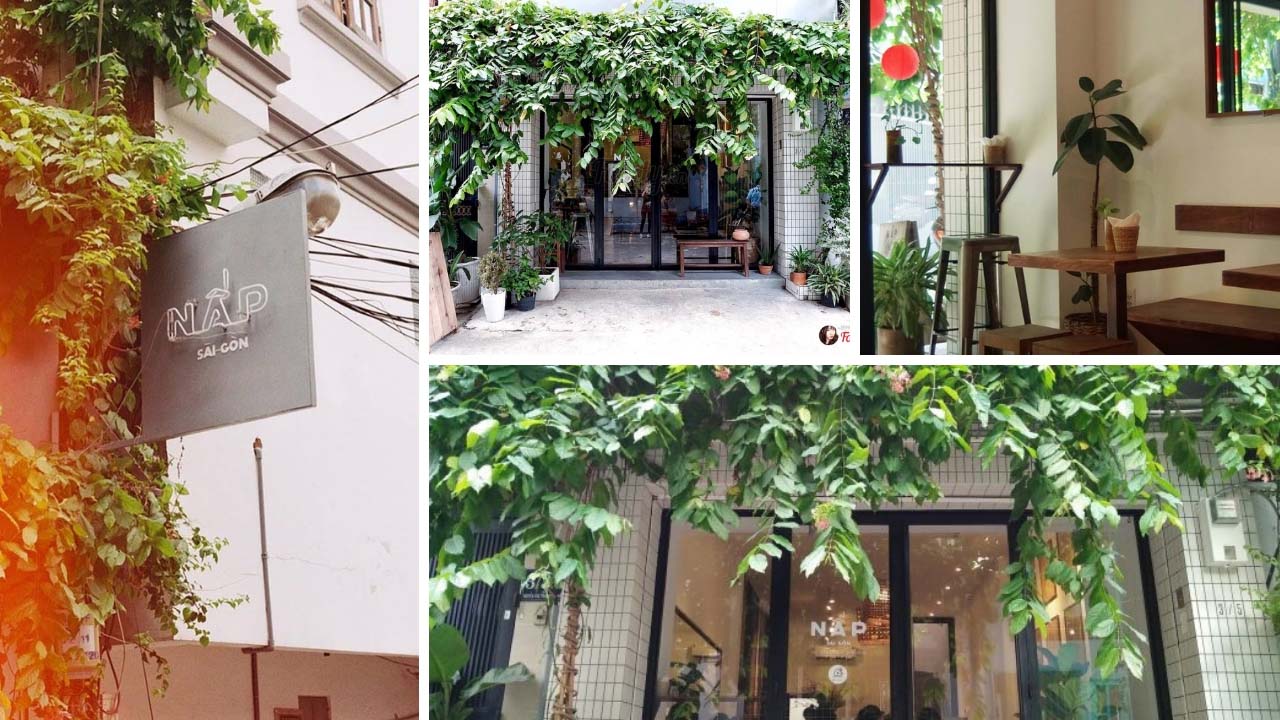 Nestled in Saigon is a space with a slight cream color , the summer sun rays adorn the room more nostalgic, giving visitors a feeling of warmth and closeness.
Every corner of the house is decorated very artfully and gently in a modern minimalism style.
5

Town House Saigon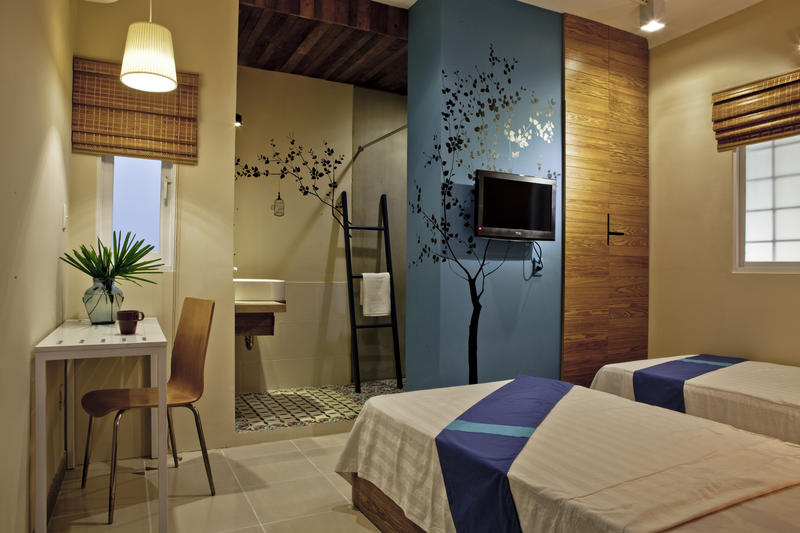 Town House is one of the cheapest and most interesting homestays in Saigon, owning 3 different branches in different districts, each branch has its own attractive features that are praised by many visitors.
Thanks to the meticulous care in choosing each table and chair, this place has the most luxurious space but still creates a cozy feeling like at home. This is the key point to help this place record many good impressions.
6

Sigoong Hostel Bar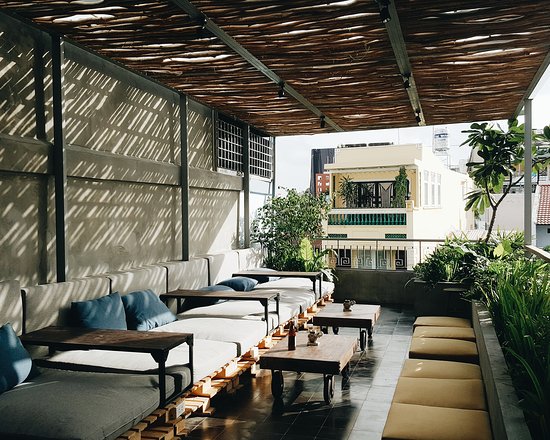 Sigoong Hostel Bar is the place for those who like to be naughty and discover new places. Although there are only 5 rooms, but Sigoong Hostel Bar makes visitors unable to stop rubbing their thoughtful decoration and cleanliness.
With an extremely convenient location in the city center, 900m from Ben Thanh market, 1.2 km from Nha Rong Wharf, and very close to the night market. In addition, guests can participate in interesting nightlife activities at the homestay.
7

Tripwriter Hotel & Bistro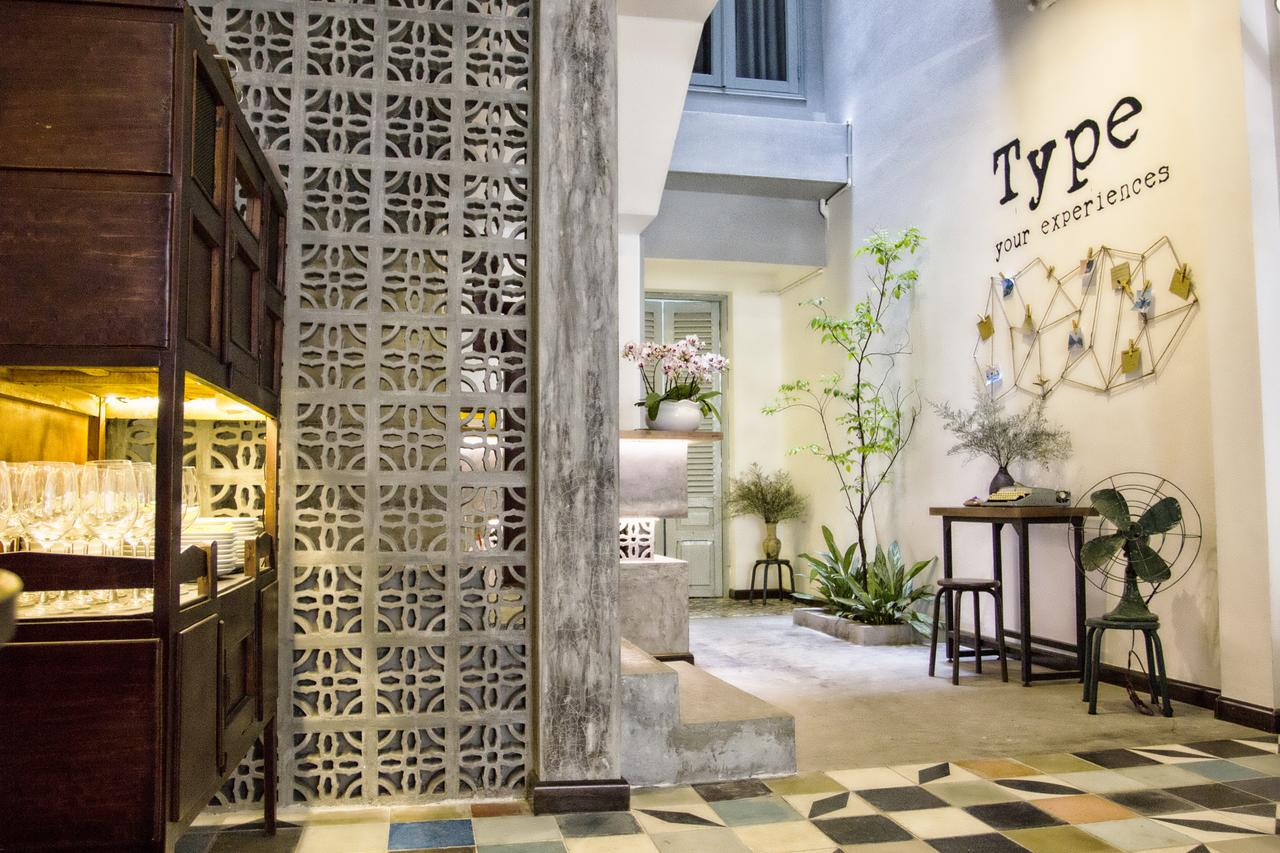 Tripwriter Hotel & Bistro is a small, lovely hotel in the heart of Saigon. When you come here, you will easily be attracted by the cement walls and green painted gate, bringing the ancient features of old Saigon.
The highlight of this homestay is that all the photos are checked-in right at the gate, because the gate is decorated so beautifully that it makes you stop and find a virtual living corner for yourself.
8

The Laban
When you want to go to Da Lat in the heart of Saigon, The Laban – a hotel and cafe model where young people eagerly choose to rest here. Laban's design carries the true romance of a dreamy, poetic Da Lat.
This place is a simple but artistic space with full of sunshine, green grass, balcony and large windows. All create an airy, comfortable and extremely quiet feeling for anyone who comes here to rest.
9

Nguyen Shack – Saigon Homestay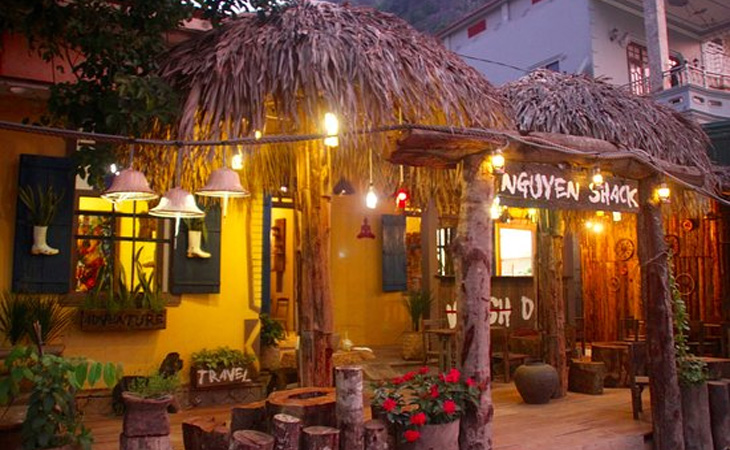 This is a place that prioritizes the use of nature-friendly materials and creates a lovely place to stay in the heart of Saigon. The space that is both comfortable, luxurious and rustic is created to create a feeling of relaxation for any visitor.
Located about 3 km from the center of Saigon, you can easily find famous attractions. From there, you can rent bicycles right in the hotel to cycle through every street of Saigon.
10

Vintage Hostel Saigon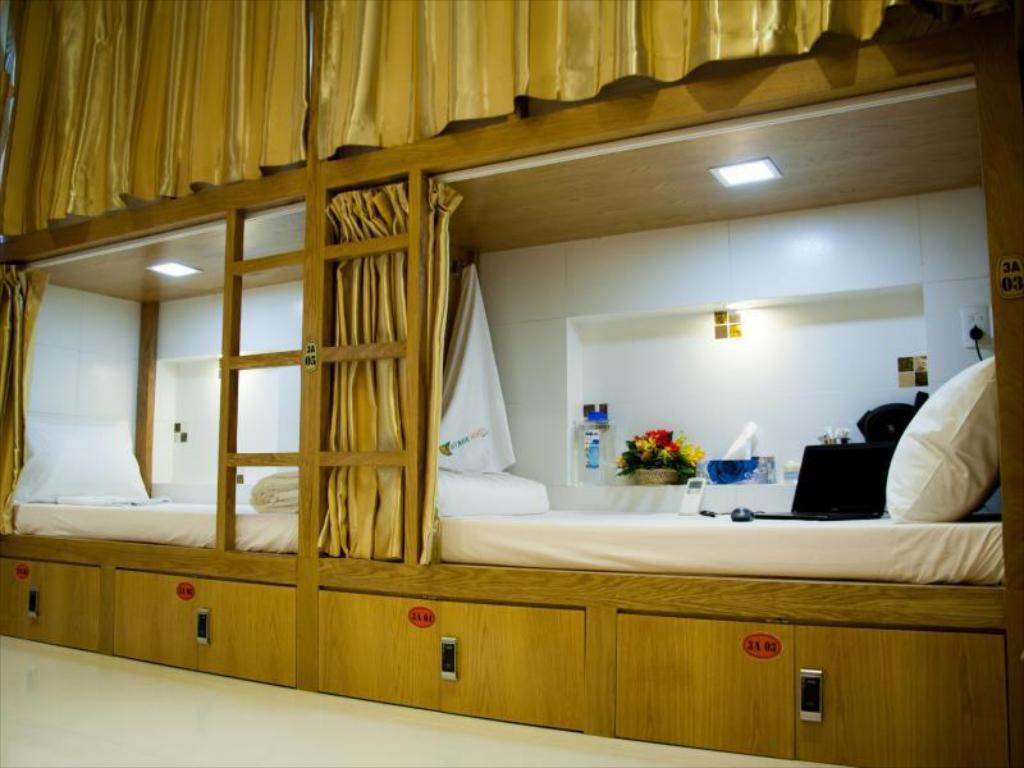 With a prime location right on Bui Vien West Street, this place owns an extremely convenient location to go around and explore Saigon. For example, you can go to Ben Thanh market or the Fine Arts Museum which only takes about 5-10 minutes by car.
Vintage Hostel Saigon consists of 64 rooms , each room is fully equipped with modern amenities. You can drink coffee with promotions through Casa Coffee Shop. There can be two types of rooms for you to use: dorm rooms with up to 8 beds and private rooms with up to 3 beds.
Check out Dien May XANH's business photography sticks at good prices for great travel experiences!
Hopefully with the information above about the top homestay and hotel in Saigon, it will help you easily choose a place to rest when coming to Saigon.