1

9 Station Hostel

If you ask people who have experience staying at homestays when going to Phu Quoc, you must have heard about 9 Station Hostel !
With nearly 22,000 likes on the facebook page and up to 3,800 check-ins, this is definitely a homestay you shouldn't miss!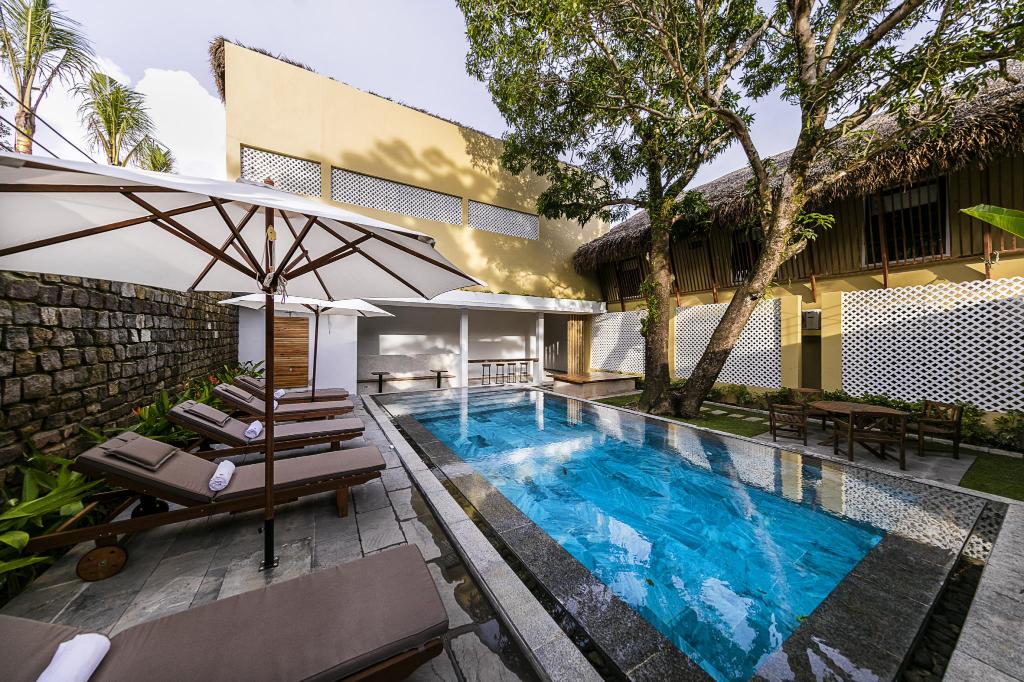 Blue swimming pool with the entire design of stone. This creates a pretty good scene and is suitable for those who are passionate about "virtual living". With a variety of accommodation options for you, 9 Station Hostel should be a priority when you want to come to Phu Quoc.
2

Langchia Home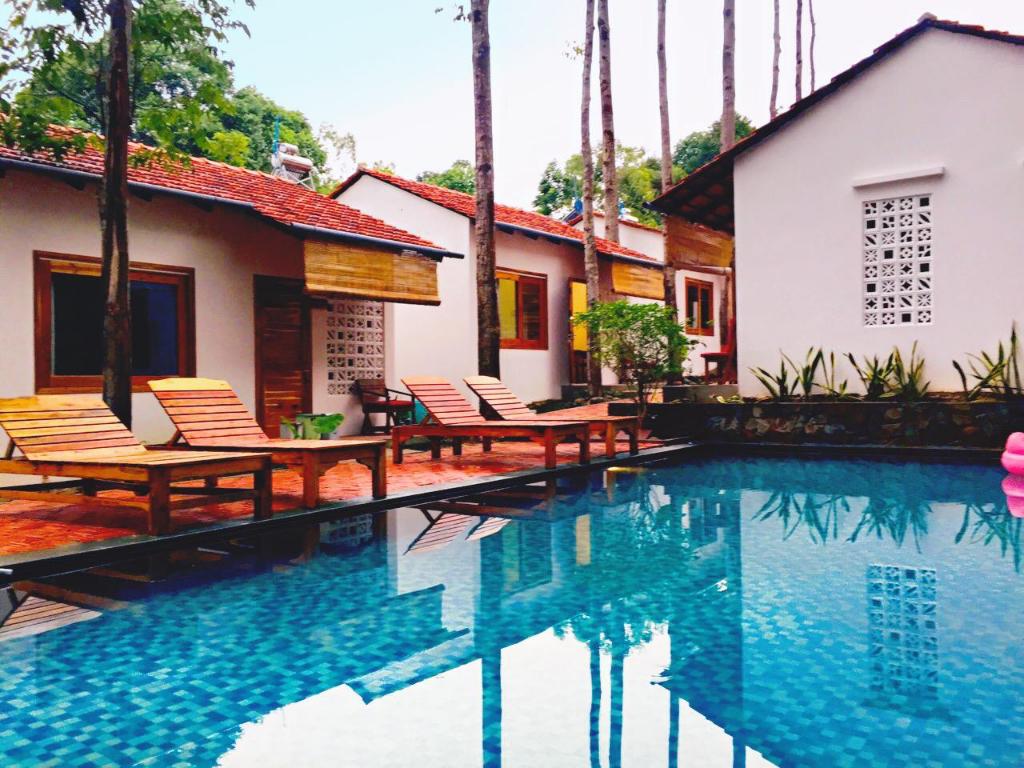 With a quiet space, in order for customers to forget the hustle and bustle of tired working days. Surely Langchia Home is also a place to think about when coming to Phu Quoc.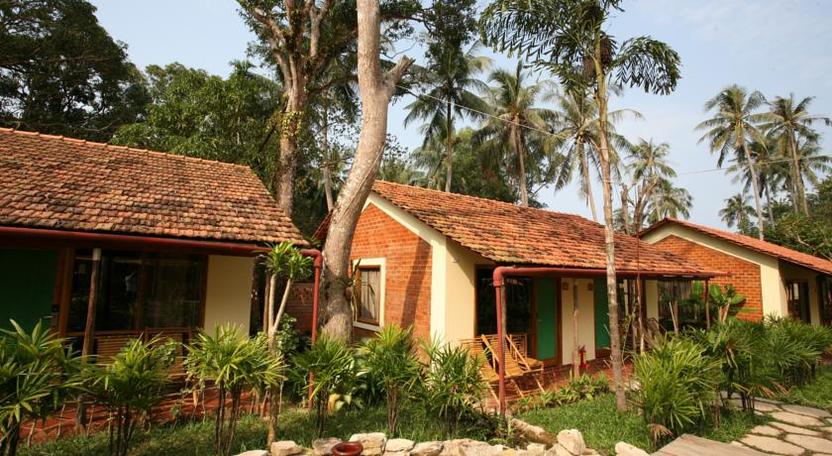 Langchia Home has a paved path leading to restaurants in the middle of the sea. The large, green space will make you feel very comfortable and comfortable. This place will also produce many "thousands of likes" photos if you like to live virtual.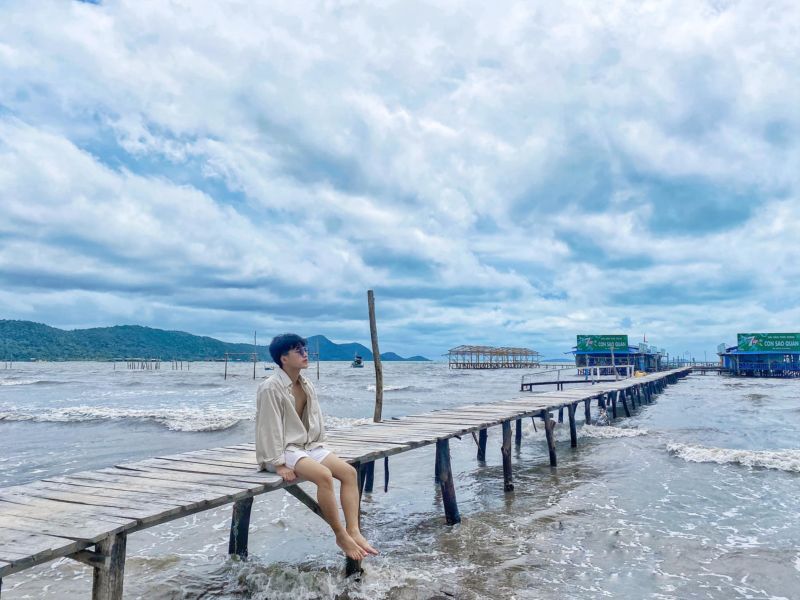 3

Hon Dam Island Hideaway

Hon Dam Island Hideaway is an island located quite far from the center and about 10km south of An Thoi port. Although this is the farthest homestay on this list, it's worth it because of its beauty, right?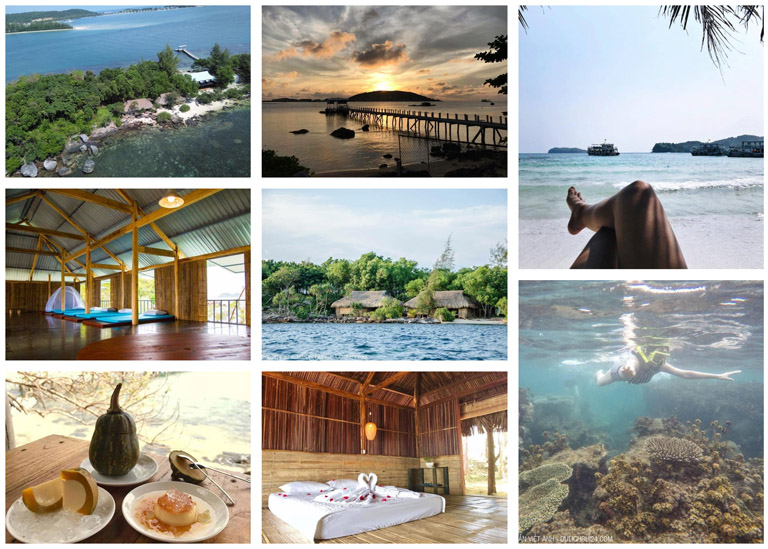 Really wild, wonderful scenery. This place is suitable for couples and nature lovers. And this is also a suitable place for those who like quietness and harmony with nature.
The rooms here have no doors but only a thin bamboo curtain to separate the private space in the room from the outside. It is easy for you to see the sea as well as enjoy the fresh sea breeze.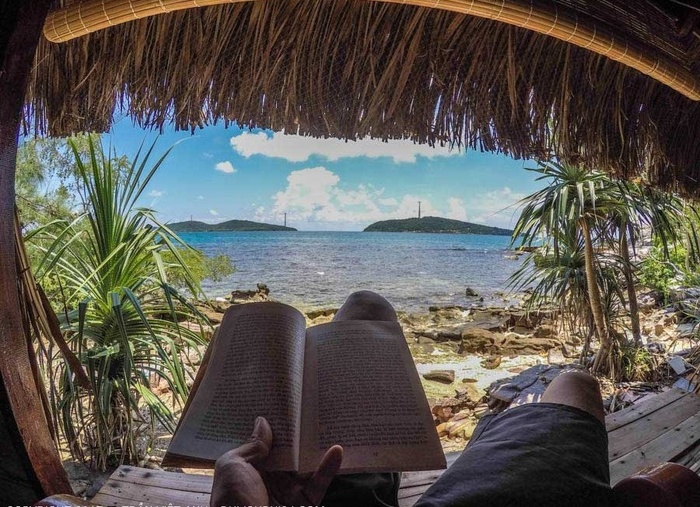 4

The Fish

The Fish Homestay is currently one of the homestays that are loved by young people. With a convenient location about 400m from the beach, you can walk to the sea to watch the sunset and sunrise quickly.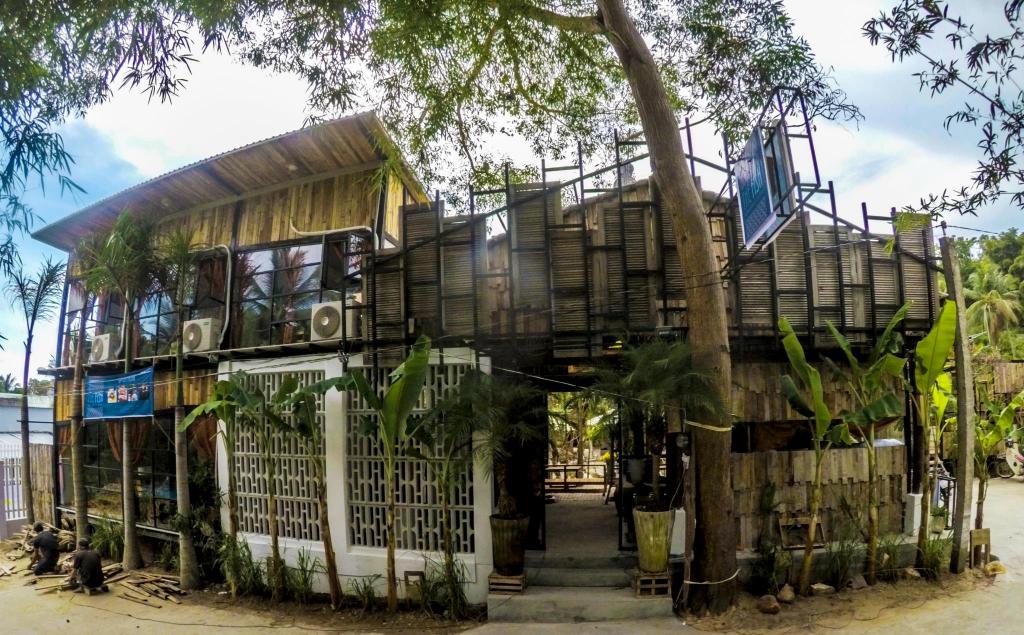 Everything here is carefully selected. Although The Fish is quite large, there are not many rooms, so it feels cool and comfortable for you. Will keep you here for a long time!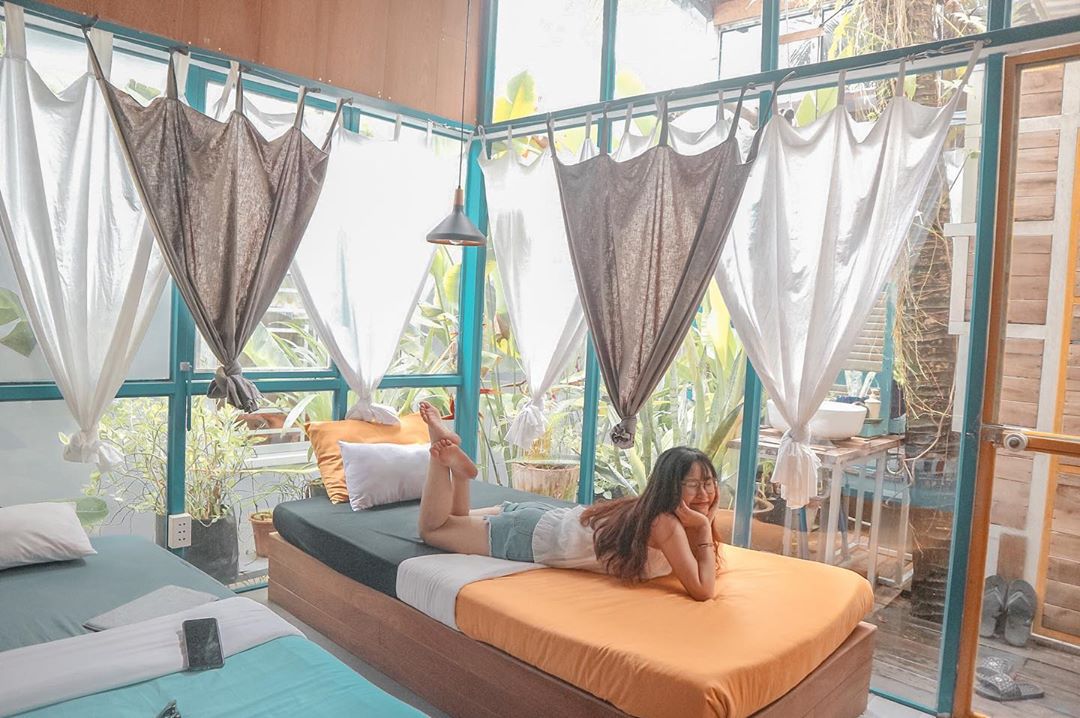 If you are a fan of virtual living and really like corners with vintage backgrounds , then The Fish Hostel & Restaurant is definitely a place not to be missed.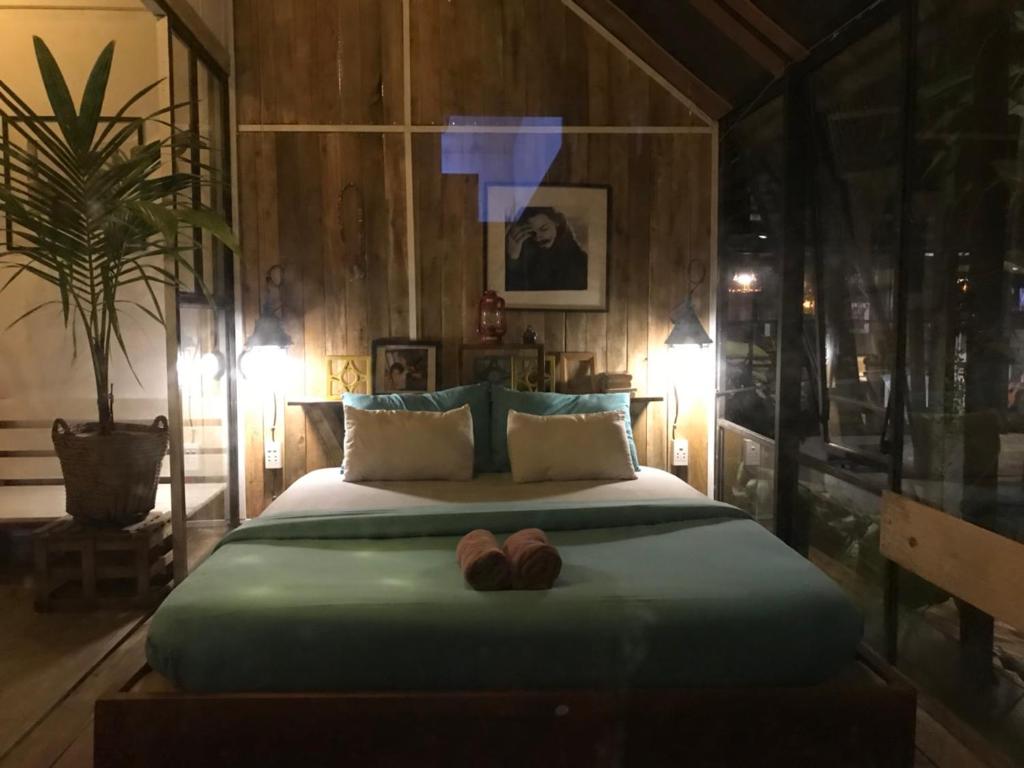 5

D'Hotel Phu Quoc

Homestay D' Hotel is designed in the direction of the center, only a 10-minute drive to Phu Quoc international airport. The space here is very quiet, separate from the noise outside, although it is only about 150m from the main road.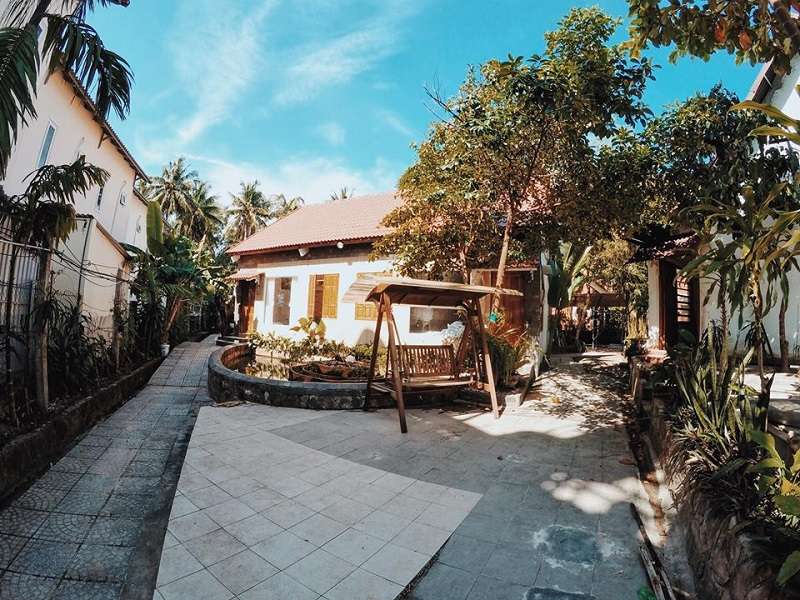 D'Hotel Phu Quoc's bedroom is designed in the traditional Vietnamese style, but still ensures the most complete and modern furniture. Surely this will give you a new feeling when staying here.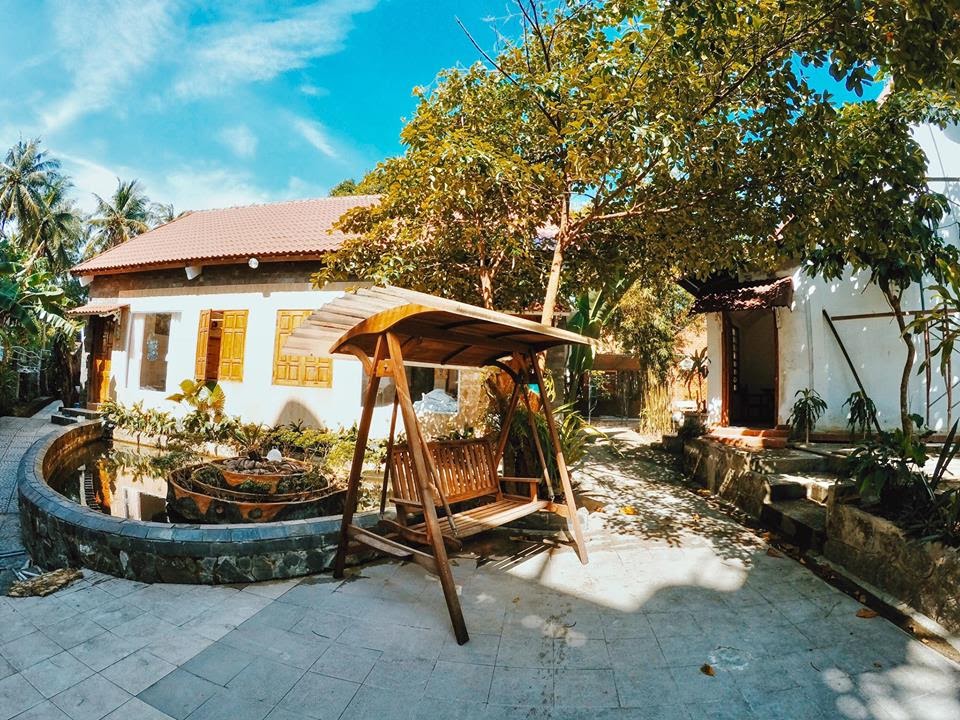 6

PEACE House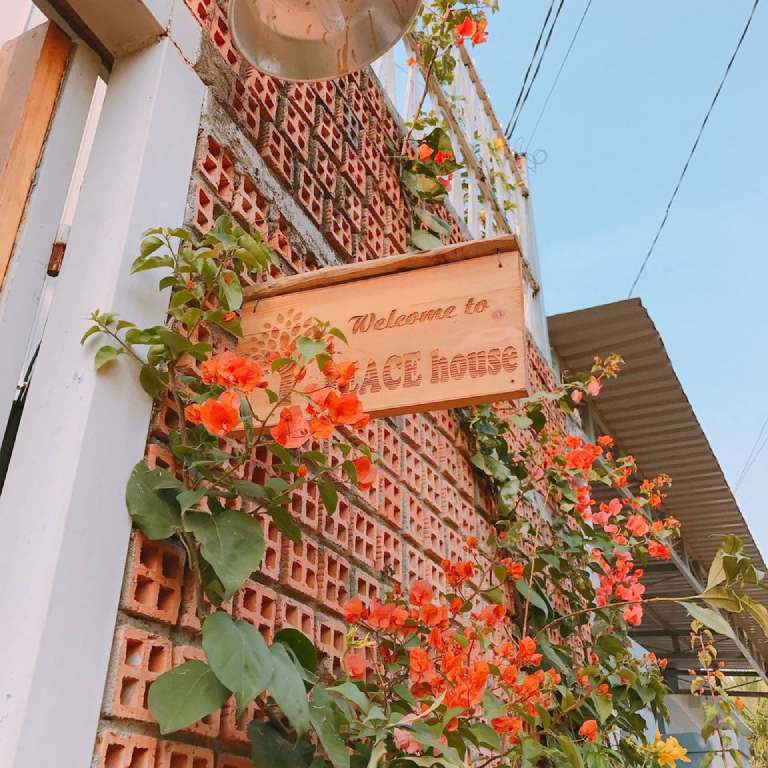 A quiet color will hit you in the face as soon as you arrive at the gate of PEACE House ! The space here has a bit of classic mixed with modern sophistication to create a feeling of peace, closeness and strangeness.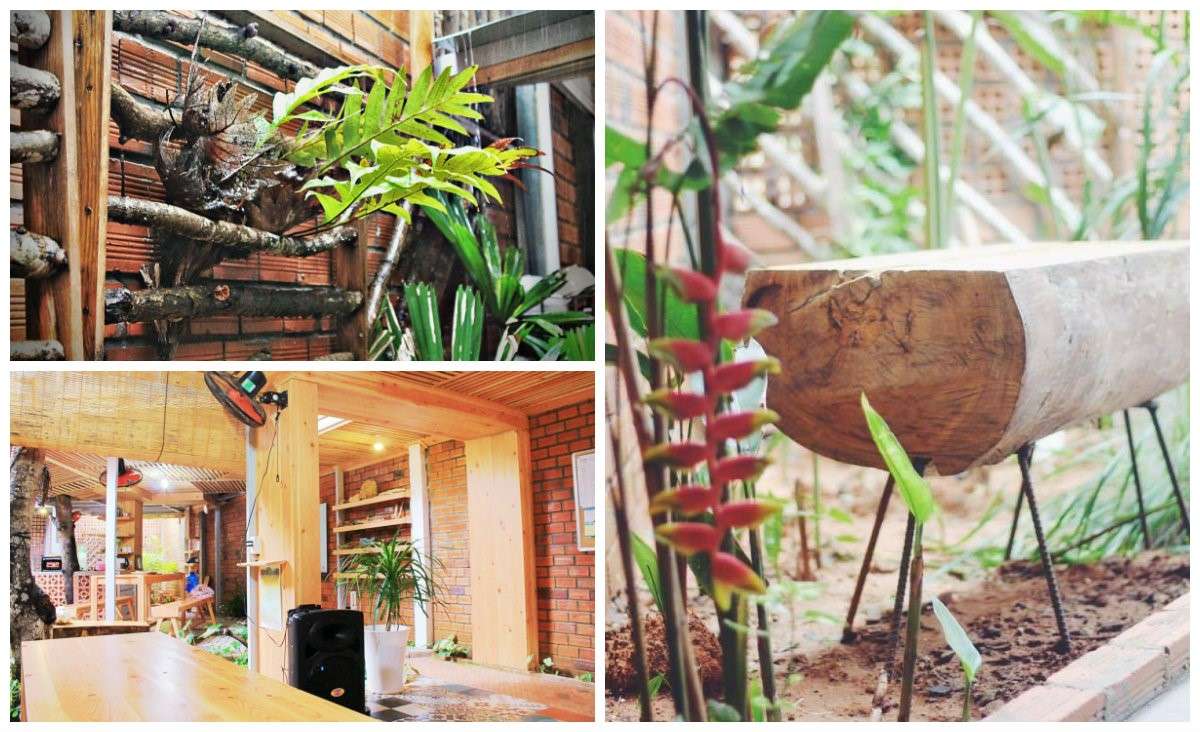 The color is classic , but not quiet. It has a rebellious color. Are you ready to make a very cool photo shoot with your friends?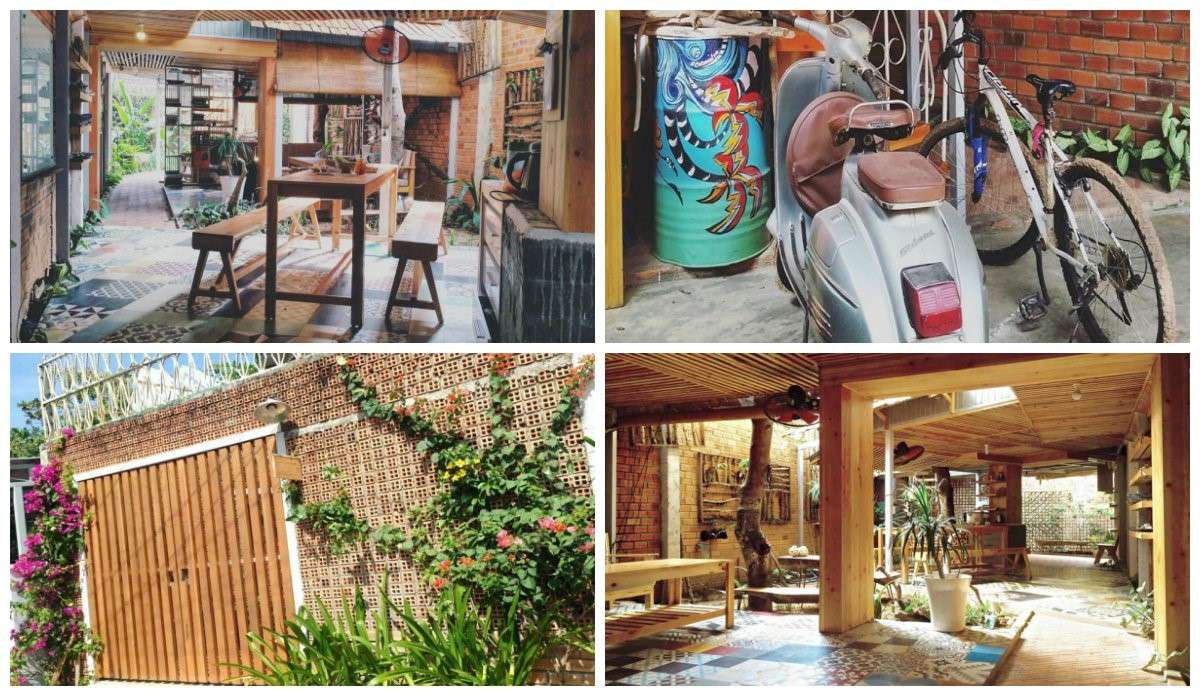 7

Cottage Village

The traditional beauty revolving around the thatched-roof huts was the idea for Cottage Village to build its current image. In the campus of the homestay is also planted a lot of cool trees.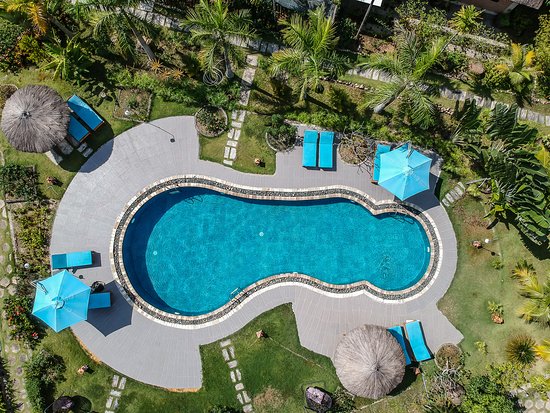 Instead of following the style of young people, Cottage Village chose for themselves a simple and familiar tone, bold Vietnamese countryside. Therefore, many young people often come here because of the sense of familiarity that this place brings.
8

La Mer Resort

La Mer has a quite convenient location because it is only 10 minutes from the airport , so you can easily lay your back here after a tiring flight. The owner of the homestay is also very enthusiastic and attentive to make you feel most comfortable.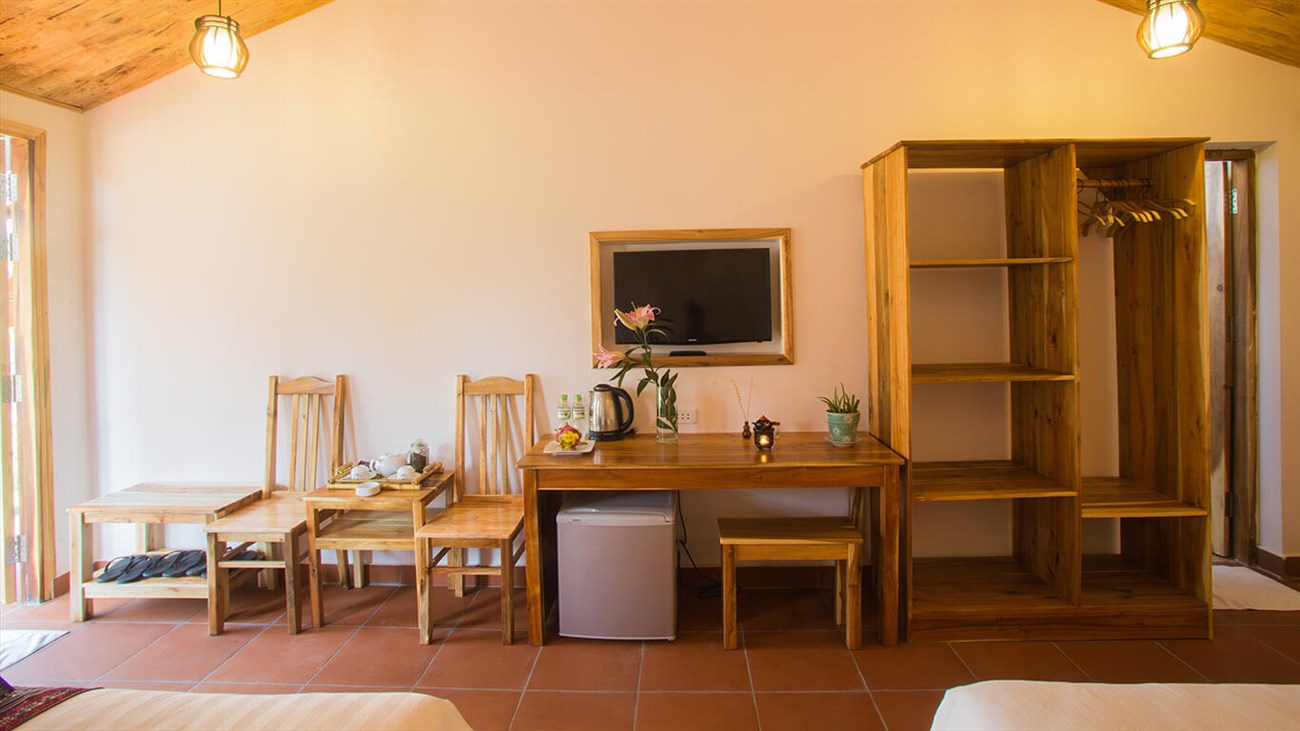 Vietnamese design with tiled roofs or an aquarium right in the middle of the campus. However, here is indispensable swimming pool. Seen from above, the swimming pool here looks like it is nestled in the middle of a forest!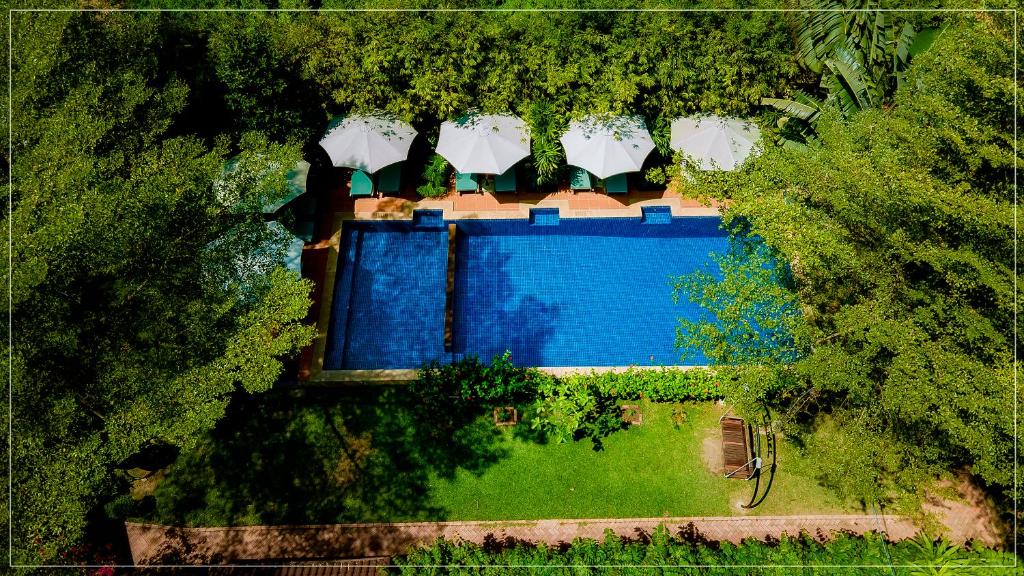 The white walls, at the ceiling are evenly paved wooden pieces, creating a spacious and airy scene in the bedroom.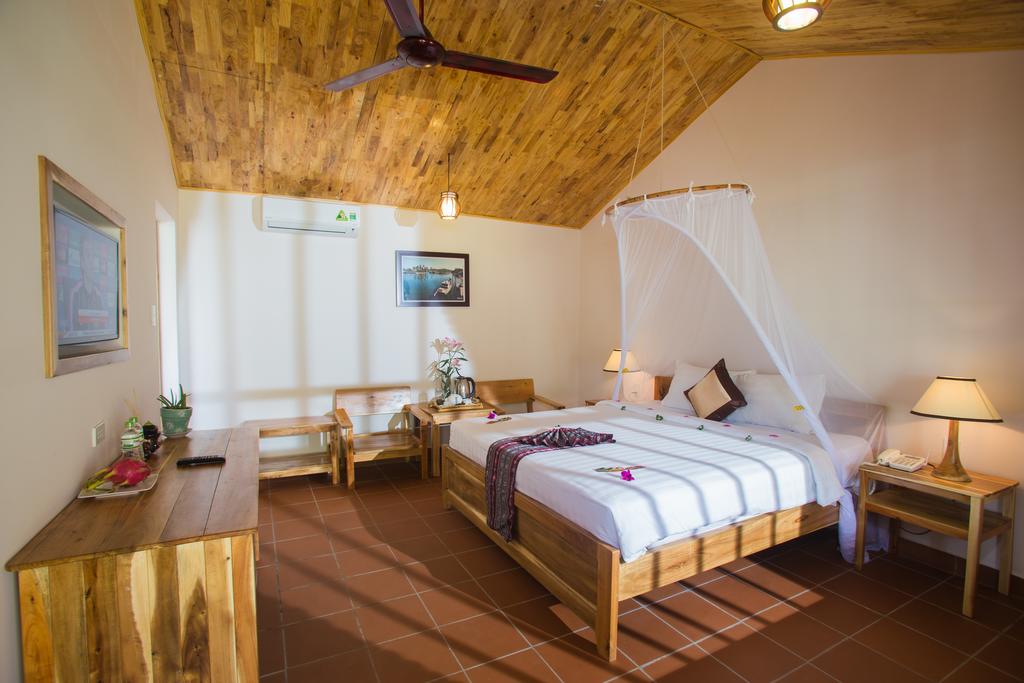 9

Sen Lodge Bungalow Village

If you stay at Sen Lodge Bungalow Village , you can easily see many interesting things in this place!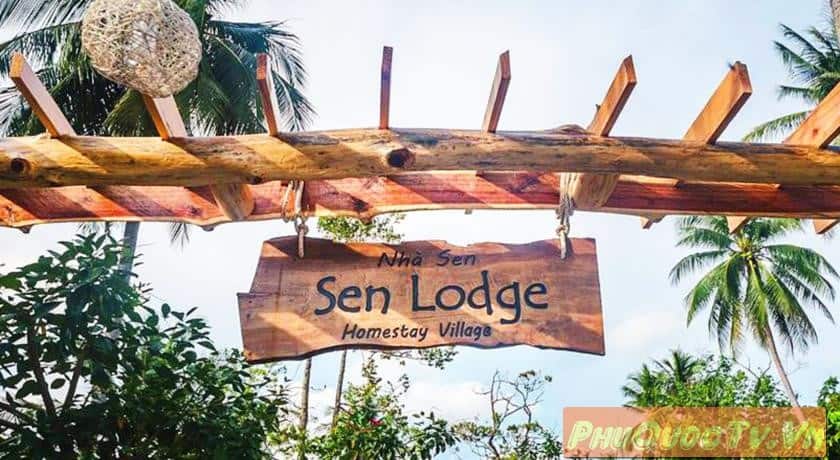 When entering this homestay, you can feel like entering a fairy garden. The houses are strangely shaped but very cute, which will give you the feeling of returning to your childhood stories.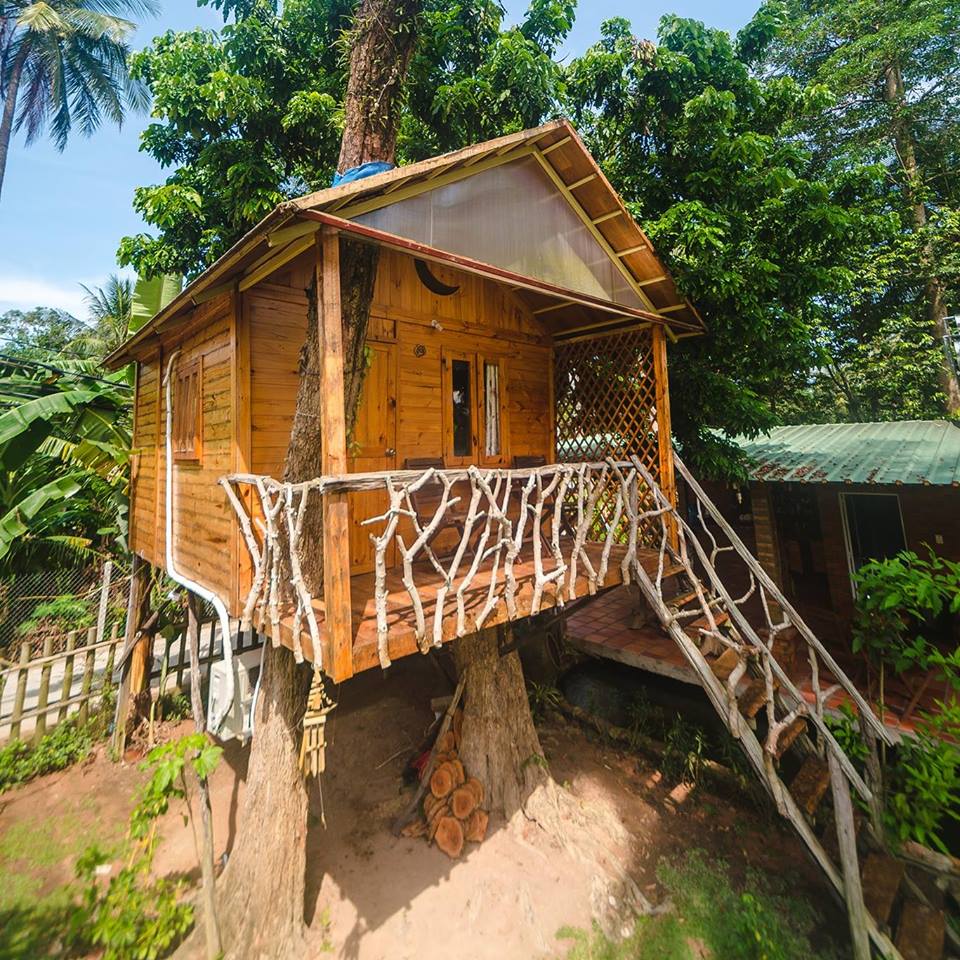 Although the tree trunks pierced the room, it did not make the room gloomy or dark. On the contrary, it gives the room a more unique and interesting beauty. Besides, there is a feeling of being in harmony with nature even more!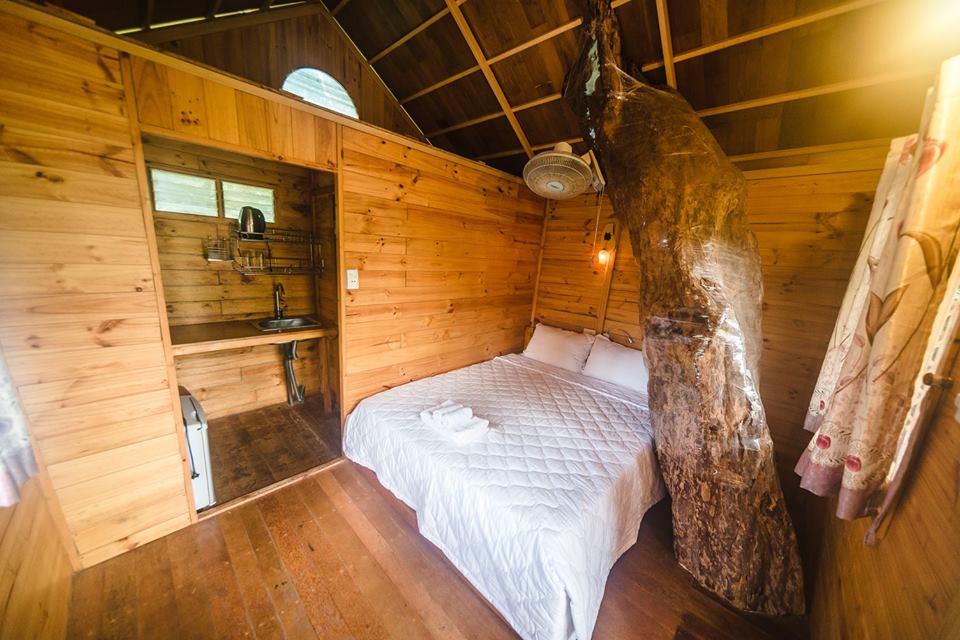 10

Ninila Fruit Farm Bungalows

Looking down from above, Ninila Fruit Farm Bungalows looks like it is nestled in the middle of a forest. The roofs are designed in the old style, shaped like mortar hats, very pleasing to the eye.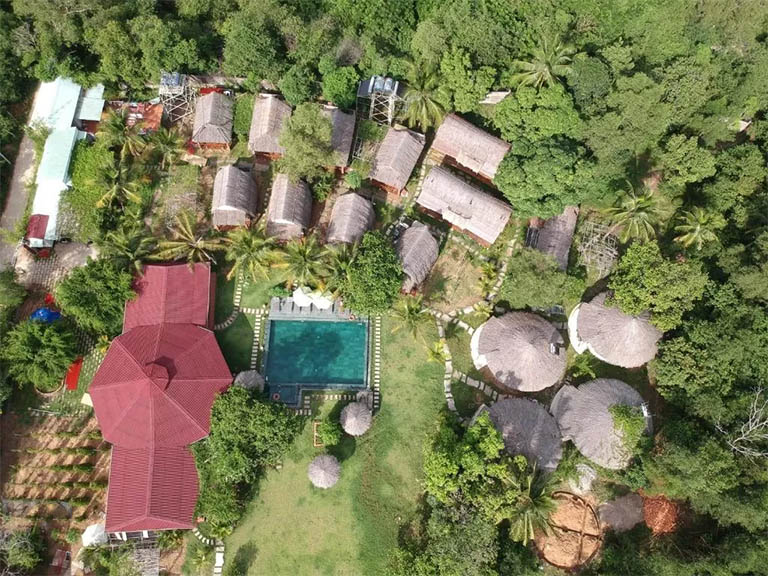 The bedroom inside is quite special when the walls are designed with diverse textures and are all made of wood.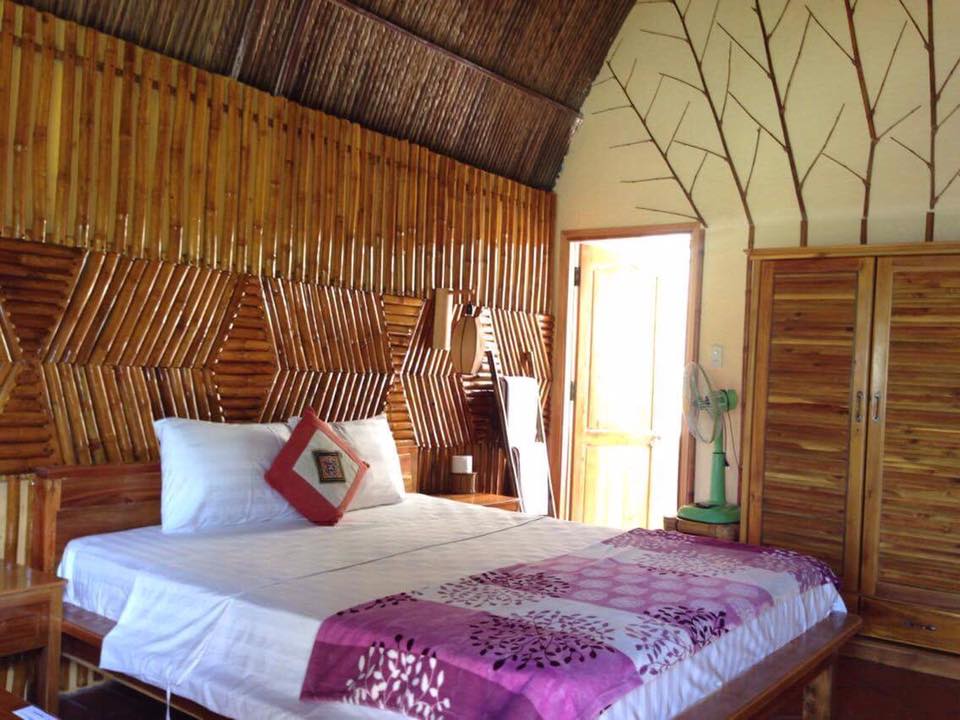 In addition to the pool area for you to bathe and have fun, the homestay also arranges a long line of colorful hammocks for you to enjoy the hedonistic space from the fresh nature in this place more closely. .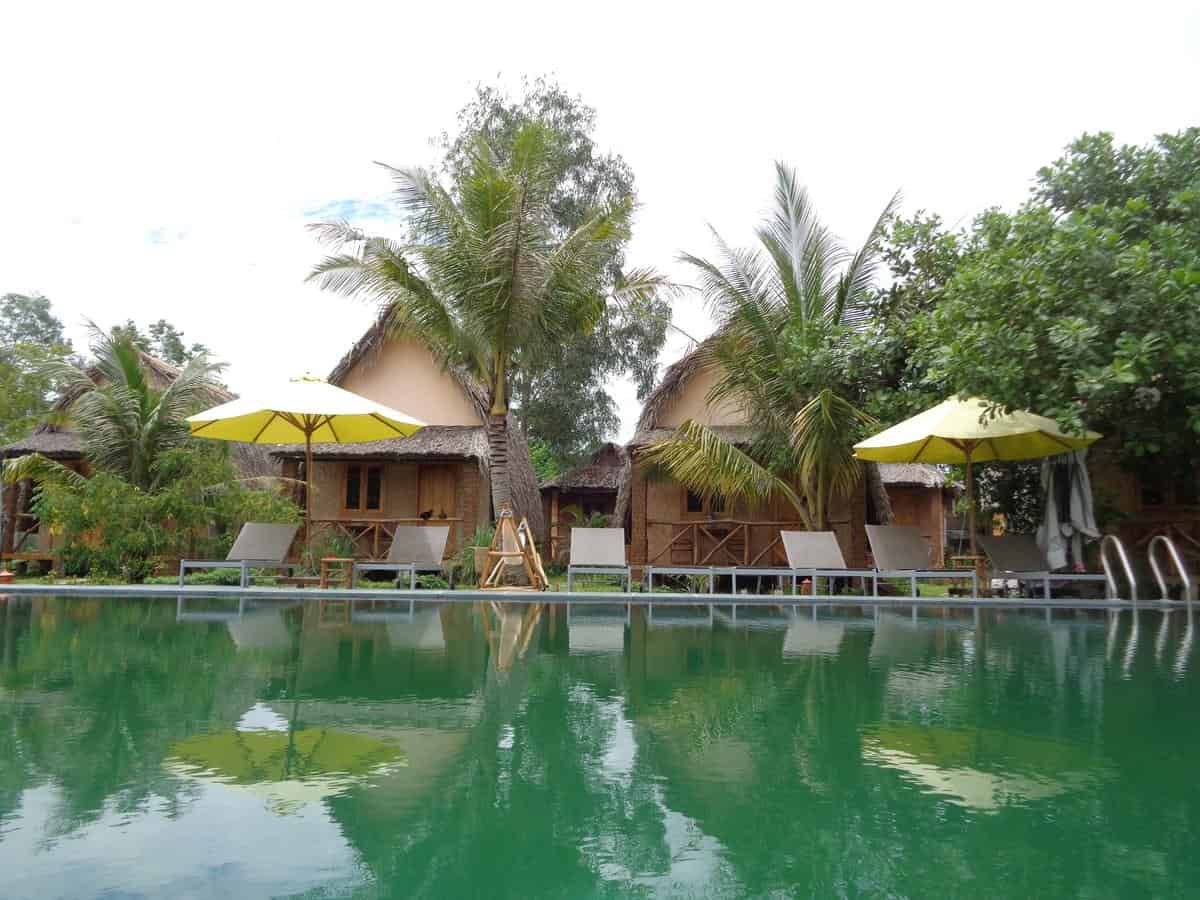 Please refer to some of the best-selling photography sticks at Dien May XANH to get the best photos!
Dien May XANH has reviewed the Top 10 Phu Quoc homestay with beautiful view, cheap price near the center to you. How about you? Are you ready for your summer trip? Prepare carefully for your Phu Quoc travel journey and choose one of your favorite homestays to rest!