1

La Mer Homestay
One of the homestays in Vung Tau that deserves your attention is La Mer Villas 1 and 2. Not only are the rooms beautiful, the view is very eye-catching, but the price is very reasonable. La Mer is a place where you can enjoy peaceful moments in a luxurious but youthful villa space with affordable prices like a friendly homestay.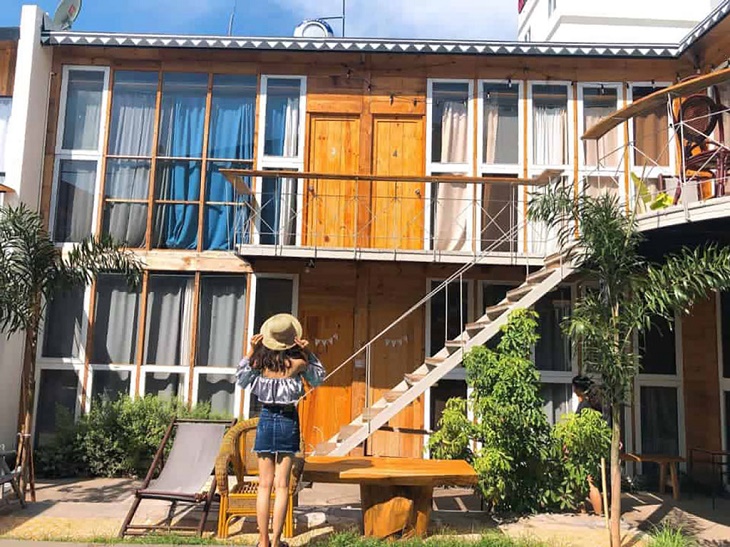 La Mer chooses for itself the location of quiet, private areas, suitable for the needs of relaxation and convalescence. A Vung Tau homestay is not really large, but the design, layout of rooms, furniture, and miniatures are all very delicate and harmonious, making you fall in love from the moment you arrive.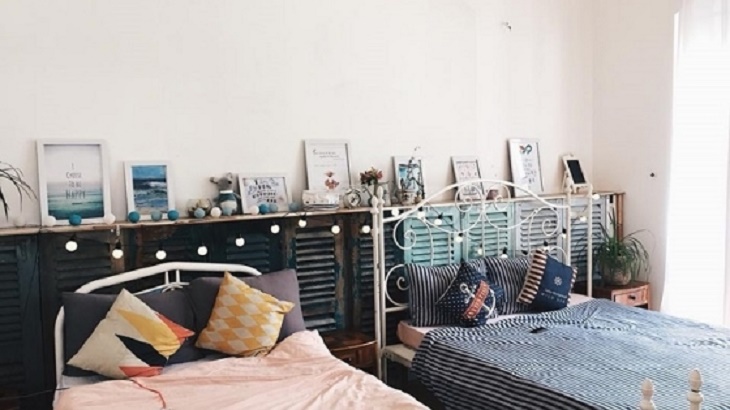 Both homestays have shared spaces such as kitchen, garden, living room. La Mer 1 also has a swimming pool for you to cool off in the summer.
In addition to the sights of Vung Tau, you just need to walk around in the homestay to immediately collect 1001 beautiful pictures in the style of the blue sea and yellow sunshine.
2

An Yen Homestay
A fairly new Homestay in Vung Tau, An Yen has a large and airy space. There are also many room types suitable for families, couples or groups of friends to stay. True to its name, in An Yen is simply decorated to bring a sense of peace.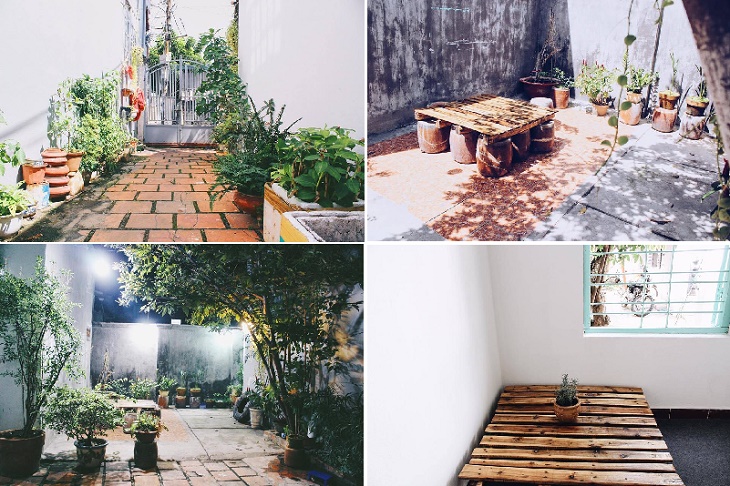 From antique red TVs, 3D paintings, 4-button electronic machines to warm bedrooms, An Yen brings maximum relaxation and comfort. Cooking here is also very convenient. The kitchen is a bit small but has all the necessary tools for you to show off your talents.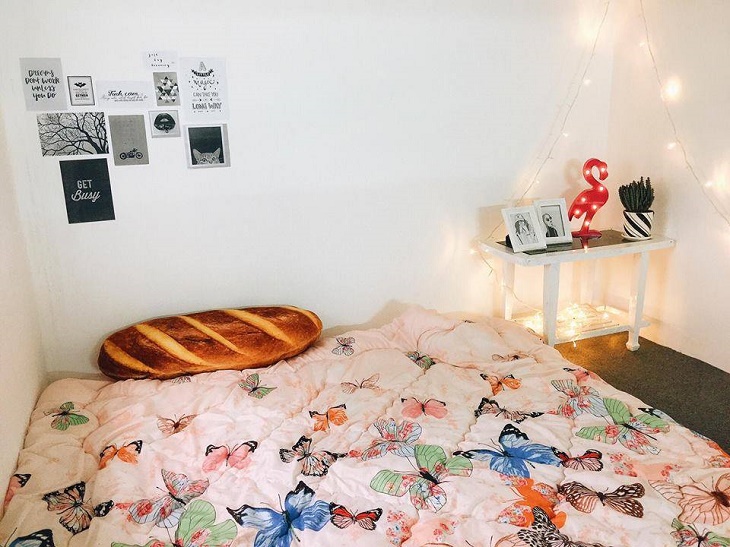 With a spacious and tree-lined garden as a highlight. When you're done cooking, you can bring it to the garden to enjoy. Or more interestingly, organize a jubilant outdoor BBQ party. In addition, the super cute price (only from 20k) is also a plus point of this Homestay.
3

Sea La Vie Homestay
This extremely beautiful homestay has a white tone that is the owner of the island, adorned with rows of extremely romantic red roses. In front of the house is a small yard, big enough for a hammock to swing. A special feature is that, each suite has its own concept such as: Vintage, Bohemian, Tree, Sea, …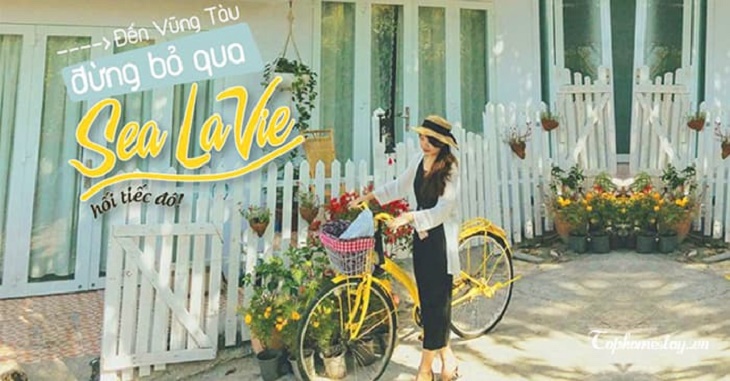 The rooms and overall are super cutely decorated. The space is very quiet and clean, suitable for your vacation. Especially at Sea La Vie, there is also a private studio for you to freely keep wonderful moments with your loved ones.
4

Bach Cuc Homestay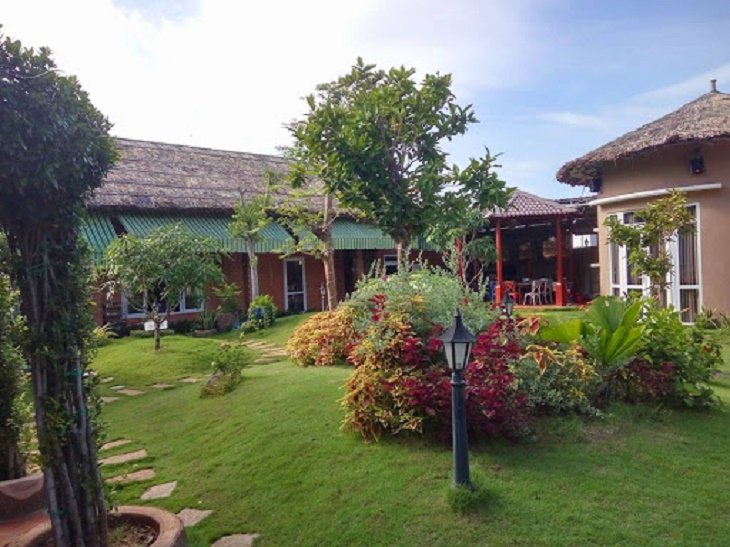 Although the wooden rooms do not have too many amenities, they are enough to bring a great feeling. Sitting on the porch in the early morning or late afternoon, feeling the cool breeze from the mountains or the taste of the sea, hearing somewhere a bell ringing in the distance,… Sounds like you like it, right? Not only that, this place also has a cozy space for you to chat, or cook a delicious meal just like at home.
5

Homestays with sea wind tunnels
With a small space, the private bathroom and toilet area is located not far away. Homestay has a total of 2 toilet areas, including 1 toilet for bathing, this area has 10 small rooms, 1 area is for going to the bathroom, everything is clean, so you can rest assured that it is not inconvenient.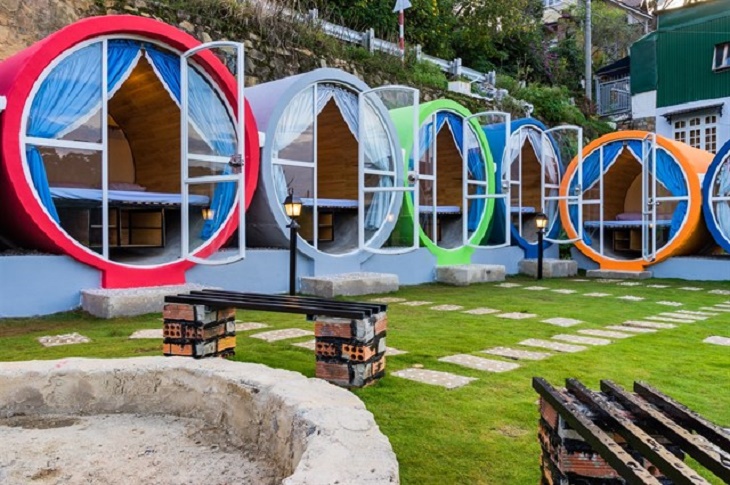 Homestay is located in the sea breeze epidemic area, which is known as one of the most beautiful beaches in Vung Tau. Coming to the Sewer Homestay, you will have a unique and different feeling in the eyes of tourists, in a romantic style like Da Lat homestay. Simple and beautiful homestays like these will be very suitable for students or backpackers to stop and explore the city.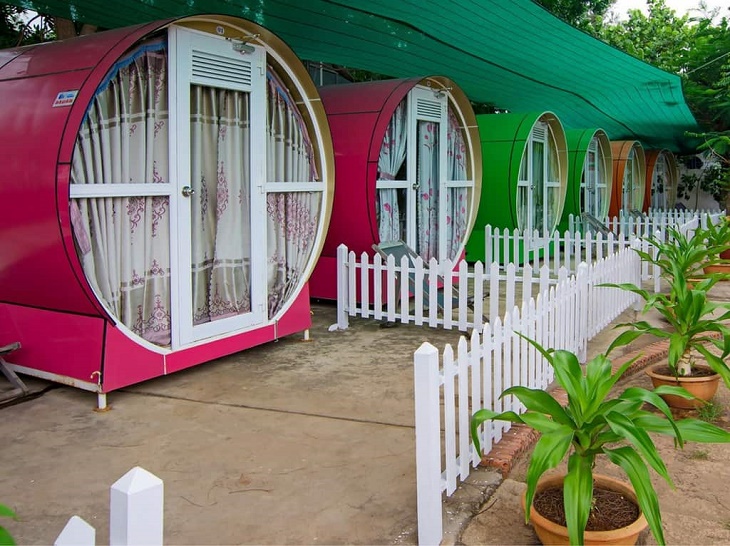 6

Uyen's House – Bed & Room
This brand new homestay in Con Dao is not too large and has many rooms, but coming here you will feel the sophistication in each furniture and room decoration. The green walls adorned with small potted plants bring a feeling of tenderness and softness that is hard to describe.
Rooms at Uyen's House are no less than any other high-class resort, you can feel the new scent of regularly washed bed linen, the scent of a clean room with a cool sea breeze.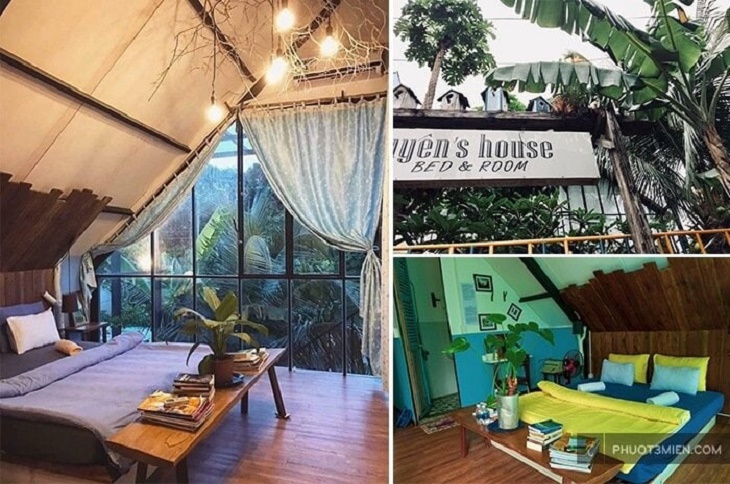 Uyen's House will make you feel that this is a real "home" or "family", not just a place to stay and stop temporarily.
7

Santoni Vung Tau
A whole European heaven lies entirely in Vung Tau named Santoni. Homestay is designed with the blue color of the sky and the white color of purity. Thanks to that, the space becomes cool and airy. Tourists also feel like enjoying a mini beach in their own homestay.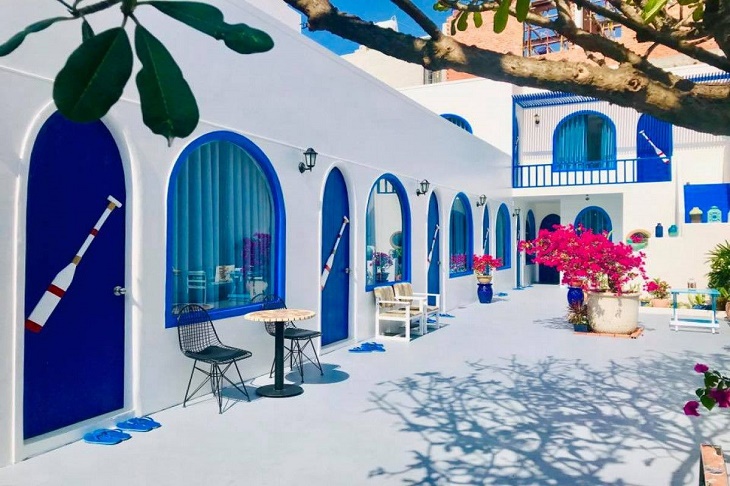 The owners of the homestay also cleverly bring nature closer to the space. They arranged many trees and created "green space". Therefore, residents will always feel the comfort and fresh air like abroad.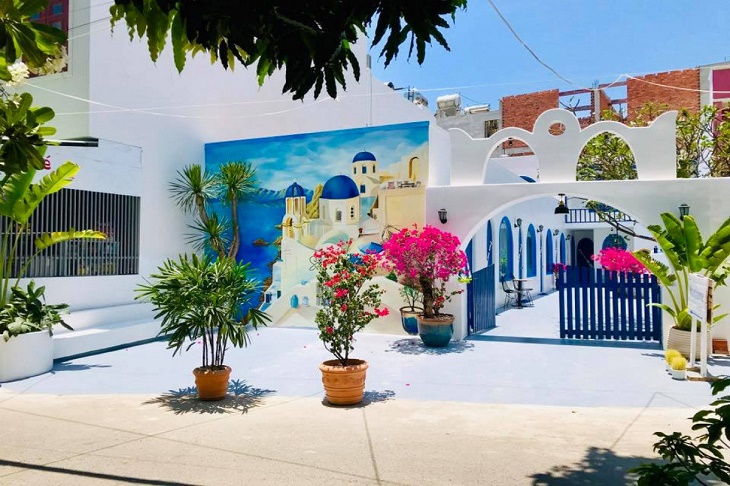 For virtual life believers, Santoni Homestay is an interesting destination. Now, there is no need to fly to Europe far away, you can check in "Dream Greece" already! Tourists should choose light-colored clothes to take photos that are elegant and "genuine". For example, clothes and skirts in white and blue colors…
8

Pallet House
Pallet House homestay is colorful with high stairs, the name is painted in red on the conspicuous yellow wall. More specifically, the entrance to the homestay also has many pots of fresh green plants placed on both sides, there are many electric lights that are illuminated at night, so it will look shimmering and brilliant. This is the familiar virtual living place of every child when coming to this homestay.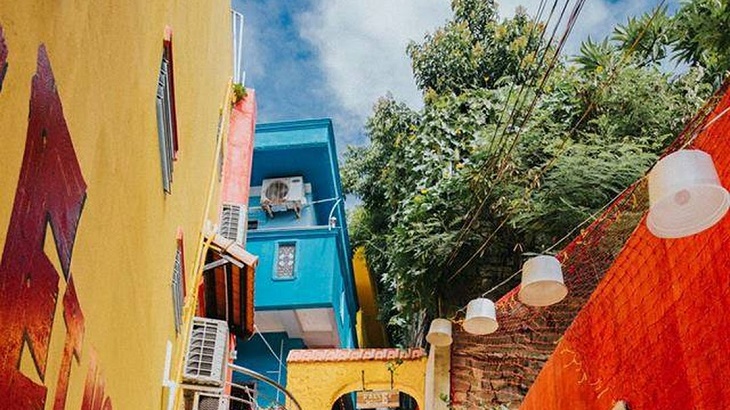 Inside the Pallet House homestay, the airy, spacious space and the two main gray and white colors have created a pleasant feeling for people coming here. Those who love rustic and poetic style, this is an ideal place because the rooms are stretched and leaning against the cliff, bringing a very "vintage" style.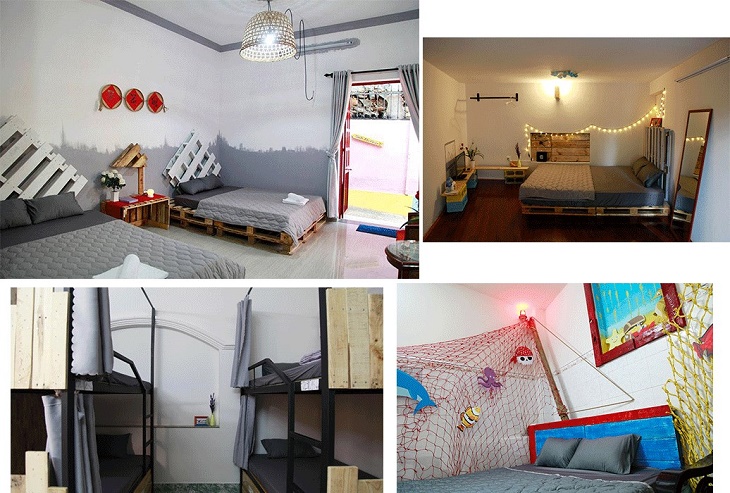 Pallet House homestay is a very suitable space for you to travel in groups of many people, so bring your family and close friends here to create many great memories.
9 Doc Homestay
Owning an extremely convenient location when located on Tran Phu street opposite the cable car and about 2 minutes walk from the front beach. An ideal place for those who want to find a homestay near the sea and convenient in transportation.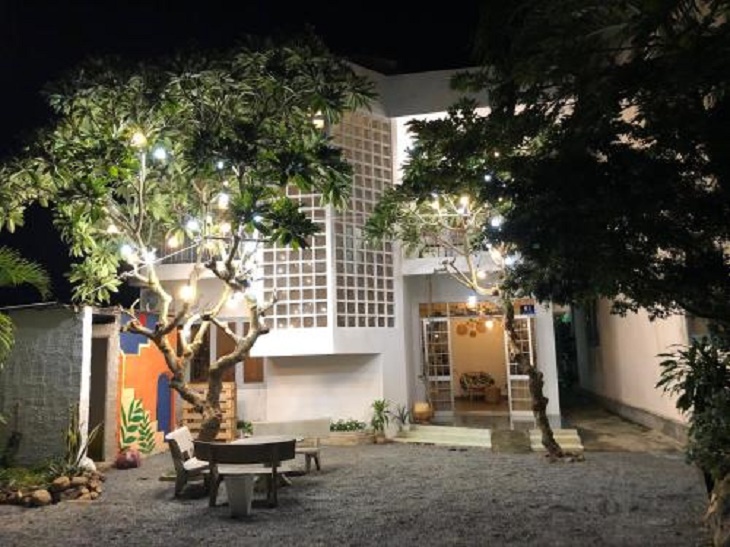 The homestay campus is very spacious when there is a large yard in front. Every corner is meticulously decorated by the homestay such as arranging colorful lights, green trees to create coolness, arranging tables and chairs… All of these aim to bring a wonderful space. most wonderful.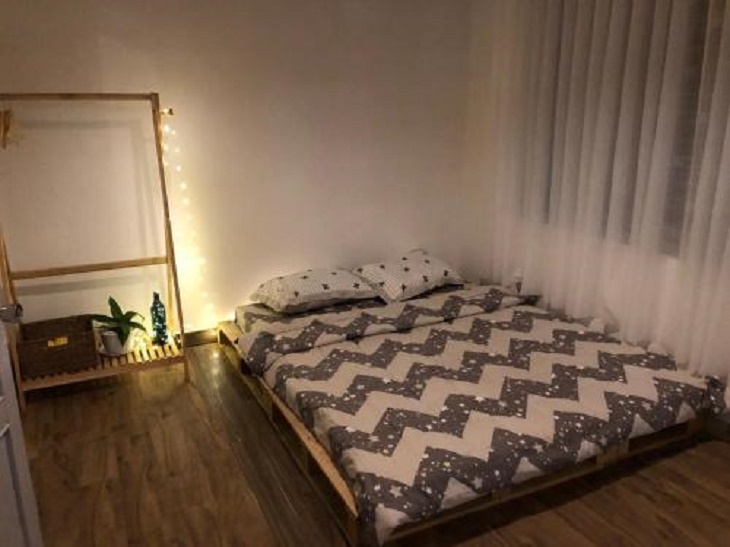 All necessary items such as wardrobes, air conditioners, and kitchens are prepared by the homestay. In addition, the white curtains also contribute to the feeling of lightness and clarity in the space.
10

Peaceful house
Peaceful House brings the breath of simple life into every corner of the small house. In front of the courtyard with a little sunshine at the end of the day, you can still recognize the green patches of leaves and the vibrant colors of all kinds of flowers bearing the silhouette of the owner's caring hands.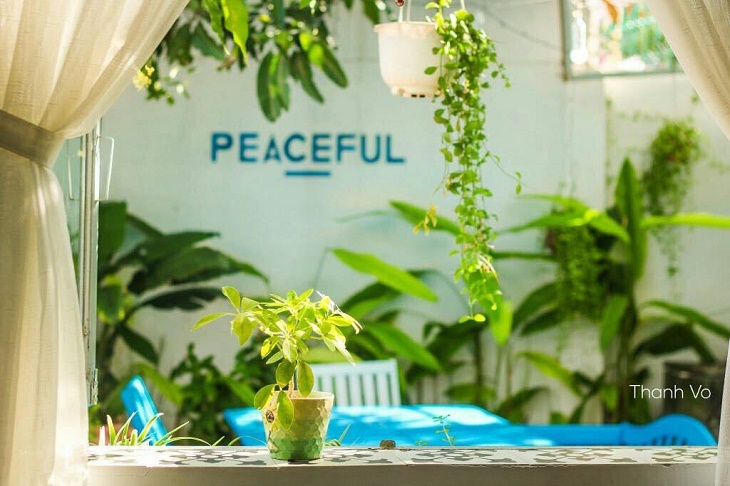 Peaceful House is a perfect place in the eyes of many people. From the bedroom to the living room, the common space, the garden, and even the WC make you say that this place is not inferior to a luxury hotel.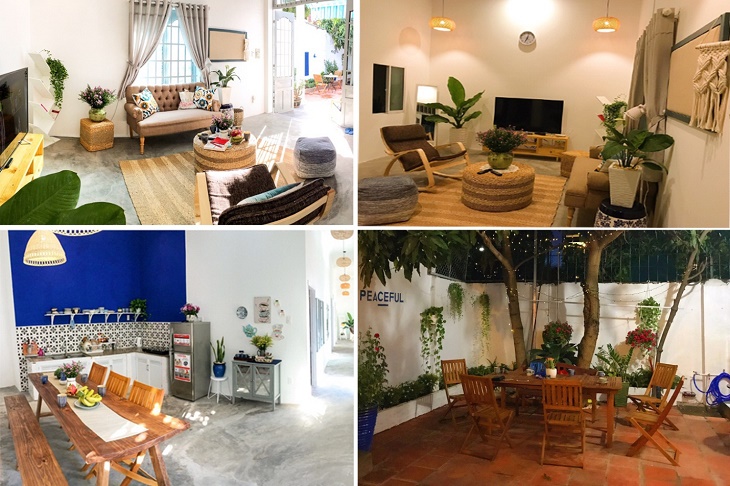 Sea room, sun room, rain room, each room is an interesting story that anyone wants to step into once and try to live in their own way. The theme throughout is always paid special attention by the homeowner when decorating each room. All are consistent with the idyllic and lovely of the whole house.
Here are the Top 10 most beautiful homestay places in Vung Tau, you must definitely visit, everyone please refer and share!