1

Banh Canh shop – Da Lat Night Market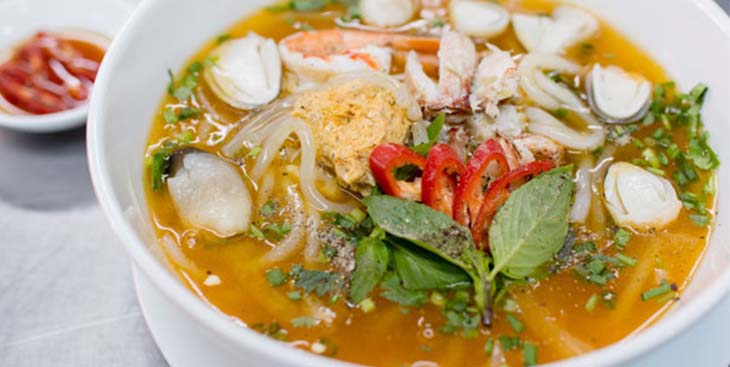 Banh Canh is a favorite dish of tourists because it is hot and spicy to dispel the cold of Da Lat. The bowl of hot and sticky soup cake looks extremely attractive. There are two types of banh chung, which are pork rolls soup and fish cake soup.
In the cold night of Da Lat, a bowl of banh chung is smoky, the golden color of crispy fish cakes, the red color of shrimp and crab, a little green onion and chopped herbs. When eating, you squeeze a little more lemon, garlic vinegar chili is round taste.
Eating at night in Da Lat now you no longer have to think too much because banh cuon is a great choice for you. If you are wandering in the streets or the night market of Da Lat, you should immediately visit the banh chung shop to enjoy and feel.
2

Snails – Da Lat Night Market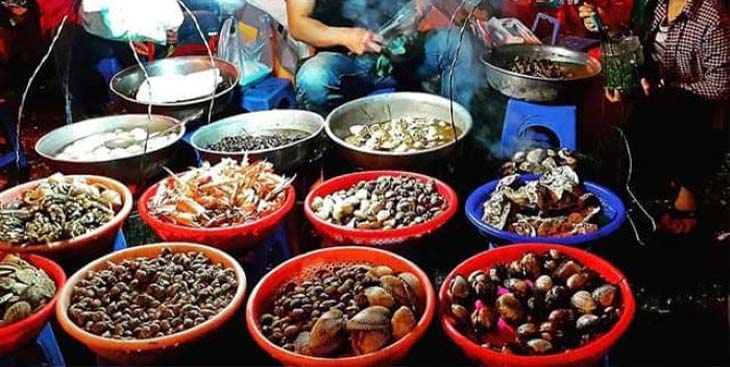 Called "snail burden" is because the aunts and uncles carry their snail stall on their shoulders to go to the market. There are many types of snails, clams, and scallops displayed here, but these goods are always crowded. Snails are heated as soon as customers order, the "snail burden" dishes served are: snails, clams, steamed scallops with lemongrass, all kinds of snails fried with tamarind, fried with coconut with dipping sauce, the sauce is deliciously mixed.
This dish is a rustic dish at night and is very suitable to eat in the cold weather in Da Lat. You can just sit and chat with friends and watch the streets of Da Lat at night, nothing is more wonderful.
3

Xuan An Hue beef noodle soup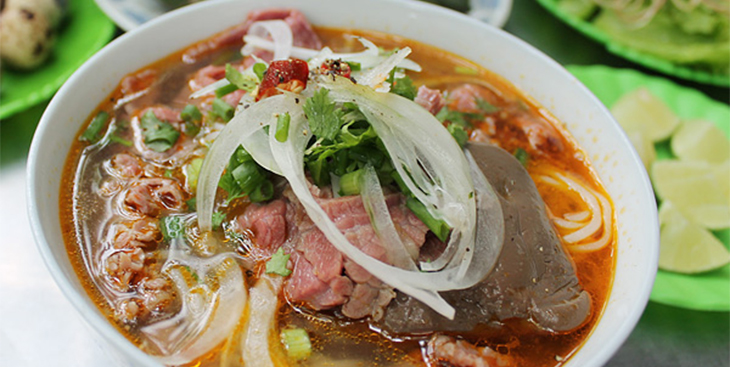 This is a very familiar dish of the people here, the shop is located on a street known as one of the most famous food streets in Da Lat. Beef noodle soup is bathed in sweet and rich broth.
The raw vegetables here are sliced very easy to eat. Meat here you can order rare sliced beef or ham and bones. There are also soy milk and cheese yogurt for dessert after eating.
4

Pancakes with snakehead fish at An restaurant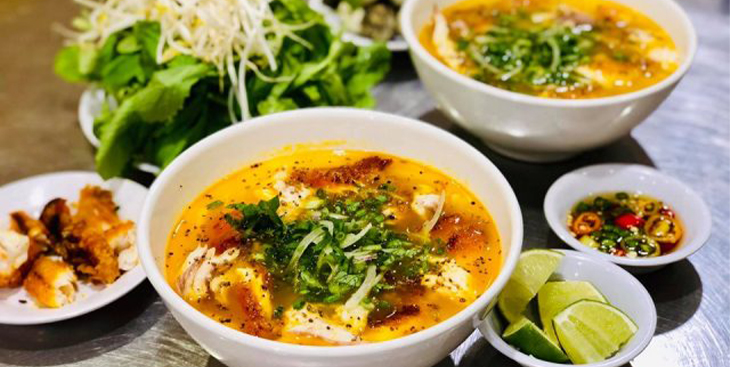 An snakehead fish soup cake has long been famous in Da Lat, the shop has a spacious and airy space that will make you impressed at first. This dish is also popular with tourists. Delicately prepared, Banh Canh is blended from rice flour and Canadian flour to make the noodles soft but still chewy.
Snakehead fish is steamed until the fish meat is hunted, and the meat and bones are filtered separately. Snakehead fish meat has a sweet taste of the countryside, marinated with pepper, fish sauce, and fragrant onions. The bones are crushed, filtered to get fresh water to add to the broth. An snakehead fish soup cake will make you unable to leave your chopsticks.
5

Grilled spring rolls shop Mrs. Hung
This is a grilled spring roll restaurant that has been present in Da Lat for a long time, known by many diners. Nem here is made from ground meat, fat, rolled into bamboo sticks and grilled. When eaten, spring rolls are already separated into 2, 3 or 4 and served with sour food, deep-fried rice paper rolls and raw vegetables. Especially the side dishes are free of charge.
The special thing that makes up Ba Hung's own brand of grilled spring rolls is the restaurant's dipping sauce. When eating at different restaurants, you will have a clearer feeling that the sauce here is better and has a stronger taste. When enjoying a delicious plate of grilled spring rolls, don't forget to add hot soy milk to warm your stomach.
6

Vietnamese Noodles Rice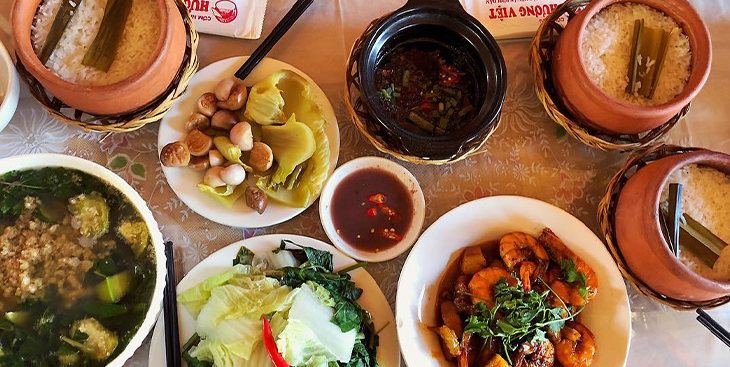 Huong Viet rice pot restaurant deserves to be one of the delicious rice pot restaurants in Da Lat with clean space, attentive service staff, delicious rice pot with hot crispy layer served with special dipping sauce. Crispy, attractive.
Here you can choose to enjoy the rice pot with many popular and rustic savory dishes such as braised fish, braised pork, fried eggs,… The price of each dish on the menu is quite affordable, the food is plentiful. made mainly from fresh vegetables, tubers and fruits in Da Lat. Very suitable for backpackers, groups, families without fear of paying too high a price.
7

Dalat chicken intestine wet cake shop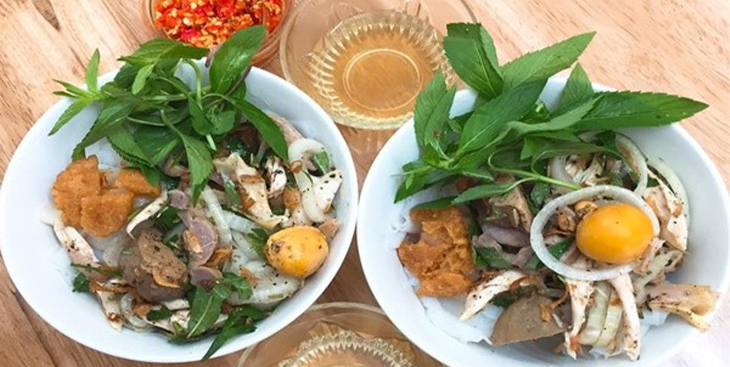 If you have the opportunity to visit this city and enjoy the restaurant near Da Lat night market, don't forget to try the chicken heart wet cake. Referring to this dish, you must definitely try Trang's chicken heart wet cake shop with delicious taste and good service quality. A unique culinary culture of Da Lat people that you cannot ignore.
This shop is 400m from Da Lat market, this place is located in a convenient location for you to travel. Trang's chicken intestine wet cake shop is loved by tourists as well as locals because of its affordable price and delicious food quality. The wet cake here is thinly coated, without filling. When ordering, the owner will add chicken intestines, chicken or mixed depending on your needs.
8

Can cake shop 22 Tang Bat Ho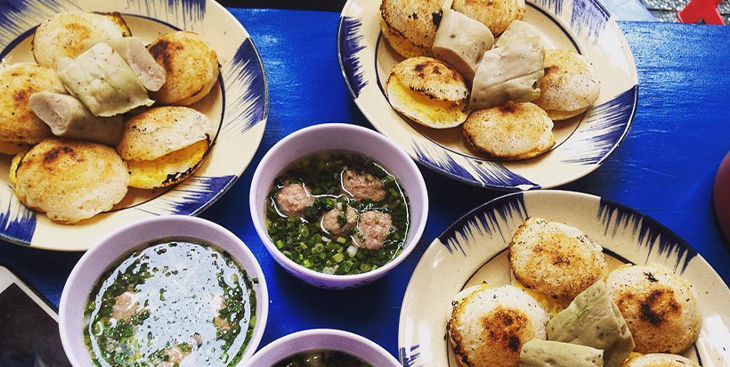 Cake can is tiny but delicious, everyone should try it when coming to Da Lat. The price of banh can at this restaurant is only 25,000 VND/plate. This cake is usually served hot with a rich dipping sauce. If you want to make it more delicious, you can order more shumai dipping sauce and a few slices of green mango for a different taste.
In the cold weather of Da Lat, there is nothing more interesting than enjoying hot banh can with a bowl of delicious dipping sauce and pangolin on the tip of the tongue. The gentle, faint aroma of ground rice flour mixed with the fleshy, fatty taste of eggs, all blend to create a unique culinary culture, a delicious Dalat dish that captivates people.
9

Lien BBQ noodle shop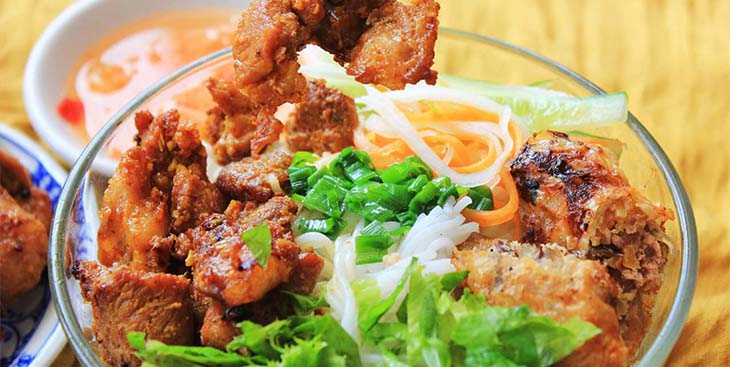 Lien barbecue noodle shop is fascinated by locals and visitors by the rich flavor of grilled meat. The piece of meat is sliced to the right thickness, fully seasoned with pepper, lemongrass, … Therefore, the meat when grilled has a fragrant aroma that spreads around a street corner. The accompanying vegetables with bean sprouts, cucumbers, shredded carrots, and a little bit of onion go well with the grilled meat, keeping the dish from getting sick.
Lien barbecue noodle shop has a small space just enough for 2 rows of tables and chairs. Everything is arranged cleanly and neatly, the owner is enthusiastic, you can order more vegetables without being charged.
Dalat grilled pork vermicelli at Lien restaurant is no longer strange to locals. Come enjoy it right away because it will surely make you satisfied.
10

Pancakes from Ms. Binh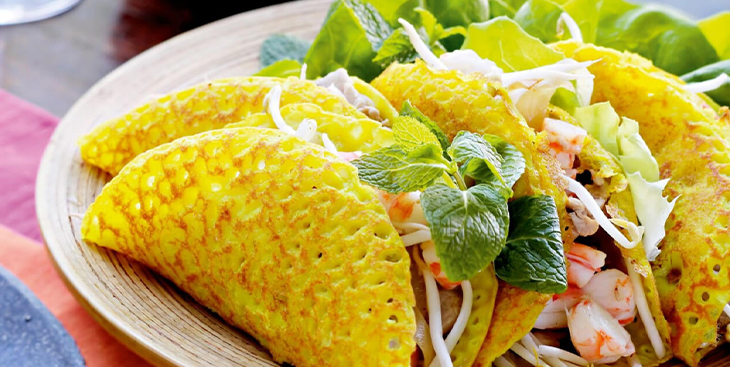 The pancakes here are thin and crispy when rolled with rice paper and vegetables. The accompanying vegetables are very fresh and clean, which is lettuce and chamomile. These are also popular vegetables grown in Da Lat, so they are all fresh and delicious. The taste of chrysanthemum vegetables combined with banh xeo will make many visitors strange but also very strange because of the slightly bitter sweetness of the vegetable.
You can order the mixed portion which will be full of shrimp and meat but the regular portion is already great. You will not be bored when the cake uses very little fat, served with sweet and sour fish sauce or soy sauce to make the dish more round.
Co Binh's banh xeo shop is quite crowded with tourists, so it's usually full in the evening. The restaurant is crowded but the service is fast and attentive. You should come early to enjoy Da Lat Co Binh pancakes right away!
Above is an article introducing 10 famous restaurant locations near Da Lat market, updated information on January 20, 2021. Hopefully the information that Dien May XANH has shared will help you have a great trip. If you have any questions, please leave a comment below so that Dien May XANH can help you soon!