1

Sapa

Sapa is a small town in Lao Cai province, Vietnam. This place is endowed by the Creator with a picture of both majestic and romantic landscapes with overlapping mountains and immense terraced fields.

What could be more wonderful when you experience this place by off-road vehicle with winding mountain roads and meet the local people. You can also stop by to enjoy special dishes such as thang co, kitchen buffalo meat, black chicken .. that makes visitors fall in love.

In the harvest season, the terraced fields are dyed yellow, when you ride a bicycle and stop to admire the very poetic and lyrical scenery, it's great, isn't it?

Sapa has mountainous terrain, so you need to be careful because there are many steep sections, do not move when the weather is too bad to ensure a safe trip.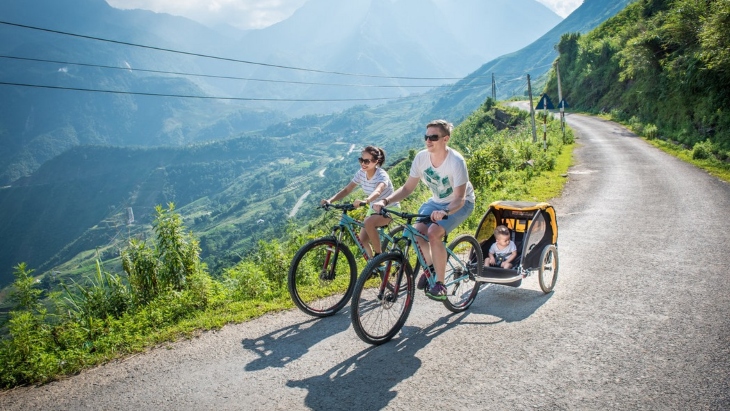 2

Moc Chau

Moc Chau is a district of Son La province, located in the Southeast. In recent years, Moc Chau has always attracted a large number of tourists thanks to its immense green tea fields and it is also the place where some of the best teas in Vietnam are produced.

Owning a very pleasant climate, this will be a great place for tourists to travel by beautiful cars and enjoy the taste of their country. Cycling on the trails covered with real flowers and looking at them, what a romantic space, isn't it?

Moc Chau will be very suitable for flower lovers and also for those who love to conquer the mountains, try this bike tour experience. Note that when you travel by bicycle here, you need to watch the road carefully because it is crowded with cars and has many steep turns, which is quite dangerous.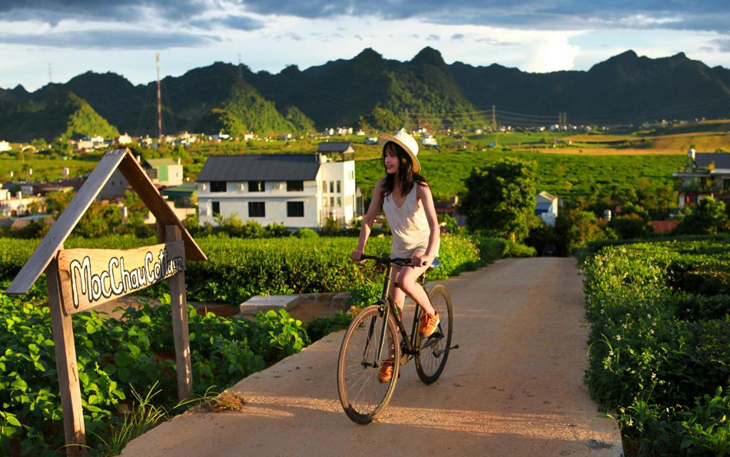 3

Hanoi

Hanoi – The capital of thousands of years of civilization with ancient relics and peaceful life with contemplative features few places have. You should try once to ride a bicycle around the shady streets, watch the bustling night markets, and the poetic streets surrounding the heart of the capital.

On that journey, don't forget to visit the roadside restaurants to enjoy traditional dishes with strong flavor of the ancient capital such as Hanoi pho, bun thang, banh gio… This place will be a tourist destination. Great bike tour that you should visit.

However, when traveling in Hanoi by bicycle, you also need to pay attention to preserve your belongings to avoid theft and do not move on bad weather days.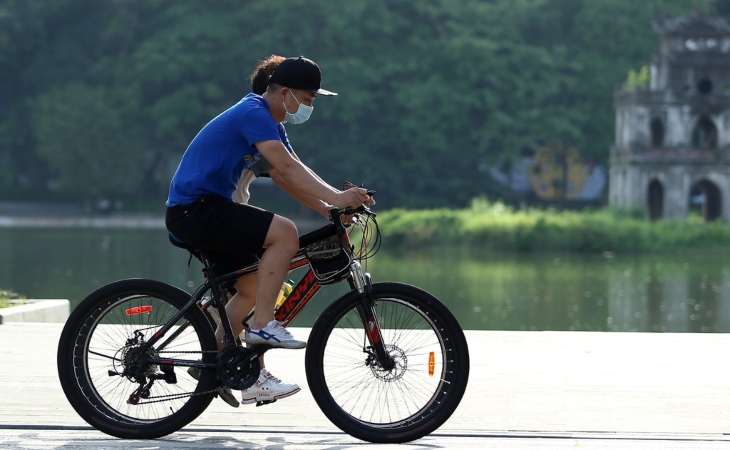 4

Cat Tien National Park

Cat Tien National Park is famous for its extremely rich ecosystem, located in the south of Vietnam, 150km north of Ho Chi Minh City. This will be the ideal place for you to conquer nature with boats, explore the animal world around.

Cycling in the jungle is also an ideal choice for you to feel the beauty of the ecosystem here and give yourself moments of peace, in the bright light of the forest as a more beautiful natural picture. ever.

In the forest, there are quite a lot of mosquitoes, so when cycling, tourists should wear ao dai or spray anti-mosquito. In the deep forest, there will be no phone signal, so please move in large numbers and do not go alone.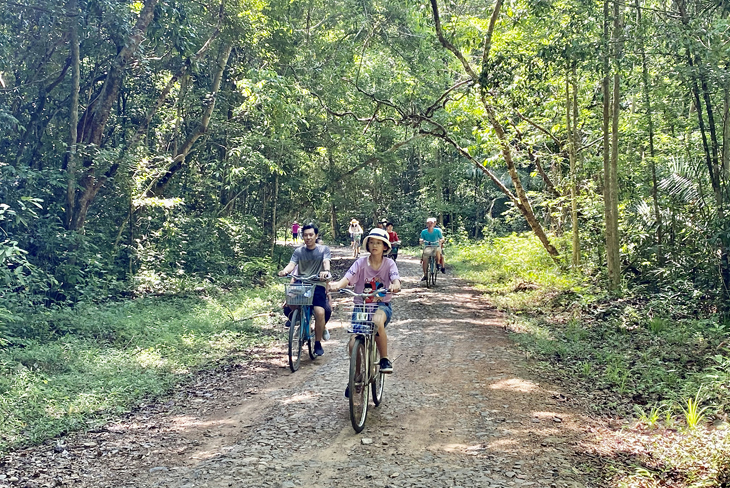 5

Cham Islands

Cham Island, also known as Champa, belongs to Hoi An city, Quang Nam province. This island has been recognized by UNESCO as a world biosphere reserve with a diverse biological ecosystem. Bringing in its wild beauty, the island has become a famous tourist destination known to many tourists.

When you visit this place, you can choose for yourself to travel by bicycle to see all the beauty of the long blue beaches. You can stop at the scenery of the forest and sea here as beautiful as a picture, encounter fishing villages and gentle and simple people. What a delightful experience, isn't it?

Note that on Cham island many steep vertical slopes are difficult to go, so when riding a bicycle, you need to check the brakes and need the guidance of a local to have the best experience!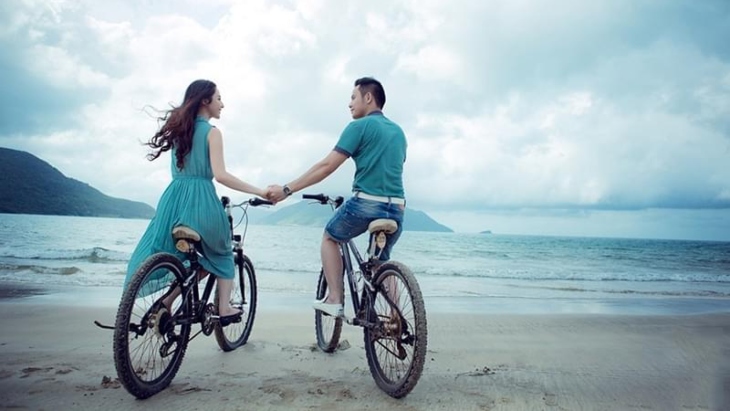 6

Hue

Hue is known by many tourists as a city with works and architecture of great historical value. Along with the beauty of the poetic and charming mountains, we also see Hue girls in graceful Ao Dai. Not noisy, busy, dreamy and gentle Hue will be an ideal place for you to roam around with a bicycle.

On that journey of discovery, the places you should stop to visit such as Hue Imperial City, Quoc Hoc Hue, Con Hen, Thuan An beach.. and enjoy for yourself the specialties here.

To have a trip by bicycle, you can refer to using specialized terrain bicycles. Because this type of vehicle can run on even rough and complex terrain, limiting loss of strength when traveling long distances.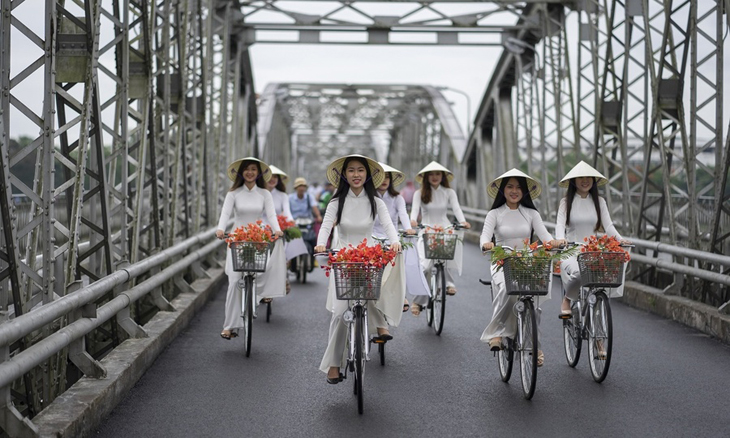 7

Da Nang

Da Nang is known as one of the cities worth living, with fresh air, delicious food, famous tourist attractions and friendly people. What would be more wonderful if you experience this trip by bicycle to see all the beauty of this place.

Cross the roads from the Han River to My Khe beach, from Con market to Non Nuoc and stop at the beaches to enjoy the fresh breeze and fresh seafood dishes.

Da Nang deserves to be on the list of tourist destinations and interesting things waiting for you to experience with a bicycle. If you are a tourist from afar, you can go to bicycle rental locations to choose your favorite bike and start your discovery journey.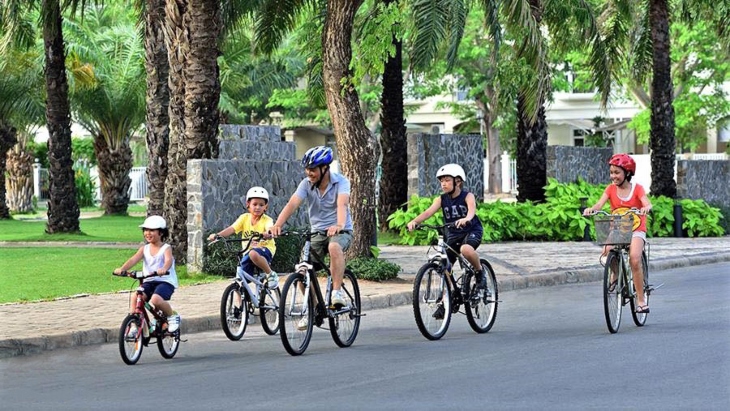 8

Hoi An

Hoi An – a land with a strange and authentic beauty that visitors will never forget. If you come to this gentle old town for the first time, traveling by bicycle will be an extremely interesting experience for you.

Cycling and wandering through the small streets looking at the ancient roofs, to the road along the Thu Bon river to Cua Dai beach. You can also easily come across and enjoy these Hoi An-flavored dishes such as Cao Lau, Quang noodles, mussel rice..

In the evening, Hoi An looks like a muse wearing thousands of sparkling lanterns, hundreds of lanterns twinkling in the Hoai River, looking enchantingly beautiful.

During the day, Hoi An weather is quite sunny, so when cycling to explore, you should prepare a jacket with sunscreen and water. Please limit going out late at night and don't forget to lock your car carefully!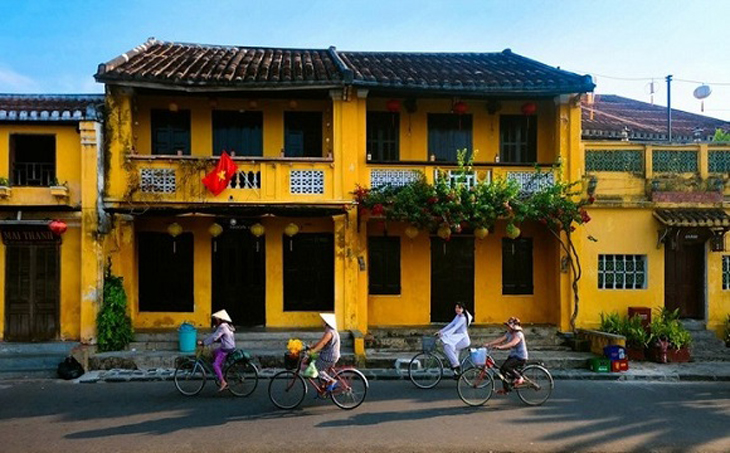 9

Da Lat

Any visitor who comes to this city of thousands of flowers will have a feeling of enchantment and infatuation by the beauty of this place. Coming to Da Lat, under the chilly weather, we ride bicycles around Xuan Huong Lake together, watching the scene drawn in front of our eyes will be an extremely interesting experience.

Besides cycling, you can see all the low hills, the roads around the lake, the slopes dyed with flowers and stop at a small roadside burden, enjoy hot dishes to dispel the heat. cold.

Note that depending on the weather conditions with rain or not and the actual situation, you should not cycle to ensure safety.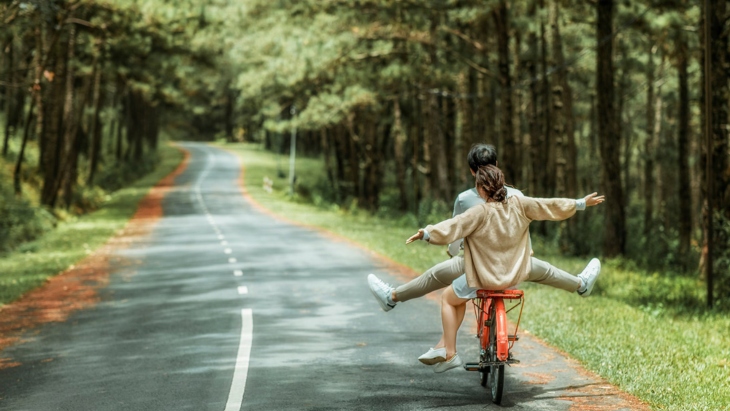 10

Vung Tau

Vung Tau owns one of the most beautiful sea routes in Vietnam with the sound of calm waves crashing against the shore and cool breezes.

Exploring this place by bicycle will make your trip more interesting, you can freely ride a bicycle to enjoy the scenery at Front beach, Back beach, Bao Dai palace or Jesus statue,..and sip a cup of tea. afternoon coffee under the canopy of porcelain flowers. Here, you can also rent a pair of bicycles with your friend to walk around the beach so romantically.

You should travel by bicycle to avoid on holidays, weekends, stormy days because it will be very crowded and you cannot help but discover the beauty here.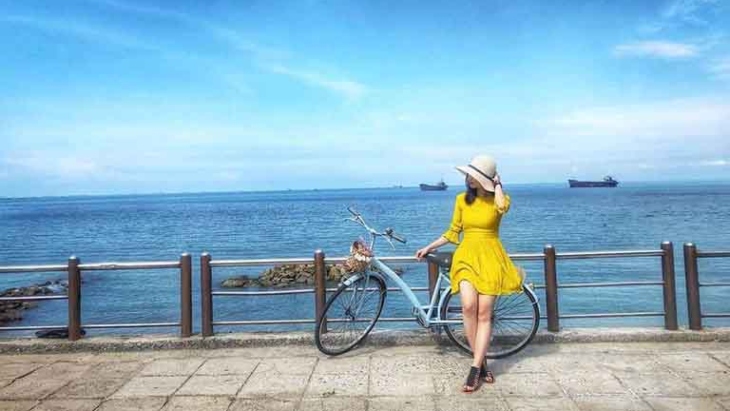 11

Cat Ba National Park

Cat Ba National Park is a nature reserve with extremely rare flora and fauna, located on an island in the North of Vietnam and the East of Hai Phong province. If you come here, you can cycle around to see the miniature natural world with beaches, waterfalls, caves, limestone mountains, beautiful valleys.

When exploring Cat Ba National Park by bicycle, you should depart early in the morning and end your tour around the evening and need the guidance of a guide to have the best experience.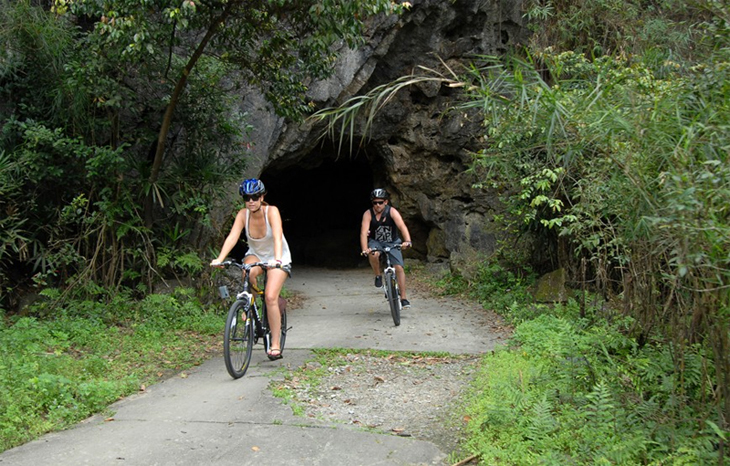 12

Mekong Delta

The Mekong Delta is blessed with gently sloping roads, very suitable for tourists to cycle to explore this place. While cycling, you can see both familiar and new landscapes, endless fields, network systems, and interlaced canals.

Cyclists can enjoy the beauty of riverside towns and eat fruits floating on the river, promising to bring you a wonderful experience. Cyclists can experience fanciful riverside towns, vibrant green trees and enjoy fruit floating on the river.

Cycling in the Mekong Delta, you need to pay attention to protect the surrounding environment, so as not to affect the ecological environment. At the same time, due to saline intrusion, you need to be careful during the move.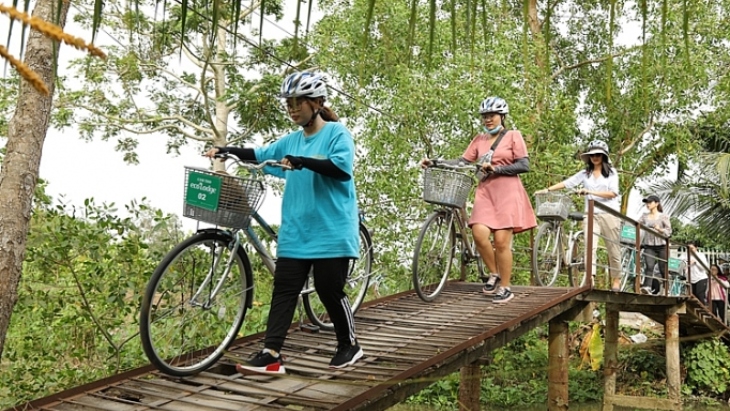 Above are the Top 12 great places to travel by bicycle that you should not miss on your trip. Save interesting moments and share it with Dien May XANH!