1

What is the right time to travel to Binh Dinh?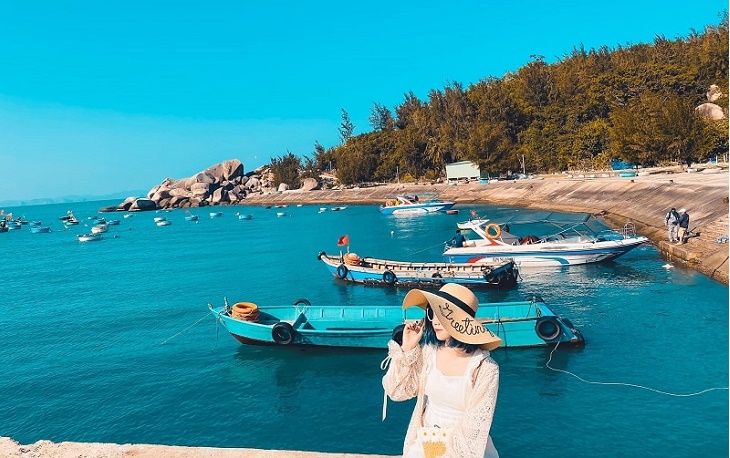 Beautiful scenery of Binh Dinh
Binh Dinh tourism at any time has its own characteristics and beauty. Therefore, the beauty of one person may not be suitable for another. The right time to travel to Binh Dinh is from January to September.
January to September is the best time to be able to feel the poetic beauty, along with the mild climate with temperatures only between 23-28 degrees Celsius. Moreover, the landscape will also please all visitors. Even the most demanding guests, then you will be immersed in the dreamy beaches with beautiful fine white sand.
From April to September is the most reasonable time, if you want to have a trip to Binh Dinh and explore many places.
2

The most famous check-in locations in Binh Dinh for you to freely "live virtual"
Queen Beach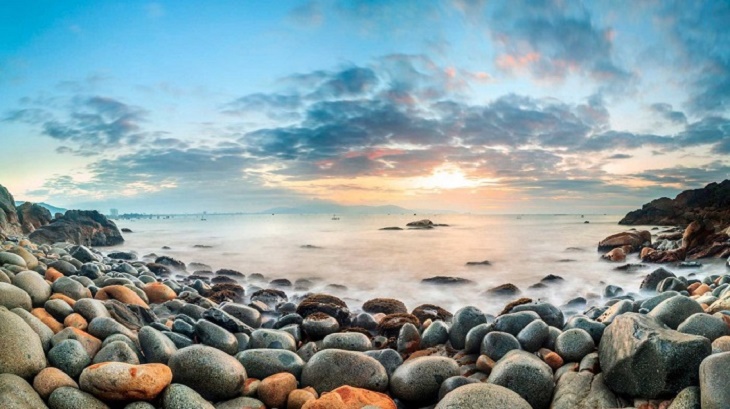 Dreamlike image of rocky cliffs at Hoang Hau beach
Hoang Hau beach also has large round and smooth stones that are always hit by the waves, so it looks very much like giant bird eggs.
There is nothing more interesting than watching the beautiful sunset while walking barefoot on those rocks, being close to nature and dispelling stressful working days. Due to the smooth rocks, the move is a bit risky, but it will be an interesting experience for you with this place.
Twin towers
Twin Towers has a unique structure, consisting of two towers: the large tower is about 20m high, the small tower is 18m high, adjacent to each other like a loving couple. Inside Thap Doi, there is a stone mill to grind rice flour in the past, but later the Kinh people also used this mortar to grind rice flour to process cakes. Looking up at the tower door as high as sharp javelins, standing in the heart of the tower, it seems that you see the whole "universal universe".
Tien Sa Ghenh Rang
Bai Tien Sa in Quy Nhon is considered by many to be a miniature and upgraded version of Nha Trang. The beach is famous for its poetic look with one side of the endless green pine trees, the other side is a white sandy beach and clear blue water where nature, heaven and earth harmonize with mountains and rivers. When you set foot and see firsthand the haughty beauty of Tien Sa. What are you waiting for without experiencing that feeling right away.
Banh It Tower
The tower of Banh It Binh Dinh is considered the pride of Binh Dinh people. This place is imbued with the culture of the extremely unique and rich architectural design of the Cham people in the period from the 11th to the 12th centuries .
Each tower has different sculptures, each with its own meanings that the people and culture of Champa want to convey. This place will be a suitable place for you to visit and learn more about the history and culture of the Cham people.
King Quang Trung Museum
Quang Trung King Museum is designed with a balanced layout, radiating in all directions and gathering in the middle point – where the statue of Quang Trung – Nguyen Hue is located. Looking at it from afar, we can see that Quang Trung Binh Dinh Museum is surrounded by an ancient "aura" with layers of red brick roofs, curved and carved with skillful curves.
Eo Wind
Eo Gio Quy Nhon with its pristine landscape combined with sunny and windy weather is considered a magnificent symbol of the natural beauty of Quy Nhon land. Eo Gio still brings the beauty of natural wilderness with blue strait, surrounded by majestic high mountains.
The beach here is not inferior to other central beaches. Come here to admire and discover the wild beauty of Eo Gio Quy Nhon!
Green Isle
Green Island is proposed as a place not to be missed when traveling to Quy Nhon. This place has many beautiful beaches, blue water, fresh air such as Gala beach, Small beach, East beach, South beach.
The unspoiled landscape, close to nature is the most prominent feature in this place. Cu Lao Xanh is a super virtual check-in place for those of you who love taking pictures.
Ky Co
Ky Co emerges as a real-life painting of the desert because of its wild beauty, the harmony between nature and heaven here by the sea and mountains, making many guests ecstatic. The majestic scenery of the mountains, the green shady trees combined with the salty sea breeze and countless other surprises are waiting for you during your visit to Ky Co.
Trung Luong picnic area
Trung Luong picnic area has the romantic style of European countryside. Coming here, you not only swim in the sea but also camp together, enjoy the fresh and peaceful natural air.
In the tourist area, there are many places for you to check in. There are many other amenities waiting for you to discover. Don't hesitate any longer, pick up your backpack and go.
Ham Ho Sightseeing
Ham Ho is a stretch of river about 3km running along the foothills of the legendary Truong Son mountain range. With countless rocks of different sizes and shapes, along the riverbanks and diverse natural forests, Ham Ho possesses an extremely "charming water" beauty. Mysterious, wild.
Quy Nhon beach
Quy Nhon is endowed by nature with majestic and magnificent landscapes, Quy Nhon sea is no exception to that rule. Quy Nhon Beach is a coastal girl, rustic and sincere but still full of joy.
Thi Nai Lagoon
Going to Thi Nai lagoon is the largest brackish water lagoon in Binh Dinh province, where visitors have the opportunity to float on a small boat, swaying with the waves, watching the immense scenery of the lagoon and discovering the life of fishermen. along with the diversity of populations and creatures with many interesting experiences.
3

Some notes when visiting Binh Dinh tourist sites

It is not recommended to travel to Binh Dinh from September to December, because this is the rainy season that is easily affected by storms and storms in the Central region with a large frequency.

Binh Dinh is a coastal city, so special seafood dishes such as Quy Nhon fish noodle soup, Huynh De crab, Chau Truc shrimp vermicelli, My Canh pancakes or jumping shrimp pancakes are at Thi Nai bridge area. In addition, there are equally attractive snacks such as spring rolls from Cho Huyen market, cakes with little gai leaves, banh chung, Binh Dinh bamboo is also very famous.

Should buy these as gifts such as spring rolls, coconut water rice paper or ice wine, … for friends and relatives.

Check out Dien May XANH's business photography sticks with good prices for great travel experiences:

Here are the famous "virtual living" places when traveling to Binh Dinh , everyone to refer to and wish everyone a great trip!