1

Zan HomeStay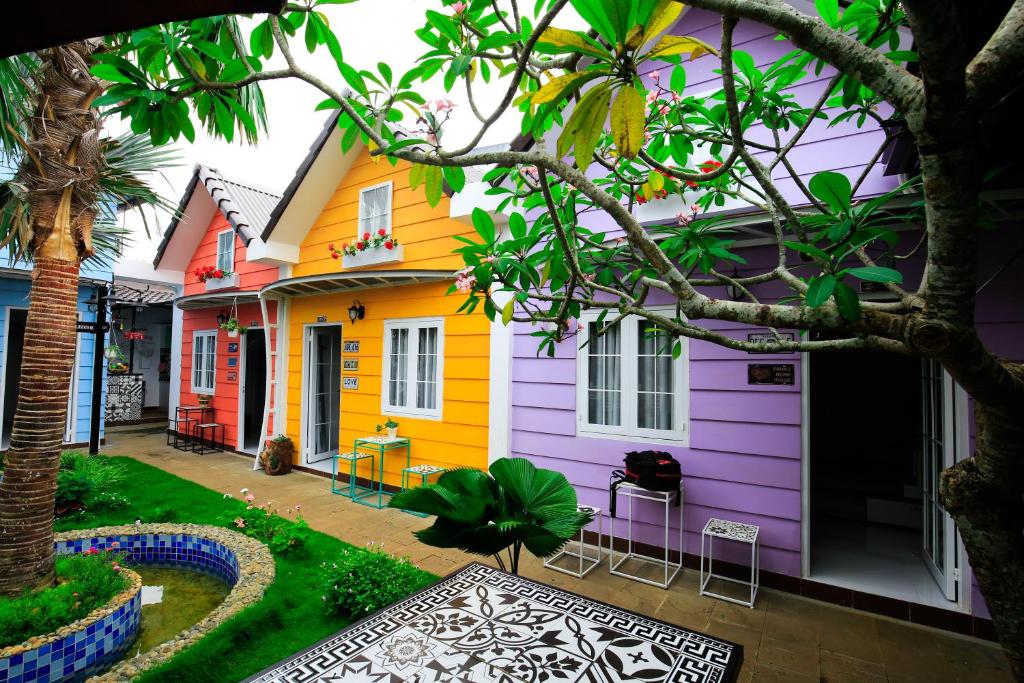 The quiet little Zan HomeStay offers a great resort space, unlike the Red Land Central Highlands, the homestay gives visitors a space that covers the green leaves of trees and flowers. Rated by travelers as the top place to stay you should not miss. For those of you who like flowers, this place is your paradise.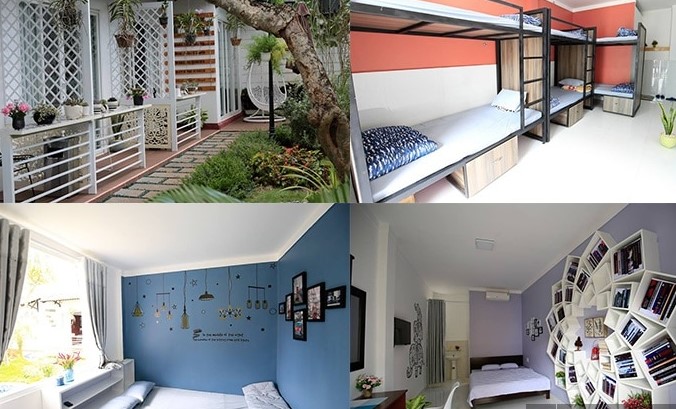 The homestay is decorated with colorful colors of green, red, purple, and yellow mixed together, very suitable for those who are passionate about virtual living, giving birth to thousands of photos. Just walking around the garden, you can breathe in the fresh and extremely cool air here. Not to mention here there are also full facilities that are very convenient for you.
2

Ban Garden House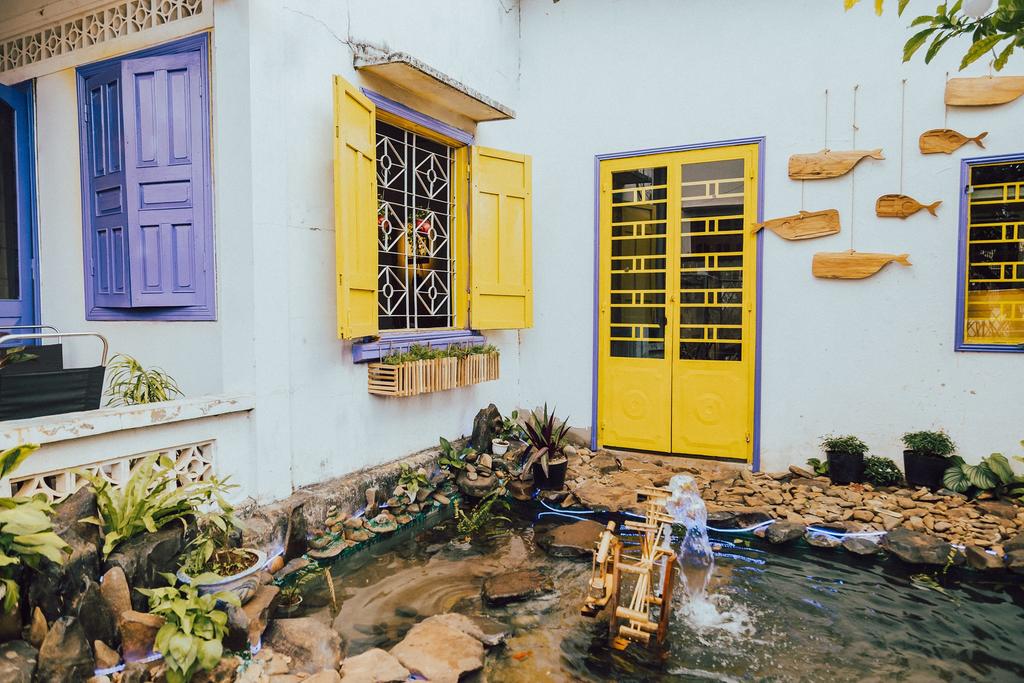 Ban Garden House has a light and fresh style, with a slight European direction. Although the rooms here do not focus on decoration, they still attract visitors by the gentle beauty and poetic beauty. The scenery is immersed in nature, the sound of the water flowing softly, the faint scent of flowers and leaves, decorative details from bamboo and stone, meticulously decorated design.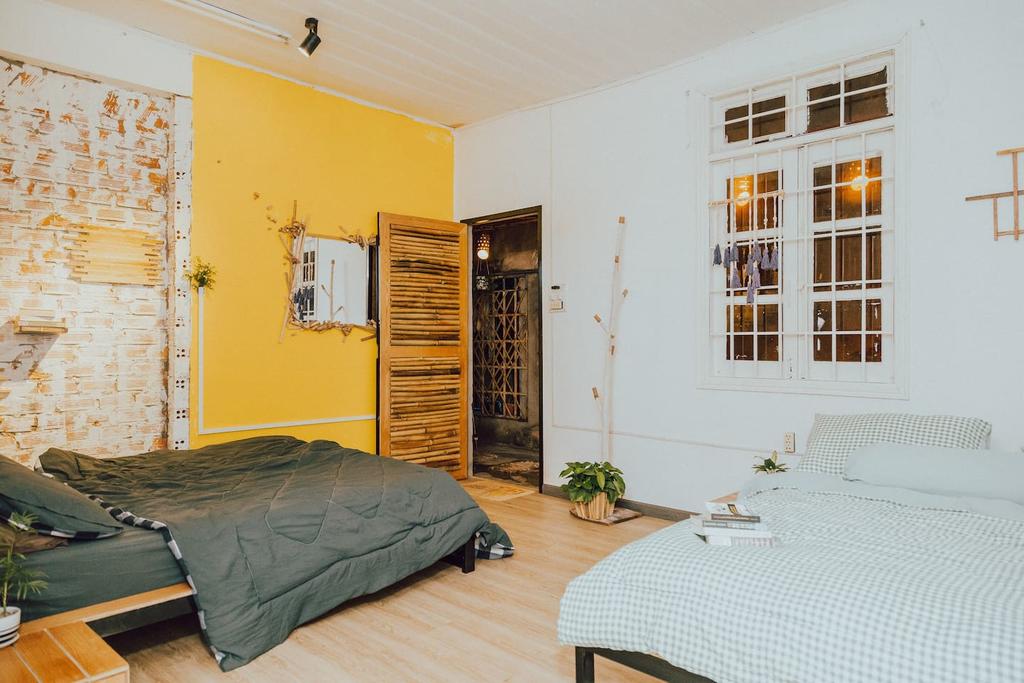 Homestay consists of 3 bedrooms: 2 double rooms and 1 single room, fully equipped with all living things to serve visitors. A special thing is that there will be a separate place for pets, but please contact us in advance, there may be a fee. But in return for the spacious and airy space, the pets can freely run, jump, and have fun.
3

Urban House Boards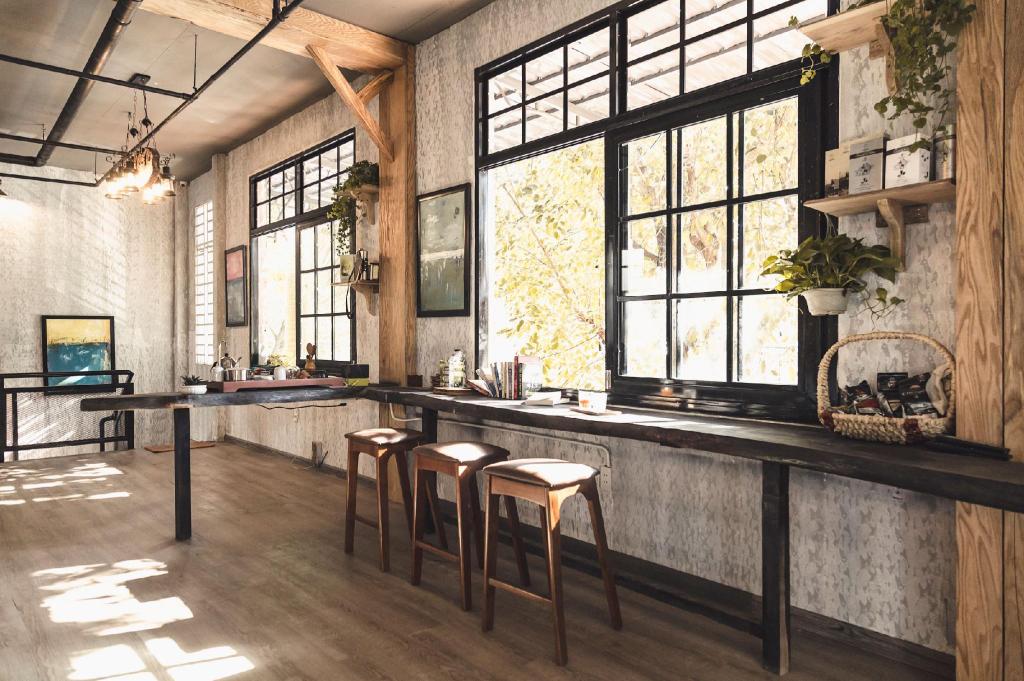 Ban Urban House is a famous tourist destination here, because of the harmonious combination between the two main colors of momentum and black, it has a gentle but attractive classic beauty. House is known by many young people, every corner of this place can be checked in to live virtual life to produce very good photos.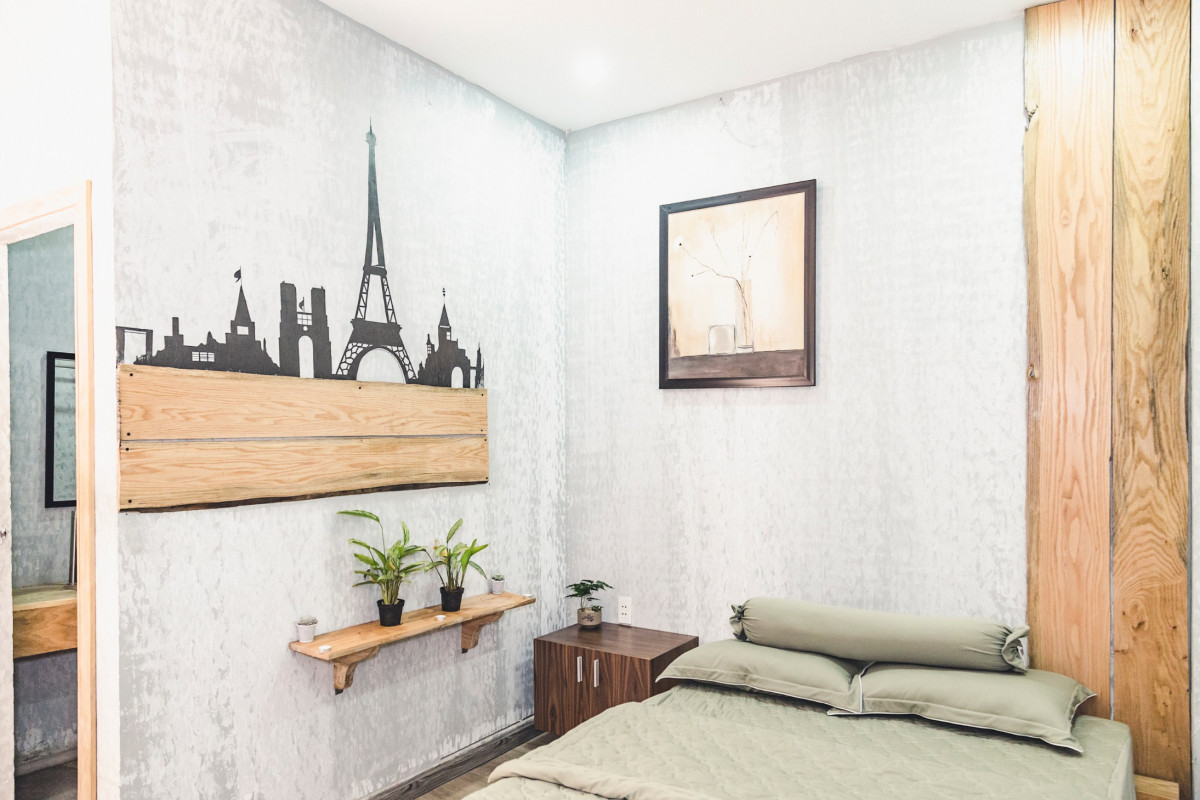 With only 385,000 VND, you can own a fully furnished, equally elegant room. You are looking for a peaceful new day, welcome the first warm rays of sunshine that mother nature gives, take a sip of coffee in the red land, let go of negative thoughts to purify the body. Then this is where you need to be.
4

Queeny's Farm Stay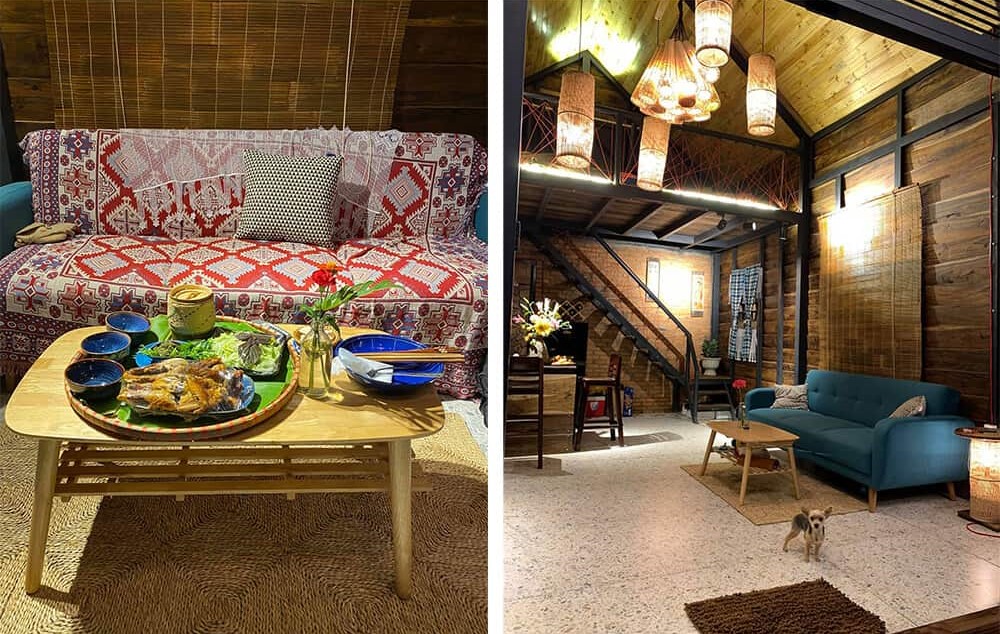 You have a dream that tomorrow, when you grow old, you have a small wooden house, surrounded by many flowers, every morning the morning dew sparkles on the leaves, sitting blankly playing with the gentle, peaceful wind. Fresh air in harmony with nature. Enjoy a simple breakfast with clean ingredients and fresh vegetables. That wish comes true when you come to Queeny's Farm Stay .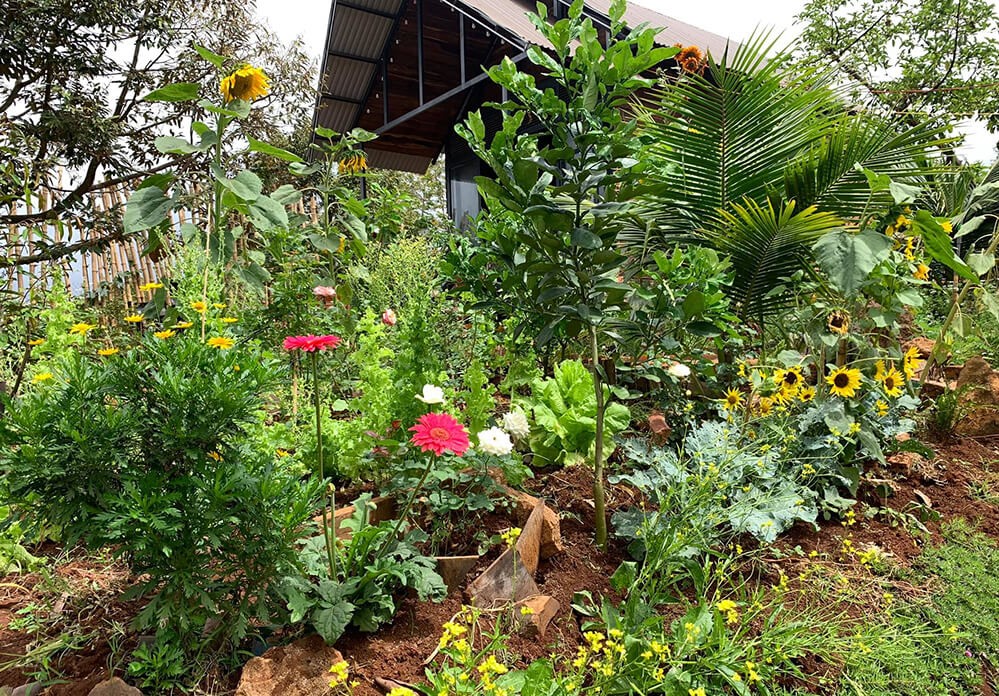 The room design style is bold in the Central Highlands , the wooden house is filled with warm sunlight, sunset right in front of the door. Conveniently make a cup of hot coffee, enjoy the gift that cannot be better than that of mother nature.
5

Lak Tented Camp

Lak Tented Camp is 50km away from the city center, nestled on a beautiful hill and surrounded by Lak Lake .

Immersed in the nature of the mountains and forests, a space rich in the breath of the red soil highlands, every corner here is a peaceful, rustic and friendly space. Above is the sun, next to it is a lost lake floating in the middle of the flower lagoon, enjoy a cup of hot roasted coffee and enjoy a quiet moment.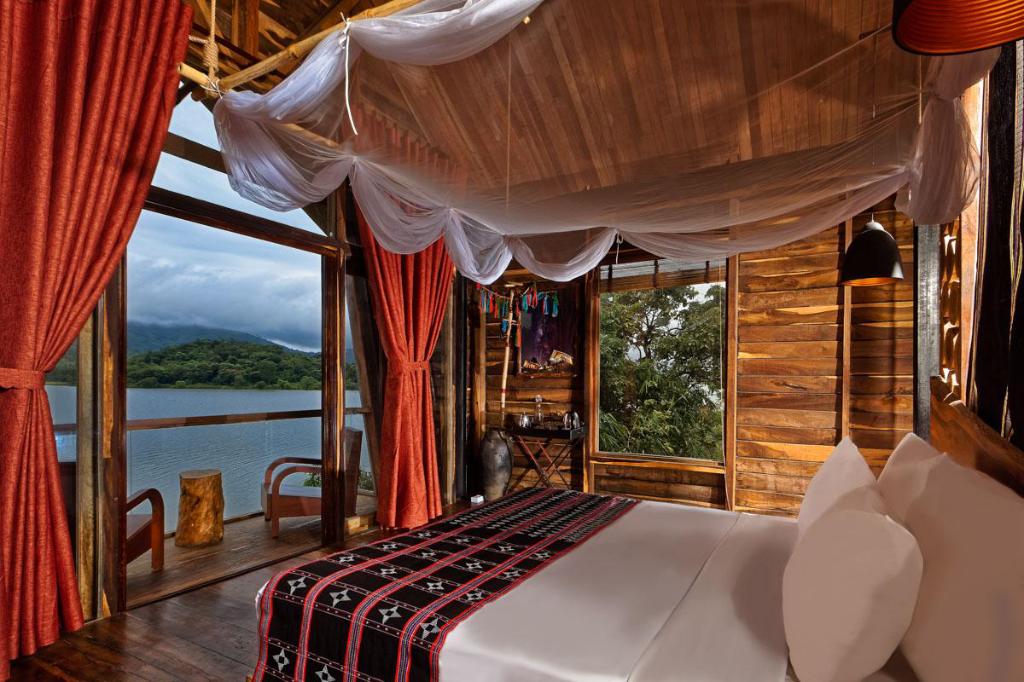 The homestay is designed entirely of wood, typical of the Central Highlands style of the red land , combined with brocade motifs printed on small details such as packages, blankets,… What's more special than watching the royal palace? kiss the sunrise right on the lake, with this view will make you speechless.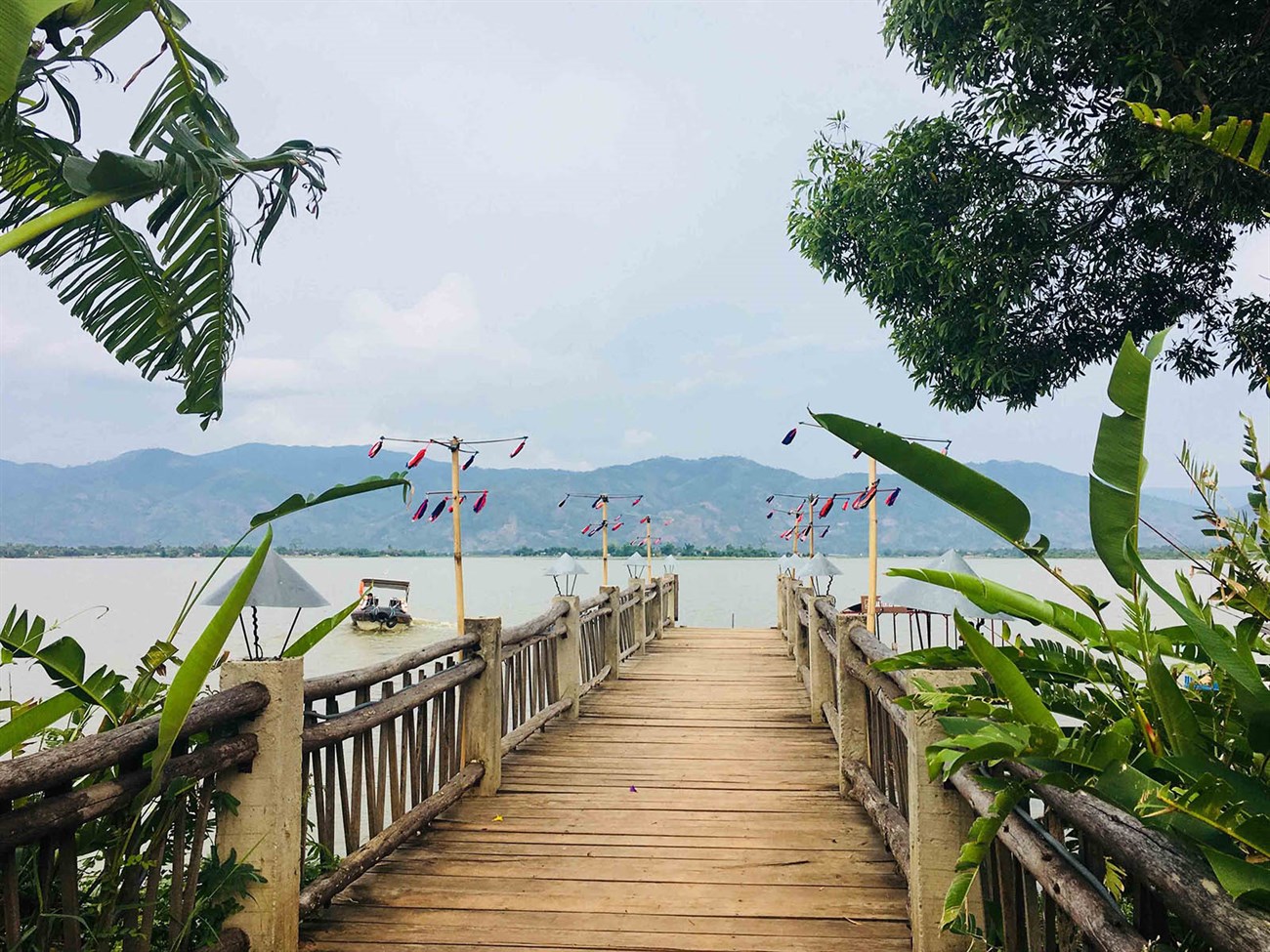 6

Four Million Homestay

Four Million Homestay will be an ideal stopover for tourists traveling in groups or families because of its spaciousness, coolness and freedom to have fun or for those who want to find peace in life.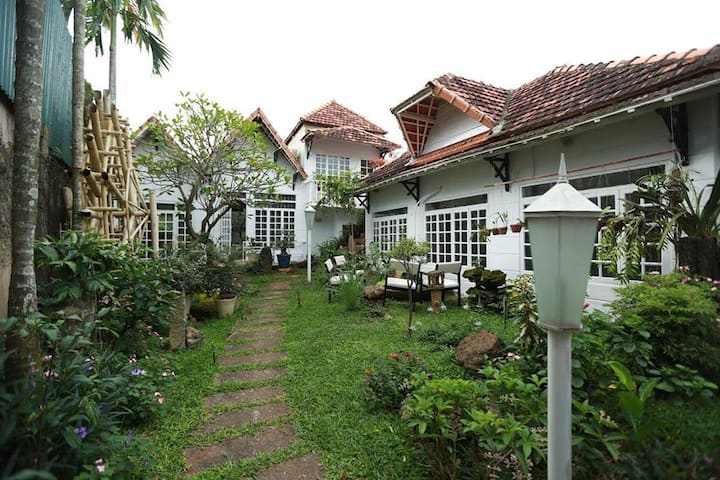 The design style is nostalgic with a bit of modernity , the simple sloping tile roofs combined with the corresponding cubes characterize the highland ethnic identity. The garden is meticulously designed from flower pots, trees, stones, and lakes. When entering the room, you must say by the luxury that matches the appearance of the homestay.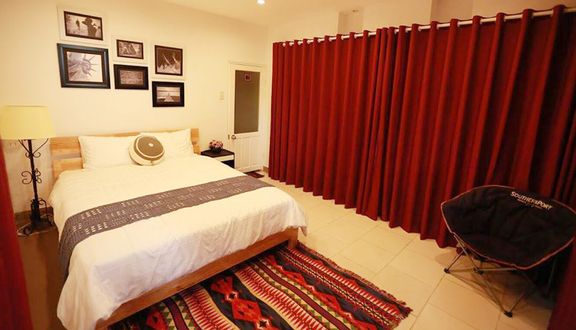 7

K'Pan House

K'Pan House is a new type of resort and tourism suitable for everyone, all subjects. Because the rooms at K'Pan House are designed with many different forms, from simple rooms to rooms that are decorated extremely eye-catching and beautiful.

Homestay is covered by rows of extremely fresh green trees, you can immerse yourself in nature to enjoy fresh moments at any time.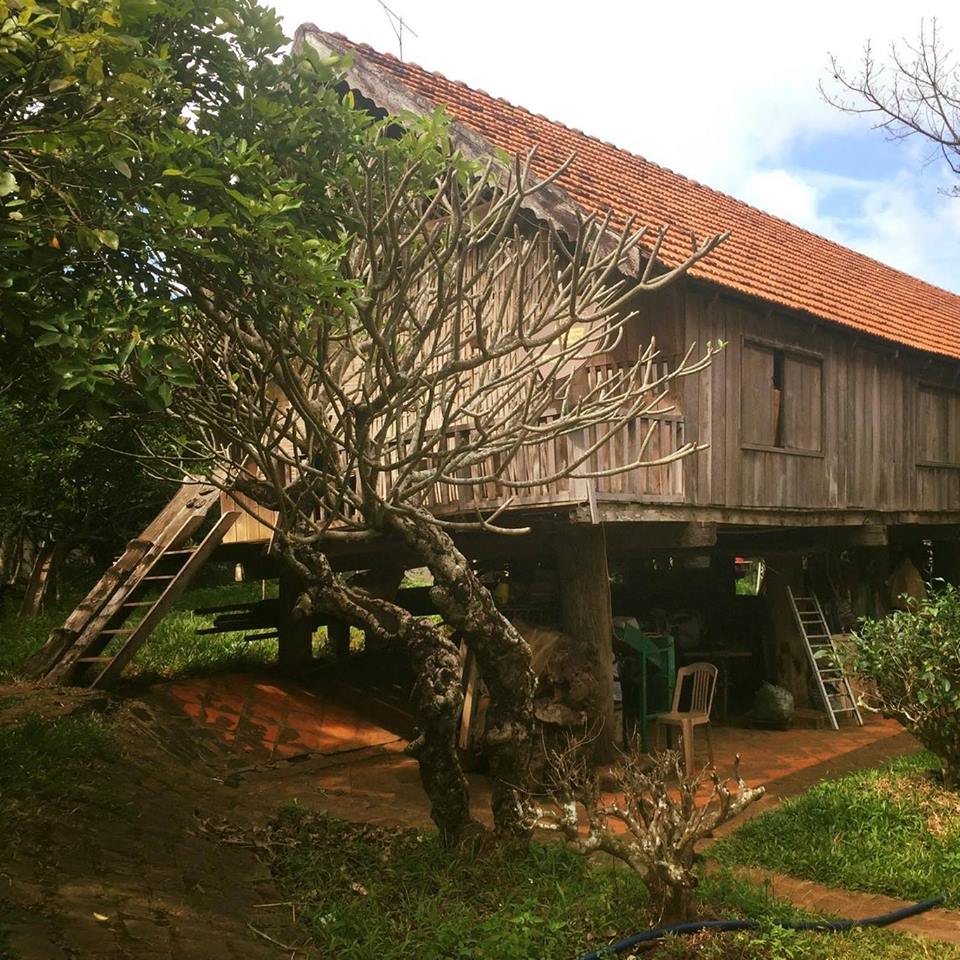 The room is simply designed in the style of a stilt house , in the traditional Ede cultural style, but still has the most typical features of the land of the Central Highlands with thatched roofs and bamboo walls. The main color here is the color of bamboo, creating a feeling of warmth and comfort, after a long journey, this is a great resort.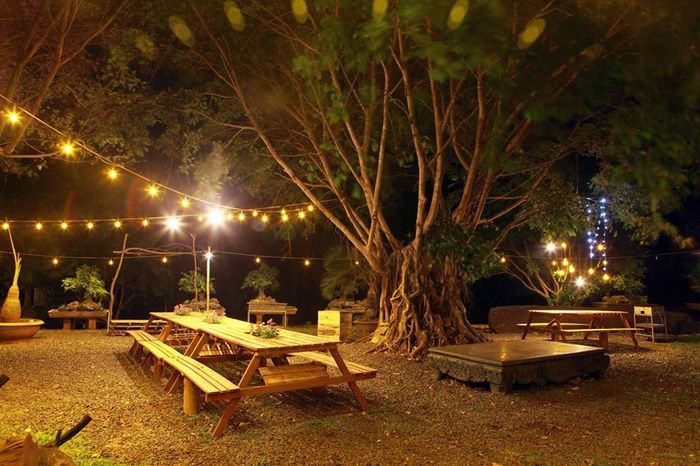 8

The Highland House

The Highland House is located in the heart of the city, but still very peaceful, with a modern and youthful style full of amenities, suitable for those who just want to relax and conveniently travel to visit the surrounding places. .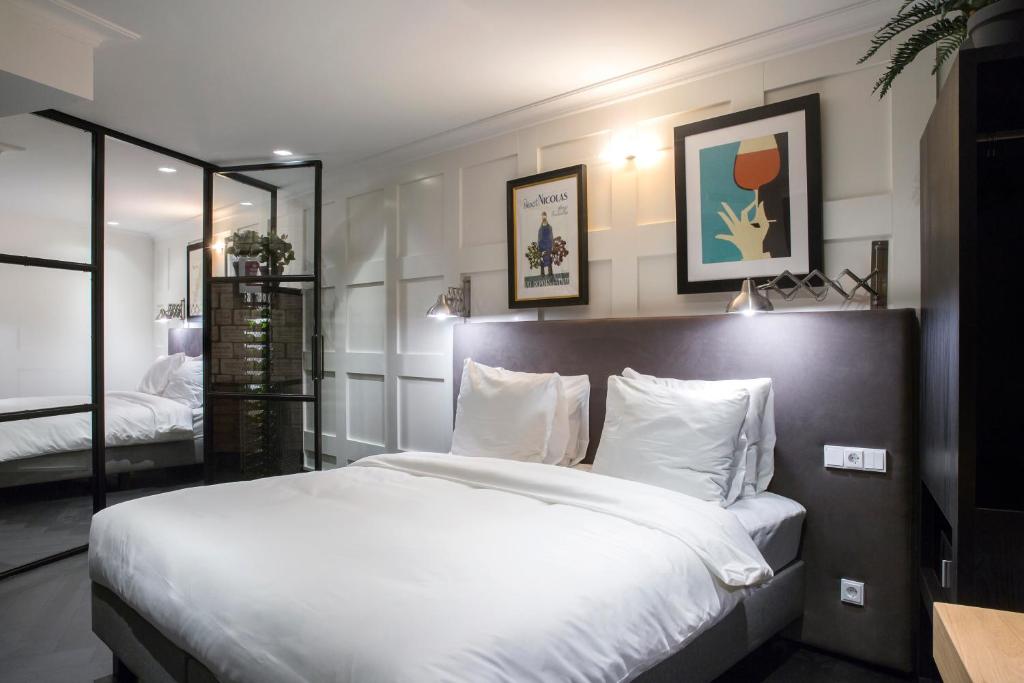 You will be impressed with the spacious luxurious space, with a touch of France , and sophisticated modern furniture. The special thing is that the house also has a coffee – afternoon tea space for you to relax and rest comfortably.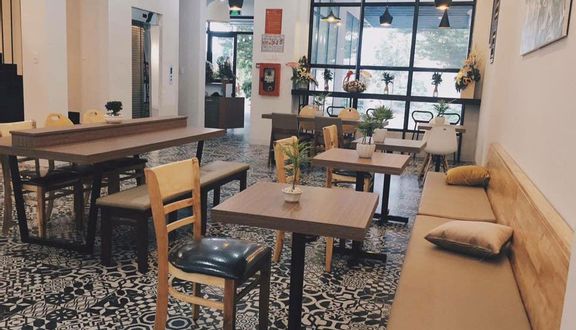 9

Com's Homestay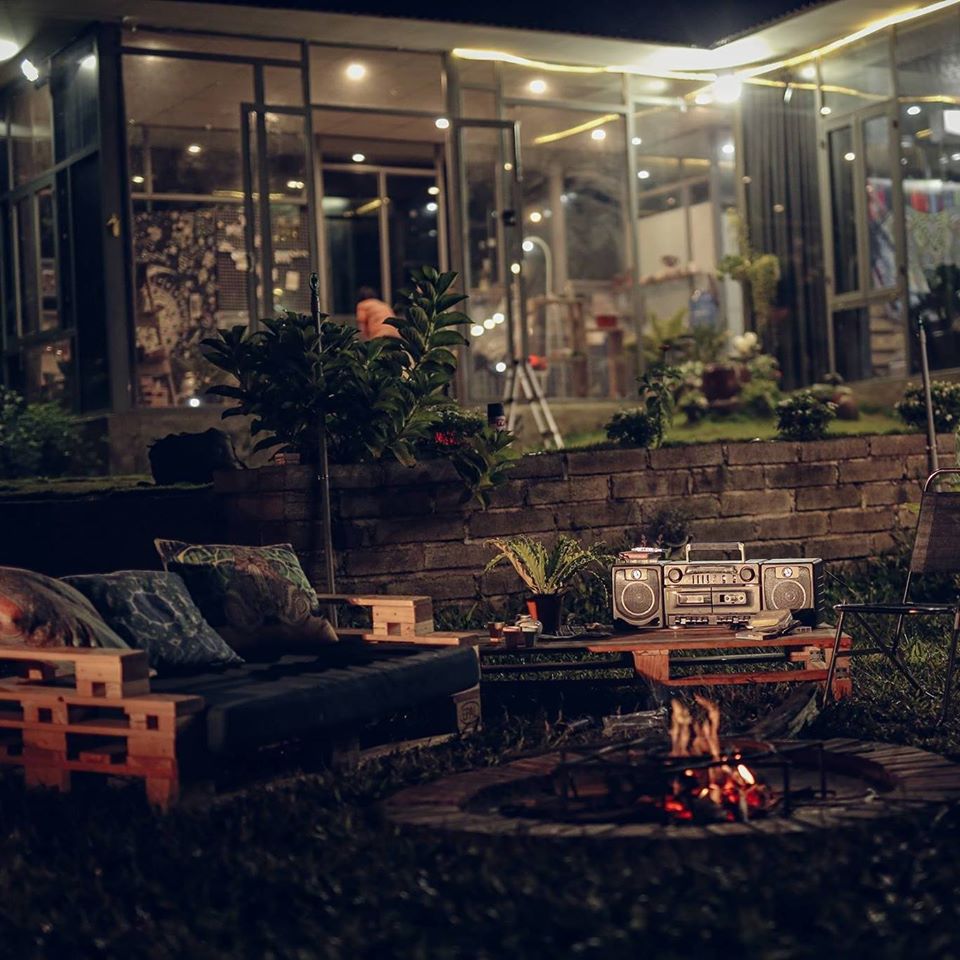 Com's Homestay is an ideal place to stay with friends, family or couples. Explore and enjoy the cuisine and culture of the Central Highlands together, or you can gather together to barbecue and immerse yourself in the poetic nature.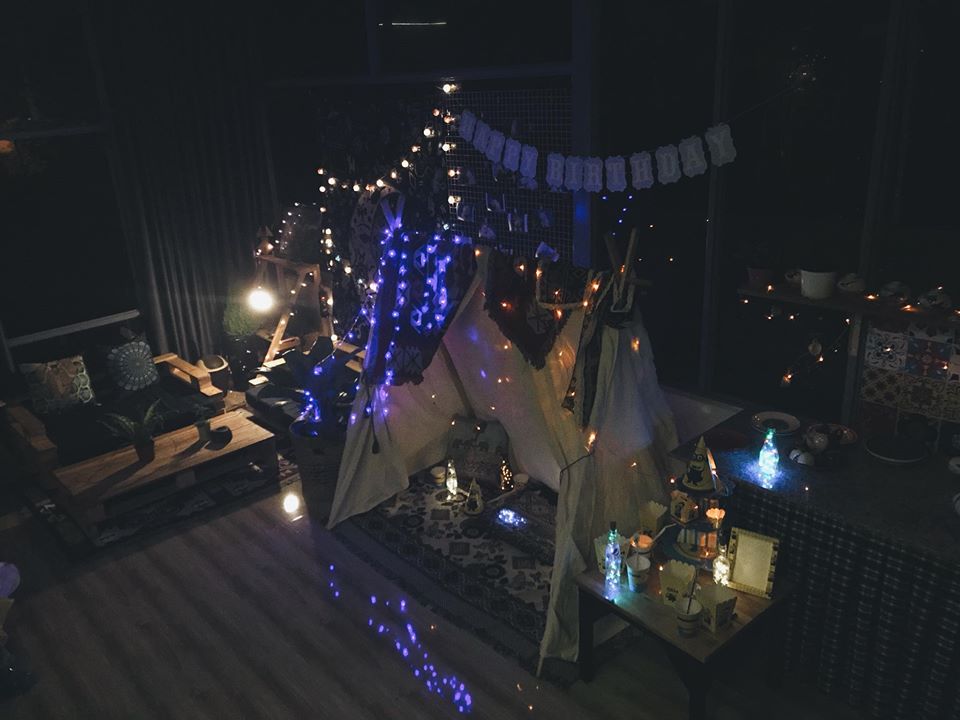 Referring to "Com" you will think of Hanoi, yes, this place is like a miniature Hanoi set in the middle of a rich plateau, a lovely house in the middle of romantic mountains. Coming to the homestay, you will be surprised with the space filled with lights, designed in the style of a wooden house, every corner becomes an extreme virtual living space.
10

Lee's House

Lee's House is known as a miniature Bali right on top of Buon Ma Thuot hill, not only an ideal place to stay, but also a check-in place with a beautiful shimmering view that you should not miss.

The space is so peaceful and soothing. Come here to smell the highland, to see the chilly air in the summer, to enjoy the silent mountain views.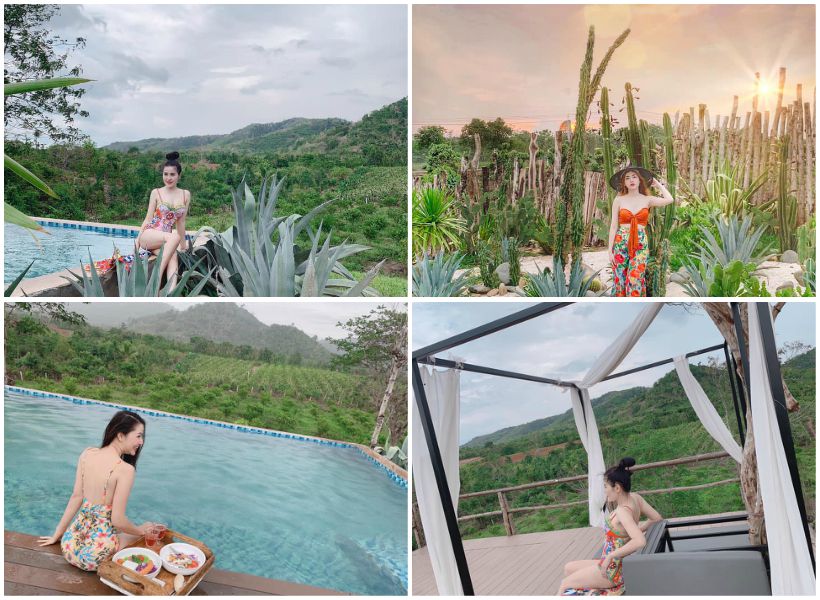 Lee's House is beautiful in a gentle , luxurious and poetic style, anyone who comes here will fall in love immediately. In particular, this place has large cactus branches, which you can see everywhere, as if to remind that the thorniest place is also the most beautiful place, although thorny but still blooms, quietly beautifying life.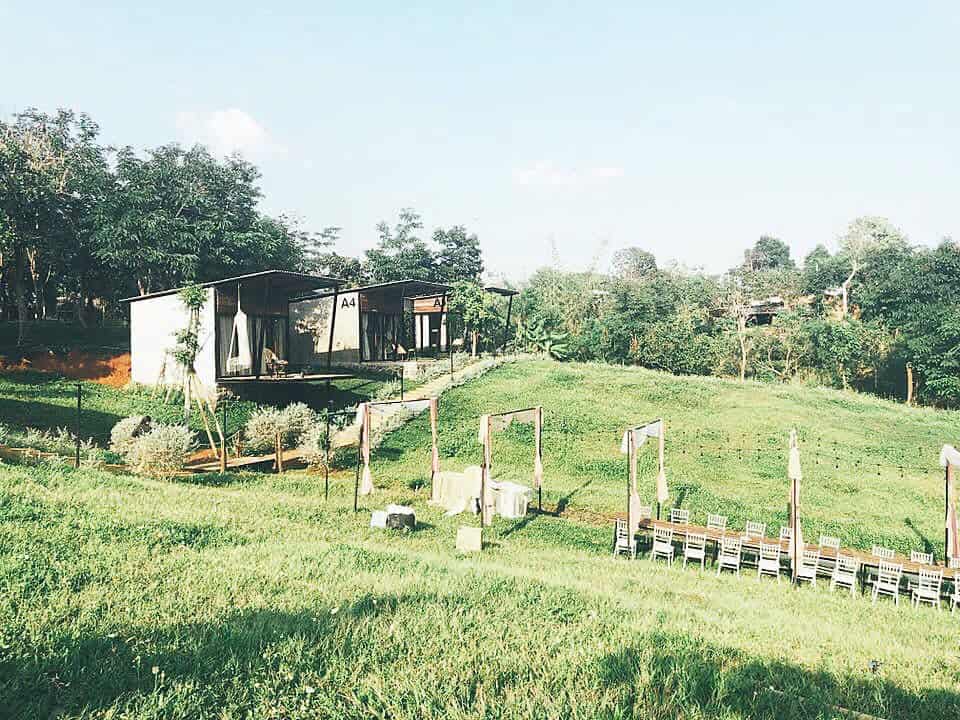 11

An Homestay

An Homestay is located in the city center, convenient for traveling between attractions. It is a colorful space, youthful and evocative tones that remind many tourists when coming here. Surrounded by a lot of cool green trees.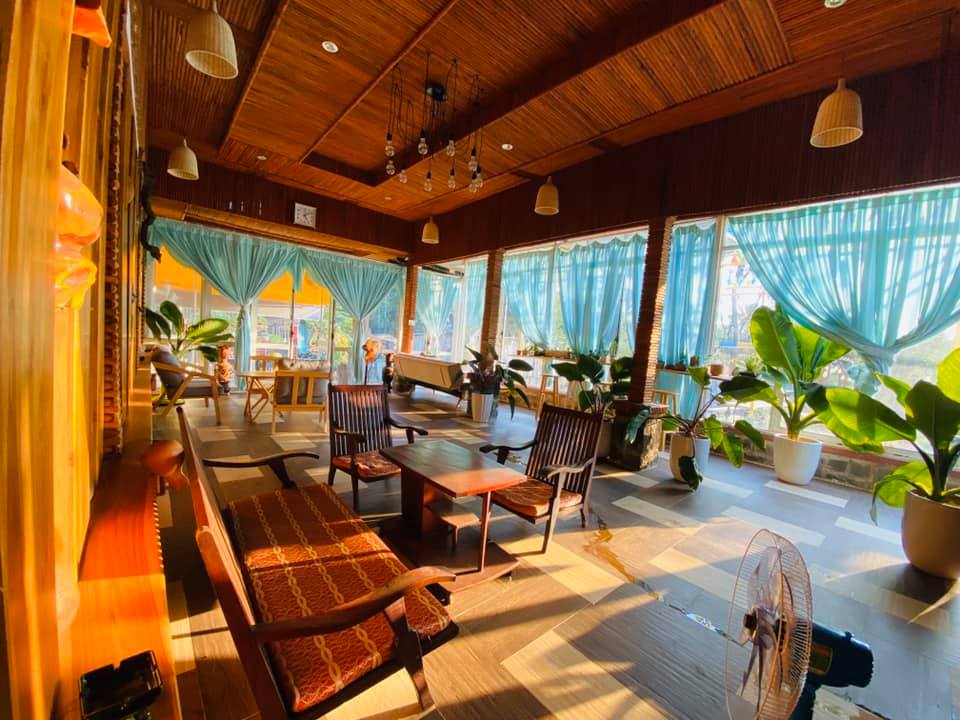 The room is designed in a vintage style to bring a sense of peace and relaxation. Pink color combined with romantic wood, fully equipped. You can open fire and smoke with your friends, and check-in to live virtual super virtual pictures with beautiful scenery, or you can enjoy coffee immersed in nature.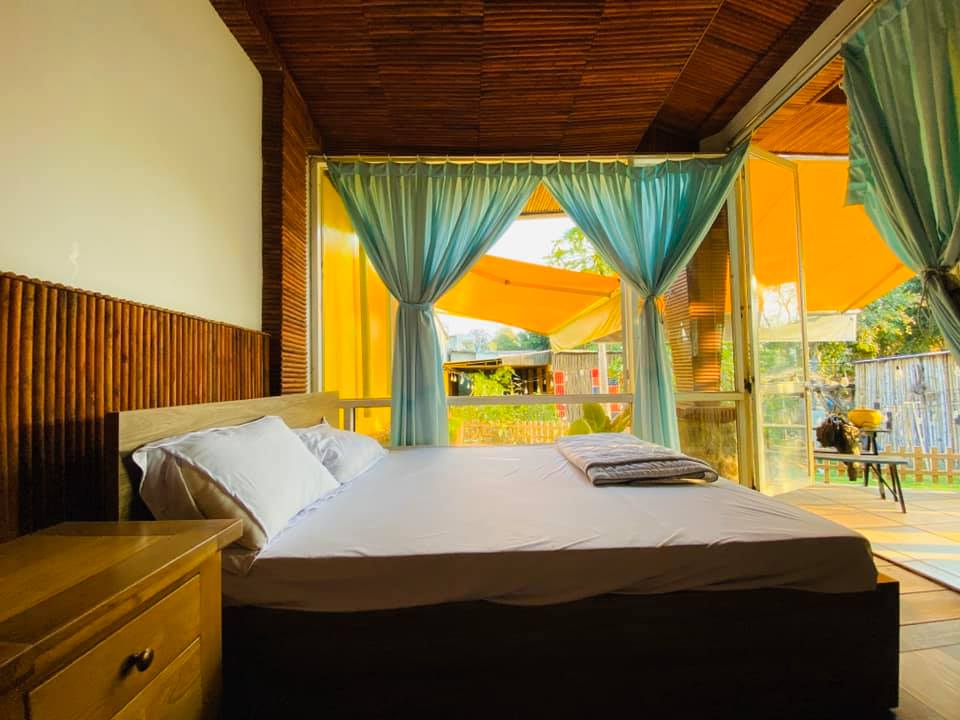 Check out Dien May XANH's business photography sticks at good prices for great travel experiences!
Here are the homestay locations in Buon Ma Thuot with "excellent" view, giving birth to thousands of like pictures that Dien May XANH wants to share, you must definitely visit, everyone, please refer and share!