1

What is the right time to travel to Dong Nai?

You can visit Dong Nai at any time of the year, but if you want to admire and enjoy the luxuriant fruit garden, you should go from May to August.

Dong Nai fully converges all the characteristics of the Southeast region , with beautiful waterfalls and streams that fascinate people. At the same time, this is also an ideal tourist destination on holidays, famous for tourist attractions such as: Giang Dien Waterfall, Golden Scorpion tourist area, Chua Chan Mountain, …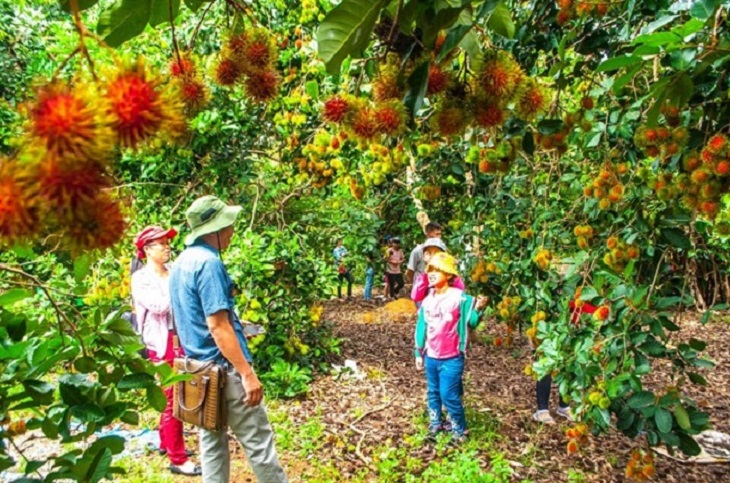 2

The most famous check-in locations in Dong Nai for you to freely "live virtual"

Here are the top 10 famous places in Dong Nai and ticket prices updated in May 2021, please refer!
Han Stone Waterfall
Da Han Waterfall is far from the city center. About 70km from Ho Chi Minh City, this is a camping and picnic destination for those who love the majestic scenery and the scent of the internal grasslands of the rivers in the Southeast. The waterfall is located in the middle of a luxuriant fruit garden and spreading fruit.
The waterfall consists of 3 waterfalls: Chang waterfall, Nang waterfall and Da Han waterfall. If you are a nature lover, Da Han Waterfall will be the choice not to be missed.
Tre Viet tourist village
Vietnam Bamboo Village, in addition to folk games, also organizes a lot of entertainment services, modern games such as kayaking, canoeing, banana boating, river cycling, etc. With a campus of about 45,000 m², you can experience many interesting things here such as the restaurant area, the game area, the motel area. Coming to Tre Viet tourist area, you completely get the best relaxation in the familiar village space.
Nam Cat Tien National Park
To conquer and experience the beauty of the forest, we can explore Bau Sau , the capital of freshwater Siamese crocodiles. In addition, Cat Tien is surrounded by a forest surrounded by a protective fence with an area of over 57 hectares . This forest is a sanctuary for rare animals: silver langur, black-shanked douc langur, small loris and yellow-cheeked gibbon. In addition, you can come to explore Ta Lai to know more about the beauty of ethnic minorities.
Buu Long tourist area
Buu Long tourist area is built into an eco-tourism system with: lakes, rivers, mountains, caves, … with tourist attractions: Buu Phong Pagoda, Bach Ho cave, Thien Hau Co Mieu, flower garden The tourist area is divided into two main clusters: Binh Dien mountain, Long Son Thach Dong mountain, with countless cliffs reflecting on the clear blue water, giving the lake an attractive look. led in the charming natural scenery.
Mango garden tourist area
Mango garden tourist area was built according to the model of ecotourism close to nature. With an area of over 50 hectares , this is an ideal place for excursions, picnics, resorts, entertainment and events. You enjoy the close-up natural scenery with a bicycle, passing through winding roads along streams, rows of green oil palm trees, mixed with the sound of birds singing and the sound of flowing spring water. torn.
Long Khanh Garden
Long Khanh orchard has long been famous for its fruits such as rambutan, durian, mangosteen,… Every year from May to July when the southern weather heats up, it's also the time for fruit orchards. Trees in Long Khanh are ripe and full of fruit. There is nothing more enjoyable than picking ripe berries and enjoying them right in the garden. In addition, you can also organize camping in the garden, grilling corn while fishing.
Giang Dien Waterfall
Along with the extremely romantic natural scenery, the Giang Dien Waterfall tourist area attracts many families to come here to travel and have a picnic. Coming to Giang Dien waterfall in the dry and hot season, we will enjoy the cool and calm water. In addition, we also visit many interesting places such as: Hoang Hoa Street, Tuyen Lam Lake, winter garden, love park, …
Golden Scorpion tourist area
With the rustic features of the southern river countryside, Golden Scorpion Ecotourism Area is an ideal place to visit and rest after days of hard work and study. Golden Scorpion is the right place for those who love team building picnic activities when there are enough activities: handball, volleyball, canoeing,… In particular, you will have many new and worthwhile experiences. Remember with the sport of off-road driving to explore the tourist area.
Three Husbands Stone
Ba Chong Stone is one of the famous scenic relic complexes. Various large rock formations with many unique shapes were formed millions of years ago due to geological changes of the earth. This place is located in the middle of an extremely crowded residential area, but it does not lose its inherent natural beauty but also increases the majestic beauty of this place. This is a rocky area with an area of more than 8 hectares , more than 100m high.
Chua Chan Mountain
Chua Chan Mountain is known as the roof of Dong Nai . This is the second highest mountain in the Southeast with an altitude of 837m (after Ba Den mountain 986 meters in Tay Ninh). Chua Chan Mountain has many dense forests, steep cliffs, very suitable for young people to explore, picnic and organize camping. Halfway up the mountain is Buu Quang pagoda built on the side of big cliffs.
3

Some notes when visiting Dong Nai tourist attractions

If you want to witness with your own eyes, harvest and enjoy the ripe fruit, you should travel to Dong Nai from May to August .

To move to Dong Nai, you can go by many different means of transport because the traffic infrastructure here is quite developed with many arterial roads: National Highway 1A, Highway 20, North-South railway. .

For those who live far away, you can take a plane to Tan Son Nhat international airport and transfer to Dong Nai by bus or motorbike.

Please refer to some samples of suitcases currently available at Dien May XANH:

Through the above article, Dien May XANH hopes to bring you useful information in preparing for a complete Dong Nai trip!