1

What is the right time to travel to Vinh Long?

Like in other western provinces, Vinh Long belongs to the tropical monsoon climate with two distinct seasons: rainy and dry seasons. Therefore, you can come here anytime, depending on your free time.

Dry color starts from November to April next year , the sun is quite harsh and hot, you will feel very uncomfortable. Therefore, you should prepare sun protection tools such as umbrellas, coats, hats, … and keep a bottle of water with you to combat this sweltering sun.

The rainy season starts from May to October . This is when Vinh Long has many delicious fresh fruit specialties that you can enjoy. If you don't mind the rain interrupting the journey, then come here in the rainy season to enjoy the cool sweetness of the fruit here and many other attractions in the floating season.
2

The most famous check-in locations in Vinh Long for you to "live virtual"

Here are the top famous tourist attractions in Vinh Long and ticket prices updated in May 2021.
Vinh Sang tourist area
Vinh Sang tourist area is a suitable place to organize fun activities, teambuilding . The resort is located in a favorable terrain in the shape of a triangle, one side is located along the bank of Co Chien river, opposite Vinh Long city.
Besides fun activities, you can watch animals and experience crocodile fishing with 200 square meters. Vinh Sang possesses many outstanding features but still makes visitors feel like a real Southern garden.
The space here is spacious, the air is fresh and comfortable, combined with attractive games such as cockfighting, blindfolded with ostrich feathers, grass skiing, shooting, … promises to bring you experiences. Great after a tiring working time.
Tra On floating market
The market is located at the downstream of Hau River with a length of 300 meters, 250 meters from Tra On. Floating market clearly shows the cultural characteristics of the people of Vinh Long. In the flood season, people gather here crowded, trading activities take place busy.
However, because the market operates according to the model of a wholesale market that distributes agricultural products to many small markets, the daily activities of the market are lively and crowded with many boats and boats. Tra On floating market sells all kinds of food.
My Thuan Bridge
When it comes to Vinh Long, it is definitely impossible to ignore the name My Thuan Bridge, which owns a luxurious and beautiful architecture, cooperated with Australian engineers, experts and workers. The bridge is responsible for connecting Vinh Long with Tien Giang province and Ho Chi Minh City.
My Thuan Bridge promises to be an attractive check-in point as to mark the memory of you ever coming to Vinh Long, the bridge with many extremely cool virtual live backgrounds will be an attractive destination for young people and backpackers.
Ecological area of Vinh Long ancient house
The house has a nostalgic architecture with sculptures of birds, flowers and leaves, built entirely of precious wood and has the longest history. The outside of the house will be surrounded by trees, the immense green garden will give you a fresh, pleasant atmosphere and enjoy the fresh fruits.
An Binh Isle
An Binh islet is a famous eco-tourism destination in Vinh Long province. Coming here, you will enjoy the delicious fresh fruits and enjoy the quiet space combined with the fresh and airy atmosphere to give you a feeling of relaxation, gently away from the happy smoke of the city. luxury, smog.
Besides, you will be able to row a boat on the canals, see the rows of green trees, the simple beauty of the houses and many interesting things that only when you come here can you feel.
Truong Huy tourist area
Truong Huy tourist area is an attractive place for many tourists when coming to Vinh Long, 5km from My Thuan bridge, an attractive and easy to find location. This place is invested a lot of money promising to be the most eco-tourism area in the Southwest . Truong Huy owns a large area of up to 350,000 square meters, you will experience many great services such as entertainment, relaxation, dining, organizing collective activities, …
Long An Ancient Temple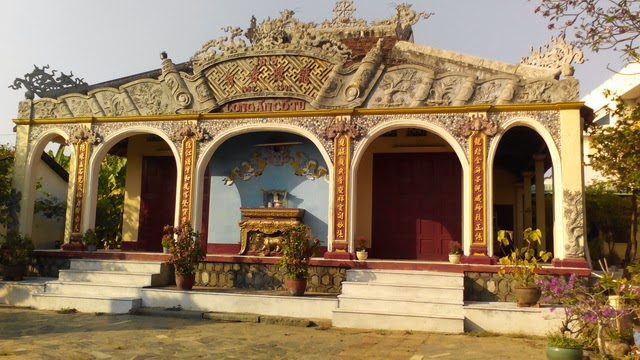 This is a temple built and has a long historical tradition in Vinh Long, a resting place for many Buddhists in the South, a place of spiritual and cultural activities of local people. Long An ancient pagoda will bring you a feeling of peace, tranquility, escape from troubles, worries about life's chaos.
Tien Chau Pagoda
Tien Chau Pagoda attracts many elderly tourists because of its elegant beauty, light yellow painted walls that stand out among the vast green space with fresh and peaceful air. Although the design is not too prominent, it attracts many tourists when coming to Vinh Long.
The temple is not far from Vinh Long city, but this place is sparsely populated, giving you a quiet feeling when you come here and the solemn silence for the temple. Inside the temple is beautifully decorated, elegant, in the middle is the main altar, inside there is a giant Amitabha Buddha image.
Dinh Long Thanh
The communal house owns a familiar architecture like other communal houses in the South, in the middle is the main temple, in front is martial arts and martial arts, behind is the guest house, on the left is the kitchen. The communal house was built with many nodules, decorated in the style of "Two dragons adoring the moon" expressing strength, dignified, solemn and the beauty of the human spirit.
Temple of Pham Hung
In addition to eco-tourism areas and religious temples and communal houses, Vinh Long is also the land of many heroic children who sacrificed for the country, which is a memorial area in memory of the late Chairman of the Council of Ministers. Pham Hung.
Coming here, visitors will hear about the life and dedication of the Minister for his homeland and country. Walking here, you will feel the national pride and gratitude for the heroes who heroically sacrificed to bring independence and peace to the country.
3

Some notes when visiting Vinh Long tourist attractions

When traveling to Vinh Long, you need to note some of the following issues:
Clothing : Convenient clothes and shoes, bring hats, umbrellas, and umbrellas to avoid heat because Vinh Long's weather is quite hot. If it rains, you can bring waterproof clothes, a raincoat, an umbrella, a waterproof bag specifically for your phone.
Bring cash : Because in Vinh Long, there will be very few card swipes when paying, you should bring a lot of cash to avoid risks.
Booking : Tourist places are concentrated in the city or island, so you can book a room in the city center or An Binh island.
Where to eat : You can eat in the city center because there is quite a lot of food and it is cheap.
Please refer to some samples of suitcases being traded at Dien May XANH:
Above is an article about the top famous check-in places when traveling to Vinh Long. Any questions please leave a comment below!