1

What is the right time to travel to Kien Giang?

The most suitable time to come to Kien Giang is from October to March because this time there is little rain, suitable for enjoying the sun and wind in this sea. In the remaining months, you should limit travel because there are often heavy rains and thunderstorms, which will make it difficult to have fun swimming and greatly affect the movement when visiting the surrounding islands.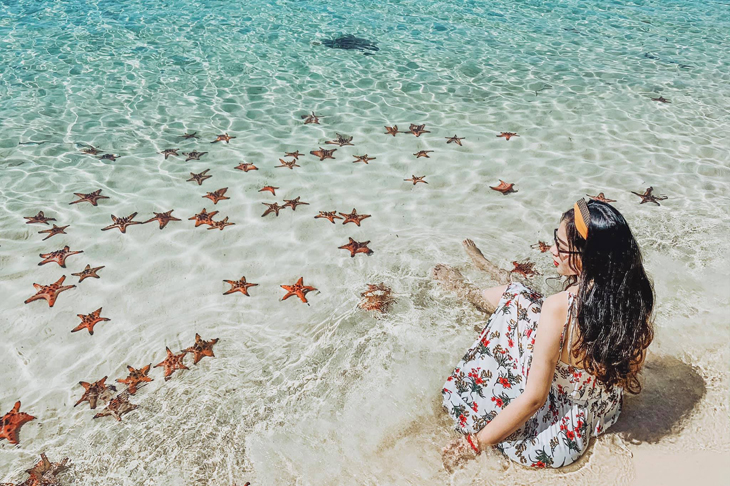 Rach Vem Beach – Phu Quoc
Especially in Kien Giang, there are many festivals and attract a large number of tourists to participate. If you are a person who likes excitement and food, you should not miss festivals such as: National Hero Festival Nguyen Trung Truc on August 27 of the lunar calendar, Boat Racing Festival in Phu Quoc on the very attractive occasion of April 30 – May 1 or the Nghinh Ong Festival which takes place on the 15th and 16th of the 8th lunar month every year,…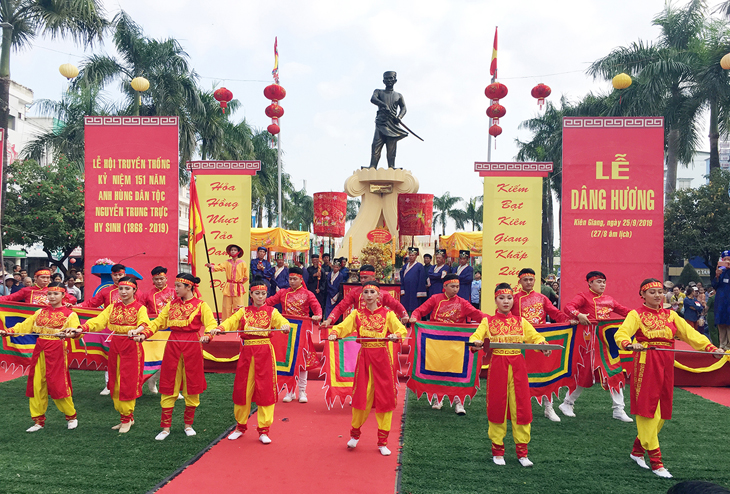 National Hero Festival Nguyen Trung Truc
2

The most famous check-in locations in Kien Giang for you to freely "live virtual"

Here are the top 9 famous tourist destinations in Kien Giang and the ticket prices updated in May 2021.
Phu Quoc Island
Phu Quoc is known as the Pearl Island of Vietnam with its clear blue sea and interesting attractions, which has attracted millions of tourists. You can enjoy seafood, snorkeling or buy Phu Quoc fish sauce as a gift.
Especially, on April 21, 2021, Phu Quoc United Center was officially put into operation and won the title of Super complex with the largest area of entertainment and resort in Vietnam.
Ha Tien
Ha Tien is a tourist destination not to be missed when coming to Kien Giang. With diverse terrain, Ha Tien has many attractions such as Da Dung Mountain, Hang Pagoda, and the majestic Thach Dong with the legend that Thach Sanh saved the princess.
Coming to Ha Tien, you can enjoy places like Bun trumpet, Ca Xiu, pandan tube cake, jaggery cake,…
In addition, you can also swim and enjoy seafood at Mui Nai beach with long white sand and gentle waves. At night, you can visit the bustling and lovely decoration of Ha Tien night market .
Pirate Island
The name of Pirate Island is associated with stories of pirates in the past due to its rugged terrain and location on an important trade route. Coming to this place, you can enjoy the rare wild beauty along with activities such as squid fishing, fishing, scuba diving.
You should come to Hai Tac Island to buy dry, when the sun is in harmony with the calm waves. This will be the ideal place for you to relax and enjoy the peaceful atmosphere.
Nam Du Islands
Nam Du archipelago gathers more than 21 large and small islands and countless beautiful and poetic beaches such as Chet beach, Cay Men beach, … This place has become an ideal place for many tourists with super homestays and resorts. beautiful, or coastal camping is also being loved by many young people.
You can go to Nam Du island and visit the tallest lighthouse in Vietnam or come to Bai Soi to mingle with the cool blue sea and participate in sea activities such as kayaking, diving to see corals, .. .
Rach Gia
In recent years, Rach Gia city has been developed and exploited tourism to serve the needs of tourists. You can enjoy dishes such as herring salad, sticky rice, banana flower salad,…
This place is not only famous for historical and spiritual tourist attractions such as Nguyen Trung Truc temple, Tam Bao pagoda, Kien Giang museum, … but also developed marine tourism and check-in places. Not to be missed such as the urban area encroaching on the sea, Rach Gia port.
Ba Lua Islands
Ba Lua archipelago has more than 40 large and small islands, but only a few islands are inhabited. Coming here, you can experience sailing to visit the surrounding islands to explore the wild beauty and enjoy the beautiful sunset on the sea.
Ba Hon Dam is the place most tourists choose to visit. This place has smooth and clear water, flat bottom. An interesting experience here is that you can walk in the middle of the sea from Dam Duong Island to Dam Duoc Island because the water level is quite shallow.
Coming to U Minh Thuong National Park in the floating season (from August to November), you will be able to sit on a shell along the blue water and immerse yourself in the wild landscape of the immense forest, where residence of many species of flora and fauna, including rare and endangered species that are being protected such as spotted civet, large horse bat, salamander, black eagle, white-necked crane,…
In addition, you can also enjoy the rustic dishes here and learn more about the history of your forefathers when using this place as a revolutionary base against the French, American and also the base of the Heroic insurgency. ethnic group Nguyen Trung Truc.
Bamboo island
Hon Tre has an area of 428.59 hectares and the terrain is quite steep with an average altitude of over 30m and this place is also known as Turtle Island because the shape of the island resembles a turtle in the sea. Coming here, you can freely enjoy seafood such as oysters, star grouper, mantis shrimp, crabs…
Here stretches of rocky beaches and rows of green coconuts form a fairly unspoiled natural landscape such as Chen Beach, Coconut Cave, Pineapple Beach (Ha Ba tail),… suitable for taking great photos when traveling. Visitors come here to visit.
Phu Tu Island
The legend of Hon Phu Tu about the sacred father-son relationship is a tourist highlight, attracting many tourists to visit this place. Coming to Phu Tu Island, you can admire the majestic natural picture along with the whispering waves.
Next to it is Hang Pagoda , also known as Hai Son Tu , the famous cave of Ha Tien with a giant Maitreya Buddha statue weighing up to 22 tons and natural stalactites with many different shapes.
3

Some notes when visiting Kien Giang tourist attractions
Kien Giang has many tourist attractions. Therefore, you need to prepare in advance the schedule of places you want to visit!
There are many islands and archipelagoes here, so it's best to check the weather forecast before going to avoid rainstorms that make the sea rough and make you unable to visit the islands.
If traveling in the dry season, the climate here is quite hot , so you need to prepare sunscreen, sunglasses, jacket,… If you travel to the island, you should prepare more because the power source here is limited. regime.
Should prepare more shoes or sandals to easily visit places such as rocky mountains, caves and sea.
Some essential technology equipment for your outing:
Above are the top famous check-in places when traveling to Kien Giang . Hope you have a great trip with your family and friends!