1

Studymovie

Studymovie provides an effective method of learning English by supporting English and Vietnamese subtitles for each movie . This brings certain advantages and limitations to this type of English practice through subtitles.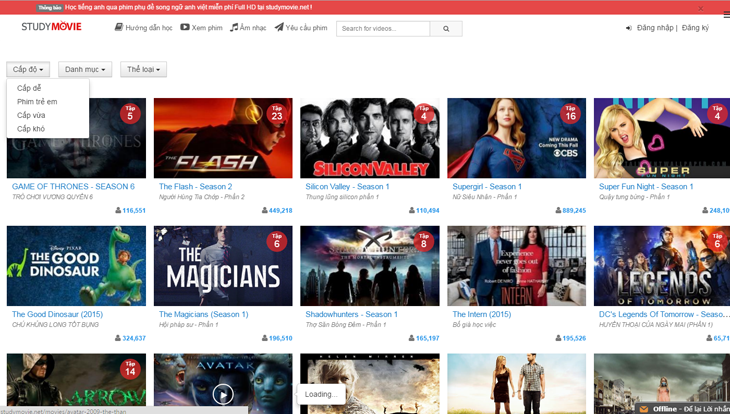 Advantages:
Watching movies with subtitles helps listeners practice improved speaking skills and form quick reflexes . Reading and highlighting sentences under subtitles leads to smoother and more natural speaking.
Besides, thanks to the feature of reducing the dialogue speed on this movie web, you can focus on practicing some difficult words , avoiding distractions.
Plus, with the active rewind in seconds , you can enter the length of the clip you want to listen to again, and press the Tab key to stop the movie and click the rewind button to listen to the dialogue you didn't hear clearly.
In addition to practicing speaking skills, this movie website also helps viewers practice vocabulary more easily through subtitles and use a variety of vocabulary more suitable for different contexts.
Defect:
Watching movies with subtitles will sometimes make viewers rely too much on subtitles, leading to ineffective learning if we don't know how to be active in the self-study method.
2

Connect English movies

Another website to watch movies online to practice English that you should not ignore is Movie English Connection. This is the place to host more than 12,000 completely free bilingual episodes .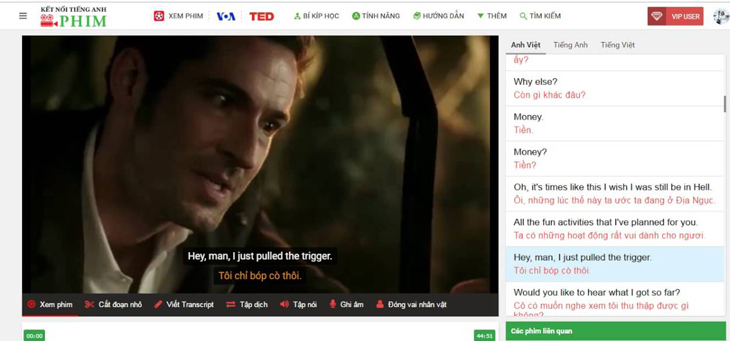 Advantages:
Users can watch movies with bilingual subtitles (English and Vietnamese). Along with that, practice writing transcripts for movies , practice translating on a movie clip .
In addition, users can practice pronunciation through the voice recognition system , practice speaking through the recording system, and more specifically, allow users to incarnate and play characters in the movie.
In addition, a special feature not to be missed of this movie web site is to support storing the sentences that the user wants, keeping a log of your activities on the movie viewing system.
Defect:
Some of the more advanced features on this website require users to pay.
3

hochoctv.com

Unlike the two websites mentioned above, hochoctv.com not only provides a movie store with bilingual subtitles, but also presents news videos and songs based on both English and Vietnamese subtitles.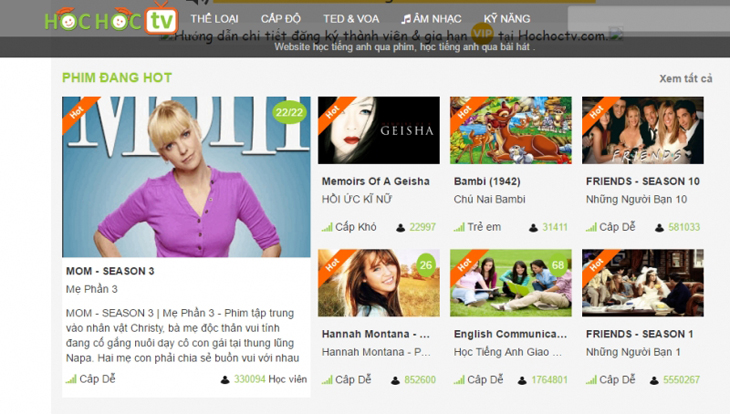 Advantages:
This website gathers a lot of clips from VOA (Voice of America), TED (a series of global seminars), clips teaching pronunciation skills, English grammar and videos explaining the facts. Scientific events happening all over the world.
In addition, the lessons range from easy to difficult levels , making it easy for you to choose the level that's right for you.
Another outstanding advantage is that HD movies viewed on the web are very clear, less jerky and lag.
Defect:
– Users have to pay a certain amount to fully watch their favorite movies.
– The interface is not unique, the web color is not eye-catching
Address: http://hochoctv.com/.
4

Toomva

Toomva.com is an online English learning website through English-Vietnamese bilingual subtitles videos. This website is quite similar to the Studymovie site introduced above, viewers learn English on this page mainly through subtitles.
However, the curriculum will be divided into several levels : lessons for beginners and for those who are learning English. This creates a suitable route for each person's self-study needs.
Advantages:
The learning program is divided into many levels so that learners have a clear path : the English learning program from scratch with Toomva is compiled by Toomva for learners to learn from the latest level, the English learning program English For You is English teaching program of famous American teacher Molly Stone.
In addition, users can watch many other videos suitable for their own needs: watch videos on Toomva and you can note down a few words or certain English structures, along with learning one of them. programs as mentioned above.
Defect:
You must purchase a VIP package to use all the useful features on this website.
5

English-Vietnamese bilingual movies

Bilingual English-Vietnamese movies is a website to learn English through movies for free , update movies quickly, download convenient and easy. Learning English on this website will be based on users watching movies to hone their pronunciation, speaking, listening and vocabulary skills.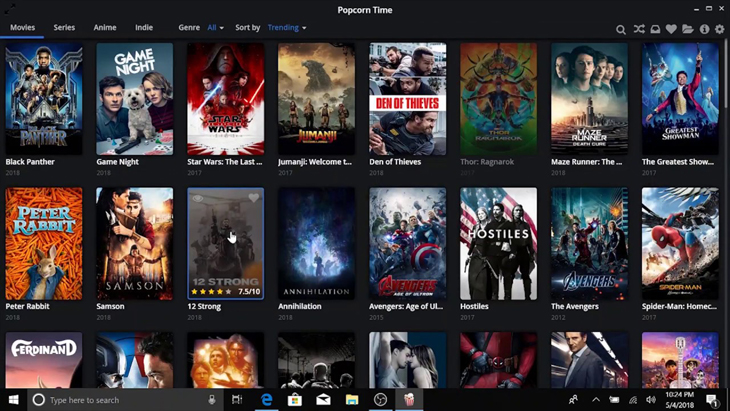 Advantages : The English movie store on this website is very rich and diverse and completely free, you can find many of your favorite movies quickly.
Clear web interface, easy to use rewind operations to practice pronunciation, note pgaps or vocabulary during movie watching.
Defect:
Fewer features to support learning English than other websites.
Learning English also depends on the flexible and proactive reception ability of learners.
6

Learn English through movies – Langmaster

The Langmaster website offers a fairly diverse and rich library of bilingual movies , which is one of the great sites for you to search for movies.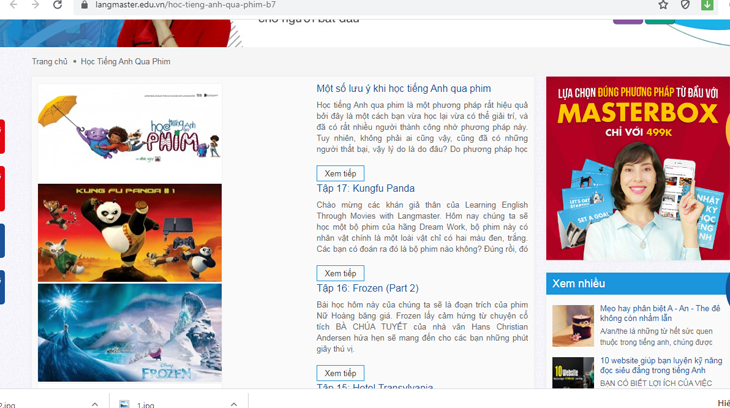 Advantages:
Watching and downloading bilingual movies on this website is completely free, the movie download operation is also quite simple.
Through watching bilingual movies, you can learn the language in a real-life context, your listening skills can be enhanced, and you get acquainted with a variety of English accents.
Defect:
Searching for movies on the web can take longer because movies are in the Download Document section, to download movies you must enter your email and phone number.
Not suitable for those who need to learn online on the web because you have to download the movie .
7

Ororo.tv

Ororo.tv is a huge mainstream movie store with English subs. With such a huge library, you can find more interesting suggestions.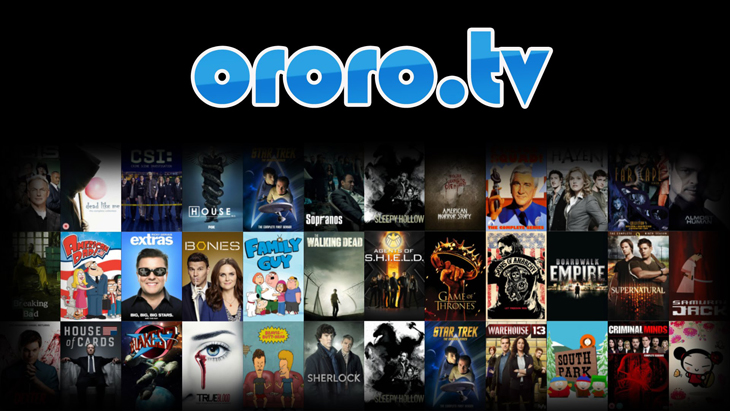 Advantages:
It is easier to look up the dictionary on the movie , you just need to move the mouse to the position of the word on the screen, there will be automatic translation mode immediately.
Besides the movie store, the website also provides viewers with other useful English training programs such as TED, physics experiments, etc.
Defect:
Although there are also many subtitle modes, but unfortunately there is no Vietnamese sub.
The interface is simple, movies are not arranged in order of name, release year or genre, so it is difficult to find a favorite movie.
8

Popcorn-time.to

Popcorn-time.to is one of the familiar sites for those who love to learn English through movies when it offers high quality movies from Torrents .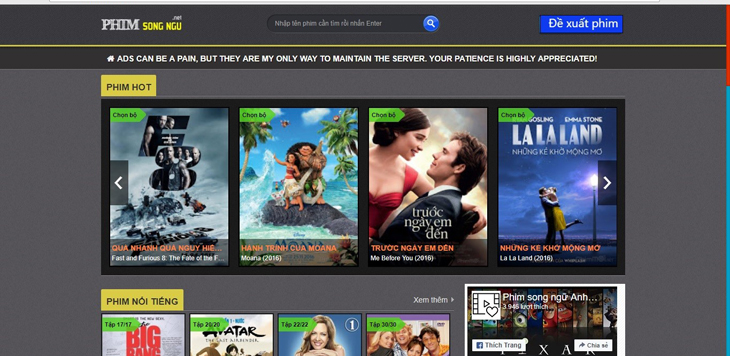 Advantages:
The movie store is rich, the interface of the program is quite simple and easy to use for Vietnamese people. You can search for movies by topic, genre, or you can also search for the most popular movies among users.
Defect:
Users must download a free application to their computer or phone to start using it, but cannot watch movies online.
Above are 8 websites to watch movies online to practice English most effectively. Hopefully from the above suggestions, you can learn English through movies more effectively and improve!