Even jeans, with their fitted design, can easily reveal the flaws of the wearer.
Jeans are a staple in every woman's wardrobe, regardless of age. With their versatility, comfortable fabric, and flattering designs, they are suitable for various occasions and age groups, from 18 to even 50. However, finding the perfect pair of jeans that flatters the lower body can be a challenge, as not everyone has a "model-like" figure.
When it comes to clothing, jeans can be quite revealing, highlighting the wearer's flaws due to their form-fitting nature. Particularly for individuals with curvy legs, large thighs, small buttocks, or short legs, careful consideration is required when shopping for and selecting the right pair of jeans.
The following guidelines are key in selecting jeans that flatter your body shape, enabling you to overcome any physical constraints:
1. Determine Your Body Shape: Assess your body proportions and identify if you have a pear, apple, hourglass, or rectangle shape. Understanding your body shape will help you find jeans that accentuate your best features.
2. Consider the Rise: The rise of jeans refers to the distance between the waistband and the crotch. High-rise jeans work well for hourglass and pear-shaped bodies, as they accentuate the waistline. Mid-rise jeans are more versatile and suit most body types. Low-rise jeans are better for apple-shaped or rectangular bodies.
3. Pay Attention to the Waistband: The waistband of your jeans should fit well and sit comfortably on your waist or hips. Avoid jeans with an overly tight waistband or ones that constantly slide down. Opt for adjustable waistbands if you have fluctuating weight or need a more customizable fit.
4. Determine the Leg Style: Consider the various leg styles available, such as skinny, straight, bootcut, or flared. Skinny jeans are great for highlighting slim legs, while straight or bootcut jeans can add balance to wider hips. Flared jeans create the illusion of longer legs and are perfect for petite frames.
5. Choose the Right Length: The length of your jeans is crucial for a stylish appearance. Consider the different options, such as ankle-length, cropped, or full length. Avoid jeans that bunch up at the ankles or drag on the floor.
6. Pay Attention to Pockets: Pockets can accentuate or diminish certain areas of your body. Opt for jeans with well-placed pockets to enhance your shape. Smaller pockets or no pockets at all can help minimize any problem areas.
7. Experiment with Washes and Colors: Different washes and colors can create varying effects. Dark wash jeans tend to be more slimming, while lighter washes can add volume. Play around with different hues and finishes to find what complements your skin tone and personal style.
Remember, the right pair of jeans can work wonders for your confidence and appearance. By following these tips and understanding your body shape, you'll be able to choose jeans that accentuate your best features and make you feel fantastic.
1. Belly Fat
Excess abdominal fat often poses a significant concern for women. This particular aspect of body shape can contribute to feelings of insecurity, particularly when trying to wear form-fitting attire such as jeans or tight shirts.
For individuals with a larger waistline, opting for low-rise pants may not be the most flattering choice. It is recommended to consider high-waisted pants instead, as they effectively hold excess fat and provide a more slimming effect on the waist. Additionally, tucking in the tummy can further enhance the appearance of a slimmer waistline.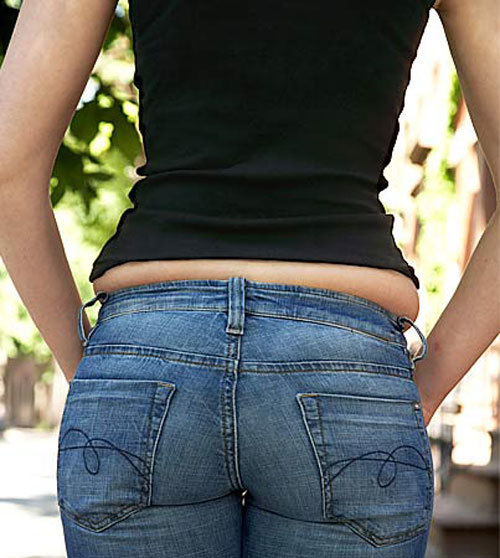 The Issue of Belly Fat with Low-Rise Jeans
One of the most dreaded challenges women face when it comes to fashion is the struggle of belly fat when wearing low-rise jeans. This unfortunate reality has caused many women to avoid this style altogether or feel self-conscious when they do wear them.
Belly fat can easily become more prominent when wearing low-rise jeans due to the way they sit on the hips, often accentuating the midsection. This can make individuals feel uncomfortable and less confident in their appearance.
However, it is important to remember that fashion choices should not be limited by body type or societal pressures. Embracing one's body and finding the right fit and style that flatters the individual is key.
There are various strategies and tips to address this issue and still enjoy wearing low-rise jeans. Some women opt for high-waisted jeans that can help hold in the stomach area and provide a smoother silhouette. Others may choose to wear shapewear underneath their jeans to enhance their shape and reduce the visibility of belly fat.
In the end, it is crucial to prioritize comfort and confidence when selecting clothing. Whether it's low-rise jeans or any other style, embracing one's body and feeling good in what you wear is what truly matters.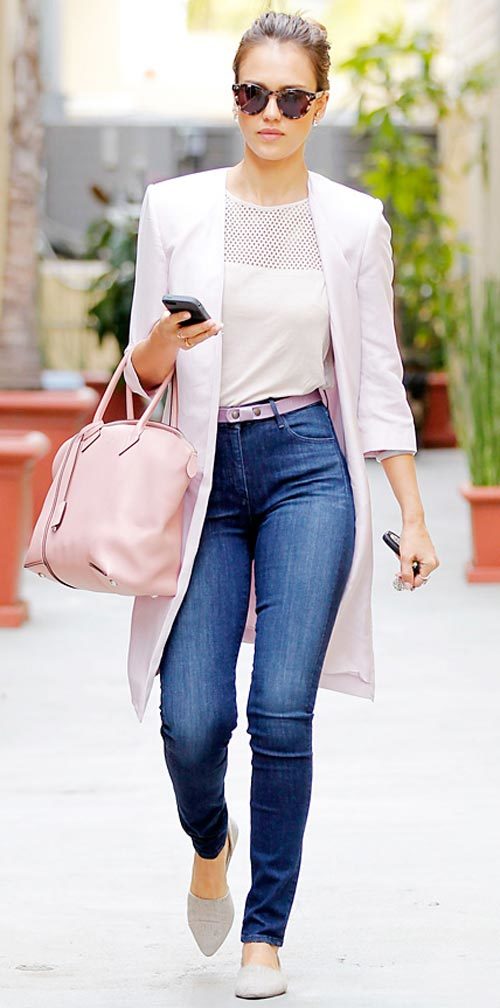 For a flattering look, consider opting for high-waisted jeans to effortlessly conceal a heavier waistline.
2. Well-developed gluteal muscles
For individuals with ample buttocks, it is advisable to avoid jeans that feature back pockets or excessive detailing in that area, as these elements can create the illusion of larger buttocks. If you still prefer pants with pockets, we recommend opting for designs with small or triangular-shaped pockets.
In addition, opting for high-waisted pants can provide coverage up to the back, effectively balancing the proportions of your body.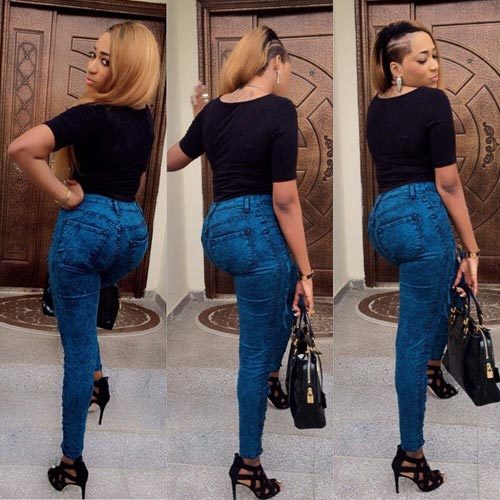 Women who have a fuller derriere should avoid selecting jeans that feature back pockets.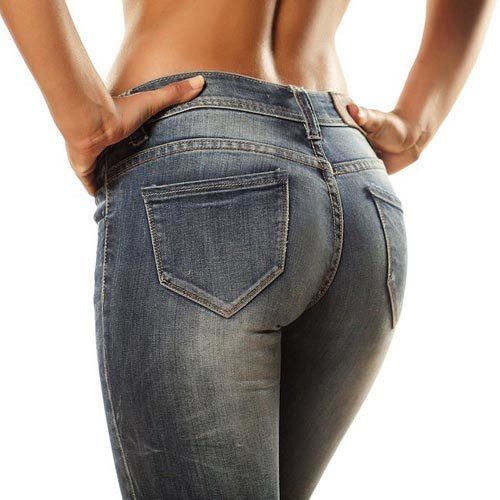 To ensure a polished appearance, it is recommended to opt for pants that do not have pockets. Alternatively, if pockets are present, they should ideally be small or have a pointed bottom.
Flat Buttocks
For individuals with flatter buttocks, it is advisable to select pants that feature pockets, especially those with flaps, as this design element will enhance the appearance of fullness in the buttocks.
People with flat buttocks should consider wearing pants with back pockets. It is recommended to choose pants with pockets that have flaps.
4. Well-developed thigh muscles
For individuals seeking a flattering fit for firm thighs, we recommend opting for slightly flared or bootcut jeans. Wide-legged pants that extend to the knees can also be a great choice for creating a balanced and proportionate look.
To create a slimming effect on the thighs, consider wearing silver rubbing jeans that fit snugly between the thighs. Additionally, opting for dark-colored jeans on both sides can further enhance the illusion of slimmer thighs.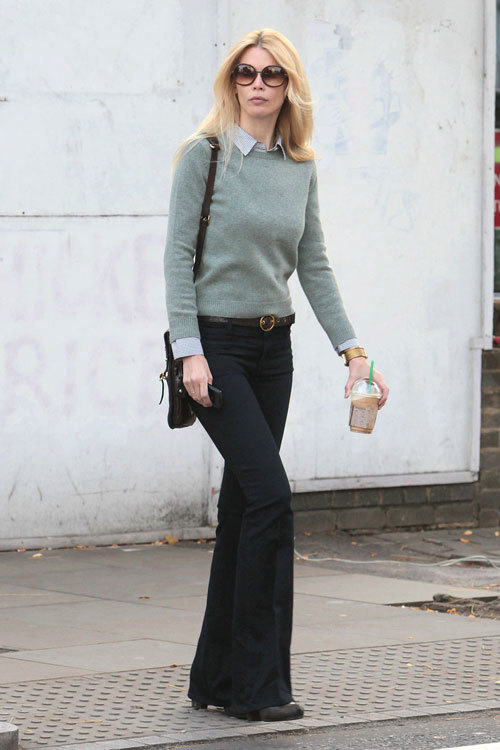 Consider wearing flared or bootcut jeans if you have thicker thighs.
For those with shorter legs, opting for ankle-length, skin-tight jeans can create the illusion of longer legs. Classic styles such as skinny jeans or wide-leg pants are recommended choices.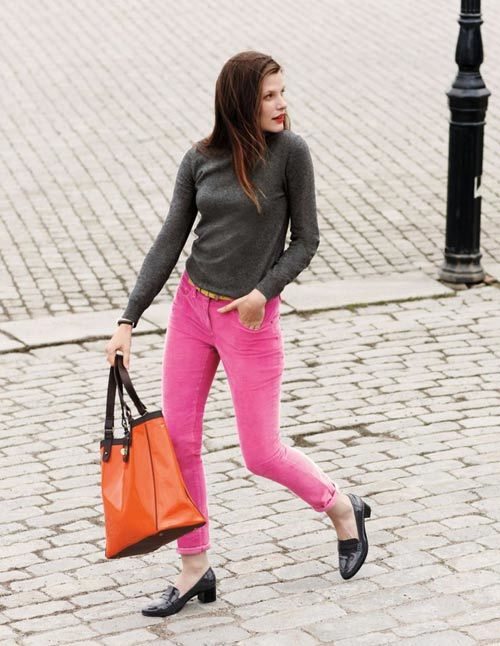 Girls with shorter legs can opt for ankle-length short pants. These pants are designed to flatter the figure and offer a stylish and comfortable option for those with shorter legs. Find the perfect pair that suits your style and complements your silhouette.
Short Torso
It is advisable for individuals with short torsos, particularly females, to avoid opting for high-waisted jeans. Instead, they are encouraged to consider wearing low-rise jeans.
7. Long torso
Contrarily, individuals with long legs should steer clear of low-rise pants and instead opt for high-waisted jeans.
According to Kamphá