What Is the Recommended Frequency for Cleaning Brushes and Sponges?
Proper maintenance of brushes and sponges is crucial for maintaining glowing skin. To guarantee optimal cleanliness and longevity, regular cleaning and appropriate storage are paramount.
Everything You Need to Know About Makeup Brushes and Their Bristles
Brushes for foundation and powder: It is important to keep these brushes clean for optimal sanitation. We recommend cleaning them at least once a week to maintain hygiene.

Brushes for eyeshadow and liquid concealer: It is important to clean these brushes on a daily basis. Due to the stickiness of liquid products, the bristles can easily attract dirt and bacteria.

Blush Brushes: It is recommended to clean blush brushes once a week to maintain hygiene and ensure optimal performance.

Eyeliner Brushes

We recommend cleaning your eyeliner brushes on a daily basis.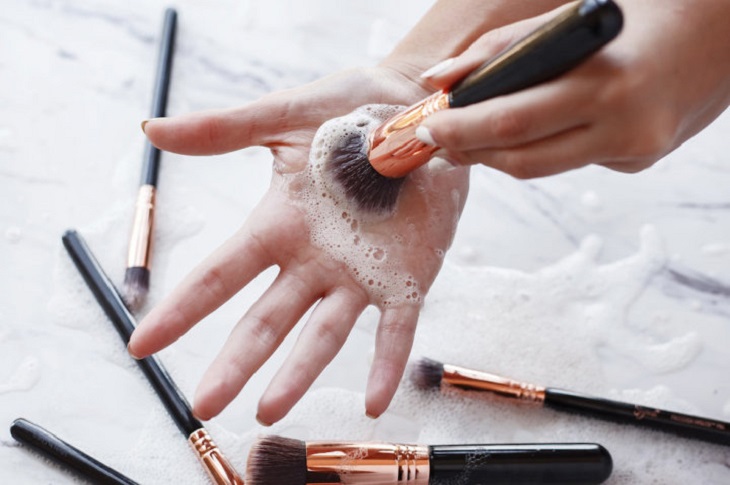 The cleaning frequency for different types of brushes may vary.
Try Reusable Makeup Sponges Instead of Single-Use Ones
Makeup sponges possess absorbent and moist properties, which can foster the growth of bacteria, leading to potential skin complications. For this reason, it is essential to rigorously clean your sponges on a daily basis.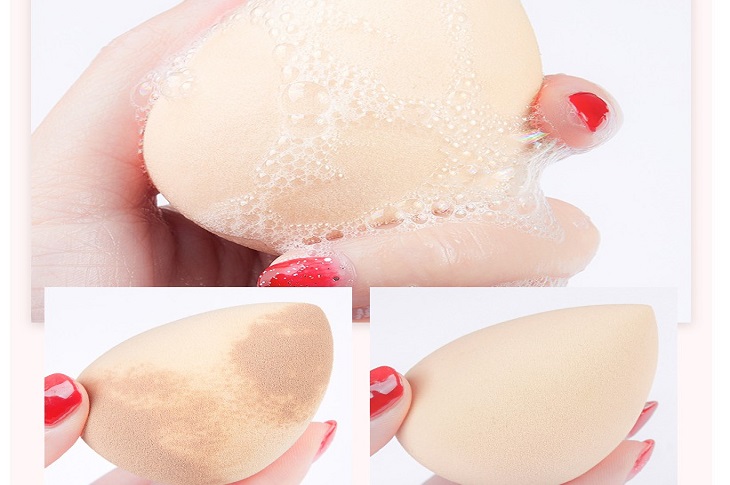 It is advisable to clean your makeup sponge on a daily basis in order to maintain the health and safety of your skin.
What is the Ideal Frequency for Replacing Brushes and Sponges?
It is highly recommended to replace makeup brushes after 3 months of use to ensure their optimal performance and safety for your skin. While regular and proper cleaning can extend their lifespan, replacing them regularly is essential.
If you observe any cracks, shedding, deformities, discoloration, or unpleasant odors in your brushes and sponges while using them, it is crucial to replace them promptly. Failure to do so can compromise the efficacy of foundation application and facilitate the proliferation of bacteria, potentially harming your skin.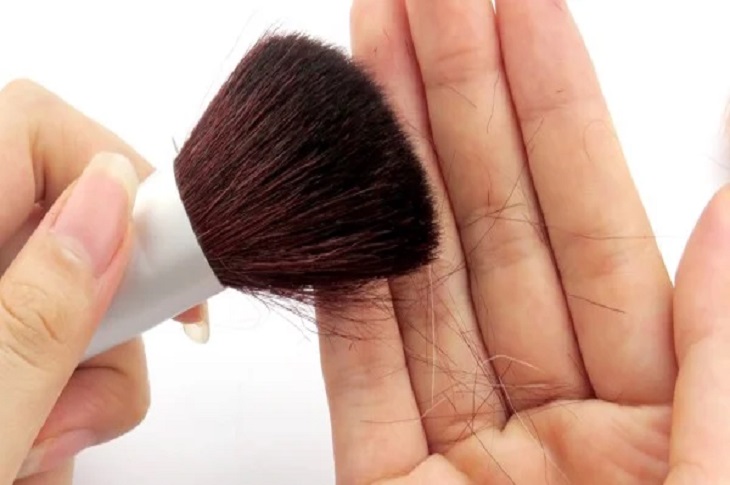 It is recommended to replace your makeup brushes when they exhibit signs of being cracked or shedding.
The Risks of Not Maintaining Clean Brushes and Sponges
Understanding Acne and Skin Irritation: Essential Information
Dirty brushes and sponges create a conducive environment for dirt and mold to thrive. Consequently, when you apply foundation using these unclean tools, bacteria will adhere to the bristles and penetrate the skin, resulting in clogged pores and acne.
When the bristles of a brush become rigid and protrude, they can lead to discomfort, redness, and itching upon contact with the face. Similarly, utilizing unclean sponges can result in skin discomfort, heightened sensitivity, and increased likelihood of irritation due to the presence of oils and dirt.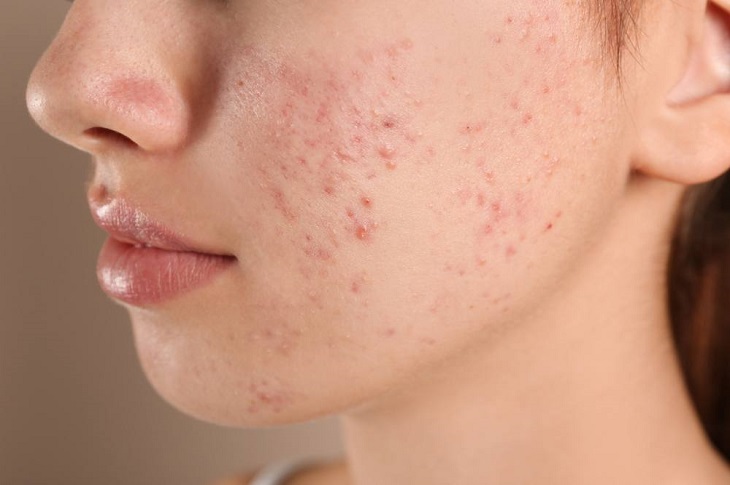 Failure to clean brushes and sponges regularly and correctly can lead to acne and irritation
Hospital Antibiotic Use Linked to Skin Infections
Using dirty brushes and sponges for an extended period of time can lead to the accumulation of oils and bacteria on your face, resulting in irritation and heightened sensitivity. This can weaken your skin and make it susceptible to bacterial attacks.
It is crucial to refrain from sharing brushes, sponges, or other makeup tools with others. Doing so can introduce bacteria into your skin, leading to inflammation and potential damage.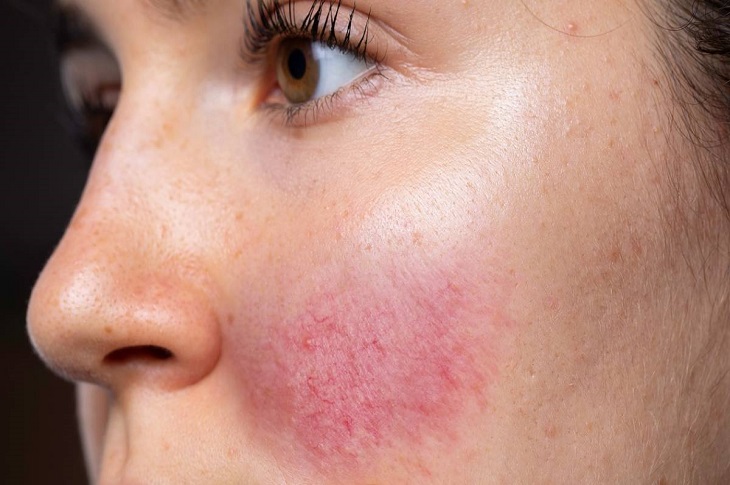 This skin infection is caused by the use of brushes and sponges that contain bacteria.
Teen's Appearance Impacted By Poorly-Applied Makeup
Ensuring a smooth and even makeup application is a common concern among individuals. One factor that can contribute to this issue is the use of dirty sponges. When sponges are contaminated with dirt and bacteria, they can clog facial pores, resulting in an uneven and patchy appearance despite efforts to apply makeup lightly and repeatedly. To achieve a flawless look, it is important to regularly clean and sanitize makeup sponges to prevent any unwanted residue from affecting the makeup application process.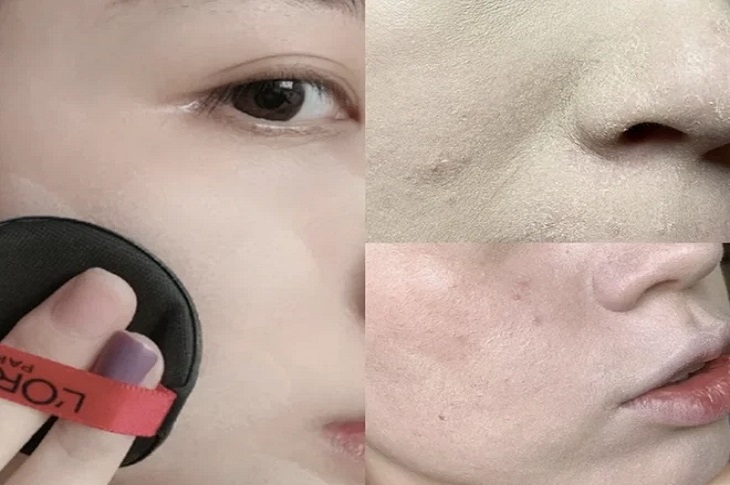 Using a dirty sponge may lead to a non-uniform and inconsistent application of makeup.
Discovery of Disfigured Cosmetics Items in a Lake
Using makeup tools without regular cleaning can lead to a build-up of excess makeup, dirt, and oils. Over time, this accumulation can cause bristles and sponges to become stiff, shed hair, and lose their initial softness. It is important to clean your makeup tools regularly to maintain their quality and performance.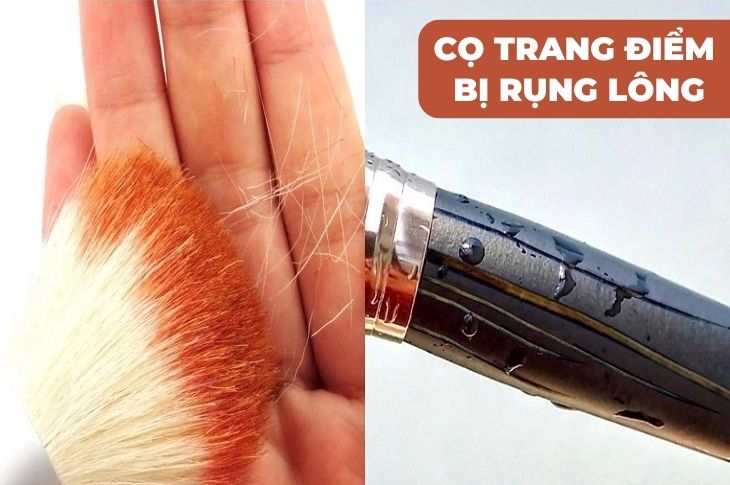 Failure to clean brushes regularly can result in stiff bristles and shedding hair.
The Right Way to Clean Brushes and Sponges
Killing Bacteria with Soap-Cleaned Sponges
Required Tools: Soap, clean water, glass, soft cloth.
Step-by-step guide:
Step 1: Saturate the sponge with clean water until completely wet.

Step 2:

Apply an adequate amount of soap to the surface of the sponge. Gently distribute the soap evenly, allowing the sponge to absorb enough for use.

Step 3: Massage the sponge with your hands to remove any residue of foundation or powder that may be stuck in it. Repeat this action until the sponge is fully cleaned.

Step 4: Rinse the sponge with clean water to remove any soap residue. Squeeze out excess water and use a soft cloth to absorb any remaining moisture.

Air dry the makeup sponge.
Store the makeup sponge in a box.
Washing the sponge with soap
Using Makeup Remover to Clean Sponges
Essential Tools:
Makeup remover
Clean water
Soft cloth
Procedure:
Step 1: Evenly moisturize the sponge with clean water.

Step 2: Apply a generous amount of makeup remover onto the sponge.

Step 3:

Gently use your hands or pat the makeup sponge until it is thoroughly soaked. Avoid squeezing or twisting too hard to prevent any damage to the sponge.

Rinse the sponge thoroughly with water to ensure all makeup remover is removed.
Gently squeeze the sponge to remove excess water.
Use a soft cloth to absorb any remaining moisture.

Step 5: Allow the sponge to naturally air dry in a cool, dry area before safely storing it in a designated box.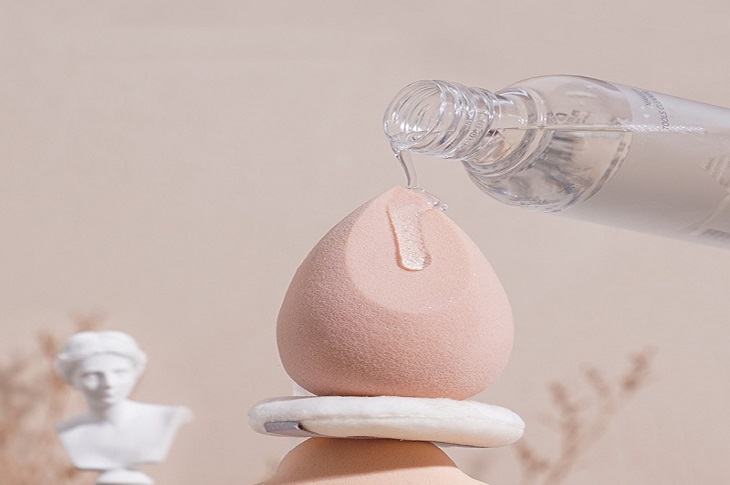 Cleaning the sponge with makeup remover
Reviving Sponges with Dish Soap: A Quick and Easy Method
Tools Needed for Cleaning:
Mild dish soap
Clean water
Glass
Soft cloth
Gather all necessary materials and equipment.
Prepare the work area and ensure it is clean and organized.
Read and understand the instructions or guidelines for the task.
Follow the step-by-step procedure outlined in the instructions.
Double-check your work and make any necessary adjustments or corrections.
Clean up the work area, properly store materials, and dispose of any waste.
Document your work and any observations or findings.
Follow any additional post-procedure instructions or recommendations.
Seek assistance or clarification if needed.
Dissolve dish soap and water in a small glass.

Step 2:

Moisten the sponge with clean water
Dip the sponge into the dish soap mixture

Step 3: Gentle Sponge Massage

Gently massage the sponge to effectively remove dirt and oils. Repeat this step several times until all traces of dirt and oils are completely eliminated.

Rinse the sponge with clean water to ensure that there is no dish soap residue.
Gently squeeze the sponge to remove excess water.
Use a soft cloth to absorb any remaining moisture.

Step 5: Allow the sponge to air dry in a cool and dry environment. Once it is completely dry, store it neatly in a designated box for future use.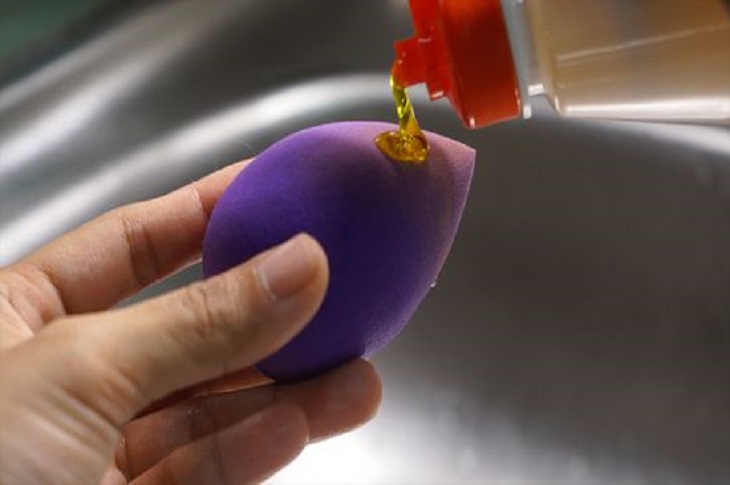 Using mild dish soap to clean the sponge
Using Specialized Cleansers to Clean Sponges to Combat Bacteria
To effectively clean sponges using specialized cleansers purchased from beauty stores, it is crucial to carefully read the instructions provided on the product packaging and strictly adhere to them. Following this guidance will guarantee optimal removal of bacteria from the sponge.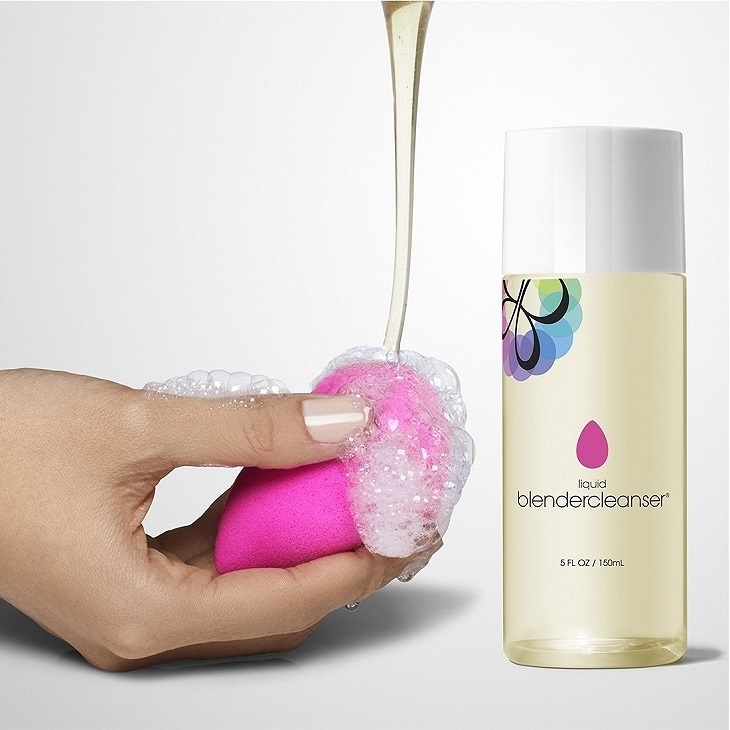 Using dedicated cleansers to clean the sponge
Regular Cleaning of Makeup Brushes Can Help Avoid Skin Issues
Makeup brushes are essential tools for applying makeup, alongside sponges. Keeping these brushes clean is crucial, as it ensures longer-lasting makeup and a smoother application. Follow these steps to effectively clean your makeup brushes:
To perform the procedure, follow the steps below:
Step 1: Place the brush under running water and rinse the bristles for about 30 – 60 seconds.

Step 2: Apply brush cleanser, facial cleanser, or baby shampoo onto your palm and gently work it into a lather. Massage the foam onto the brush head using circular motions. Alternatively, you can soak the brush in a diluted solution of cleanser and water for approximately 5 minutes.

Step 3: Rinse the Brush

Hold the brush head facing downward and rinse it thoroughly with running water until all soap is removed from the bristles. It's important to avoid touching the brush head with your hands to prevent transferring bacteria.

Step 4:

Take the brush head and place it on a clean, absorbent cloth that has good moisture-absorbing properties. Gently squeeze the cloth to remove excess water from the brush head. Then, use a soft cloth to absorb any remaining moisture.

Step 5: Allow the brush to air-dry on the cloth and then safely store it in a cool and dry location.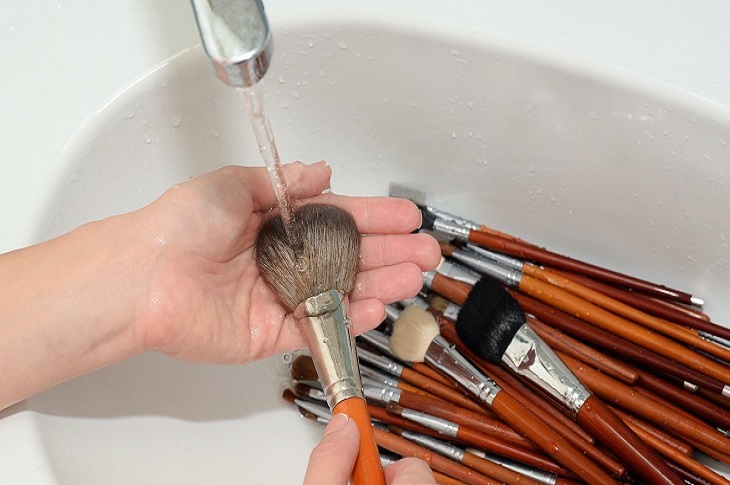 Proper technique for cleaning makeup brushes to prevent any damage
Tips for Cleaning Brushes and Sponges in Your Kitchen
Aside from using soap and dish soap, it is also possible to effectively clean brushes and sponges by using specialized cleansers or gentle facial cleansers.
Please refrain from using dandruff shampoo or hair dye retainer when cleaning your brushes and sponges. These products can lead to over-cleansing and the loss of the bristles' and sponge's initial softness.
Proper Care for Brushes and Sponges
To ensure the longevity and effectiveness of your brushes and sponges, it is important to follow proper care practices. After use, it is recommended to air dry them in a dry and ventilated area. However, if the weather is humid or rainy, you can accelerate the drying process by placing the sponge and brush in a soft, absorbent towel. This will aid in faster drying and prevent any potential moisture damage.
Do not use a hairdryer or straightener to dry the brushes and sponges as it may lead to damaging effects. The excessive heat generated from these appliances can cause the bristles and sponge to burn, become stiff, and ultimately shorten their lifespan. Please avoid this practice to ensure the longevity of your brushes and sponges.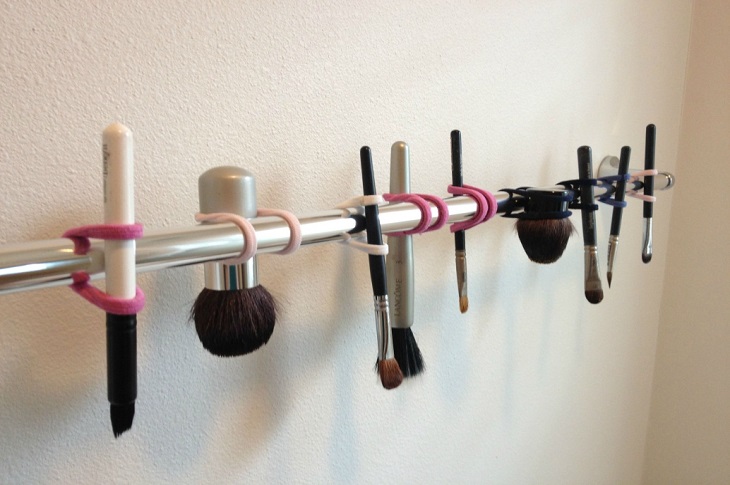 Place air dry brushes and sponges in a well-ventilated area to allow for proper drying
Thank you for reading this article. I trust that it has provided you with valuable insights on how to proficiently and efficiently clean your brushes and sponges at home. Should you have any additional inquiries, kindly feel free to leave a comment below. We would be more than happy to assist you further.