Christmas is not complete without a Christmas tree and cake, making them the essence of this festive season. There are numerous types of cakes that are specially created to capture the warm and joyful atmosphere of Christmas. Let's explore the 13 most delicious and visually appealing cakes for the Christmas season!

Reference: 13 traditional essentials for Christmas

1 Gingerbread Cookies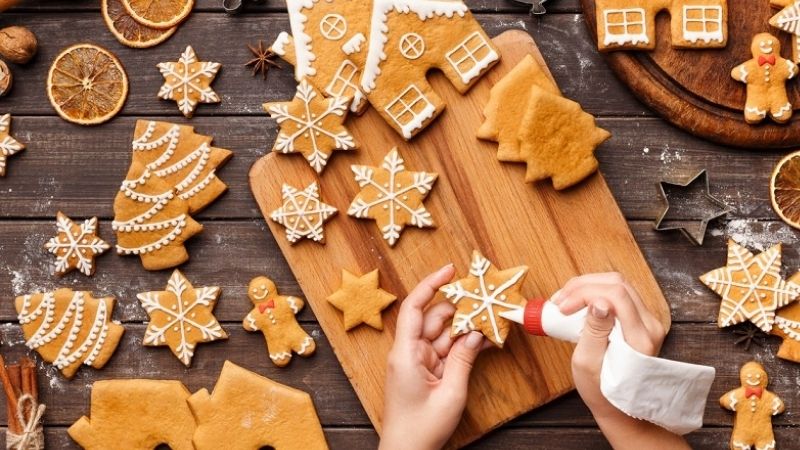 Gingerbread Cookies
Gingerbread cookies are a popular choice during the Christmas season. Originally, Europeans made hot gingerbread with a sun symbol to commemorate the winter solstice. Nowadays, gingerbread has been reinvented and is widely loved, often made with breadcrumbs, almonds, and dried fruits.
In the 16th century, the English replaced breadcrumbs with flour, butter, sugar, and eggs, and this recipe is still beloved today. You can find these cookies at major supermarkets such as Aeon, BigC, during the Christmas season.

Reference: How to celebrate Christmas with family

2 Christmas Cake

Christmas is a time for families to gather or friends to organize small parties, and Christmas cakes have become increasingly popular.
Christmas cakes are decorated and shaped with diverse images like Santa Claus, Christmas tree, reindeer, snowflakes, and feature colors such as red, green, white, brown, etc. They are loved by many as gifts to exchange during the holiday season.

Reference: 8 simple and beautiful ways to celebrate Christmas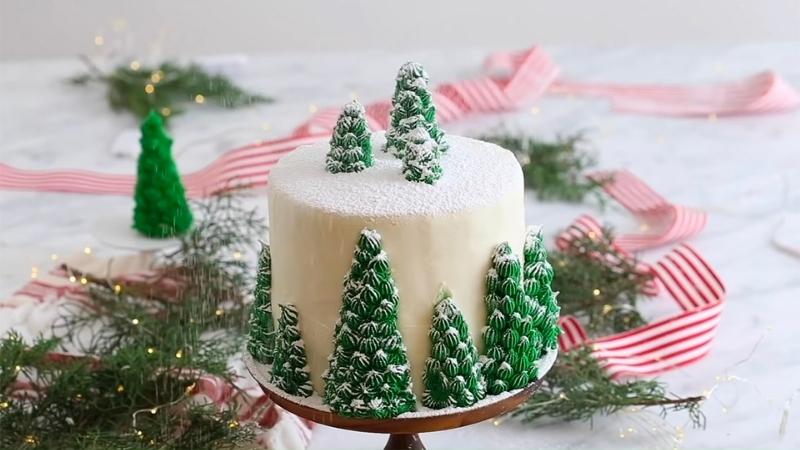 Christmas Cake

Reference: 2 delicious and simple scents for Christmas

3 Gingerbread Cookies for Santa Claus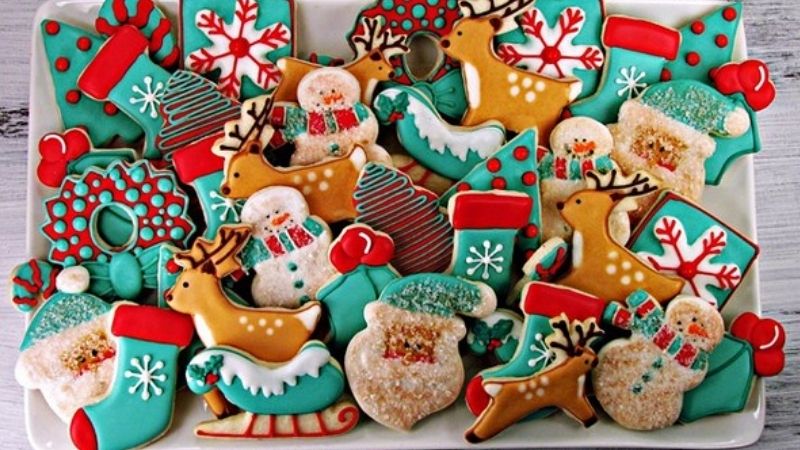 Gingerbread Cookies for Santa Claus
According to tradition, on Christmas Eve, children leave gingerbread cookies and milk on the table as a token of appreciation for Santa Claus, who has traveled a long way to bring them presents.

Reference: How to make delicious cookies for the whole family to enjoy

4 Cupcake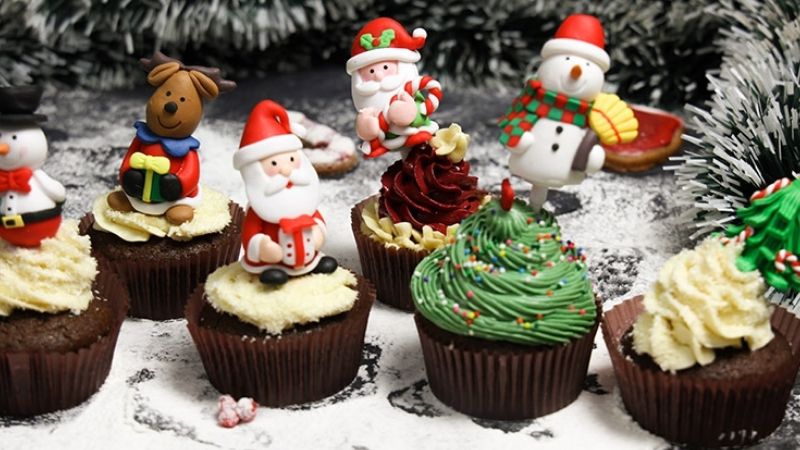 Cupcake
Cupcakes are fluffy cakes with a creamy taste that is often topped with frosting, creating a sweet and appealing flavor. It would be a wonderful choice to end your Christmas day celebration with a lavish party and cupcakes as dessert with your family.
These cakes can be decorated with cute Christmas shapes like trees, Santa Claus, and reindeer. You can choose various flavors to satisfy everyone's taste when enjoying the cupcakes.

Reference: How to make delicious and attractive cupcakes at home

5 Pudding Cake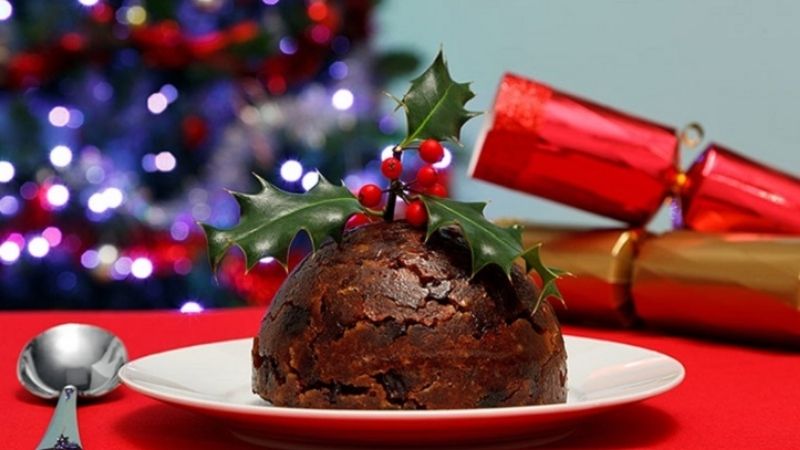 Pudding Cake
Pudding cake, also known as Christmas pudding or plum pudding, originates from England and is traditionally enjoyed during Christmas in England, Ireland, and some regions of the United States.
The ingredients of traditional pudding cake included wine, herbs, onions, plums, beef, breadcrumbs, dried fruits, and spices. Over time, herbs and meat were replaced. Nowadays, people still add a few beans or coins to the cake as a tradition, believing that whoever eats them will have good luck for the whole year.
Pudding cake brings luck and happiness to the family when enjoyed during Christmas.

Reference: How to make smooth and rich soft-boiled pudding eggs at home

6 Yule Log Cake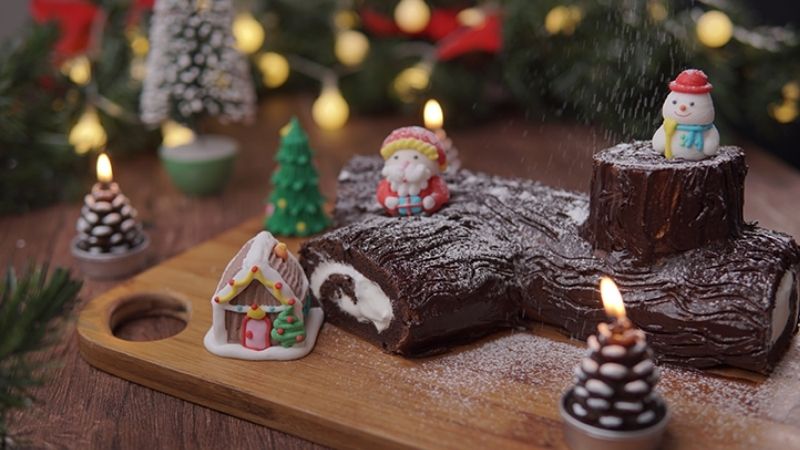 Yule Log Cake
Yule Log Cake, also known as Bûche de Noël in France, is a traditional Christmas cake in Europe. It was first created in the 19th century by a baker who came up with the idea of making a sweet log-shaped cake instead of a real wooden log for Christmas.
It is believed that eating Yule Log cake brings good luck and protects from bad luck. The cake symbolizes peace and happiness for the homeowner. Yule Log cake is shaped like a log and typically consists of a layer of sponge cake covered with sweet chocolate. The cake is beautifully decorated with cute little Christmas trees and snowmen.
7 Pate Cake

Pate cake, although relatively unfamiliar to Vietnamese people, has been popular since the 17th century. The filling of pate cake is not made from goose liver or pork liver like the pate you usually know, but it is made from deer, elk hearts, brains, among other ingredients.

Pate Cake
8 Meat Pies

Meat pies are cakes filled with minced meat, fruits, sugar, spices, and other seasonings to taste. The filling is enclosed in a baked pastry shell, resulting in a yellowish, fragrant pie.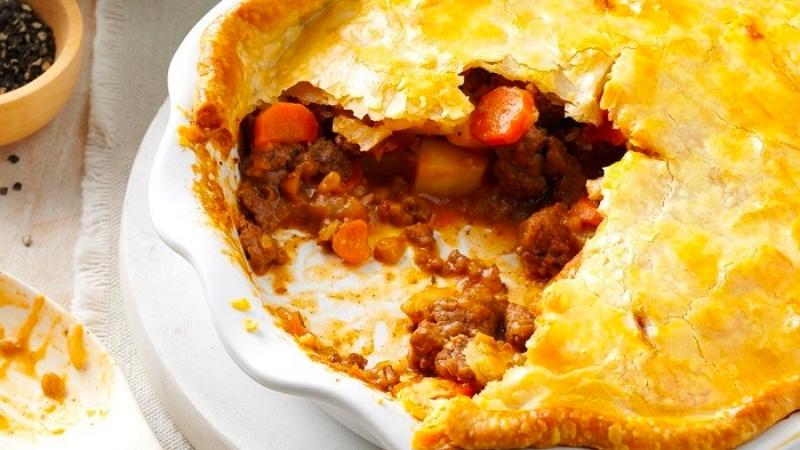 Meat Pies
9 Whisky Dundee Cake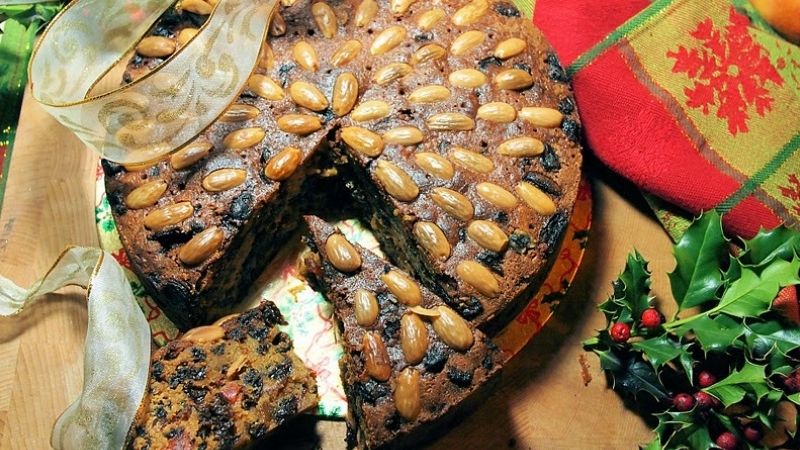 Whisky Dundee Cake
Scots celebrate Christmas with the traditional Whisky Dundee cake. Whisky is a favorite drink of Scots during Christmas, and this cake is named after the combination of Dundee, a town in Scotland, and the famous whisky of the country.
The main ingredients of the cake include whisky, dried cherries, and almonds. The cake has a soft, fluffy texture and a lightly sweet taste, making it suitable for those who do not prefer overly sweet desserts.
10 Melomakarona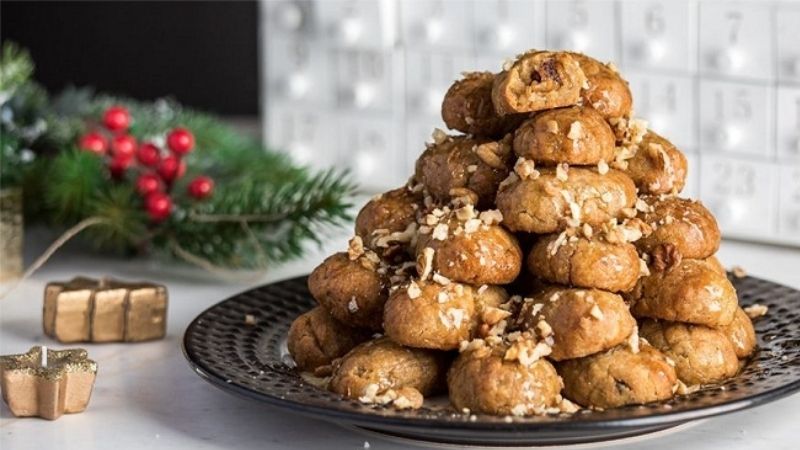 Melomakarona
Melomakarona could be considered the "oldest" type of cake among the Christmas cakes in the world. It has an eye-catching appearance and an irresistible delicious taste that can easily win over any candy lover. This cake is the most popular choice for feasts in Greece during Christmas.
The cake is made from honey and various seeds, along with rich ingredients from the Mediterranean such as fresh coconut, orange, cinnamon, cloves, and strong flavors.
11 Lebkuchen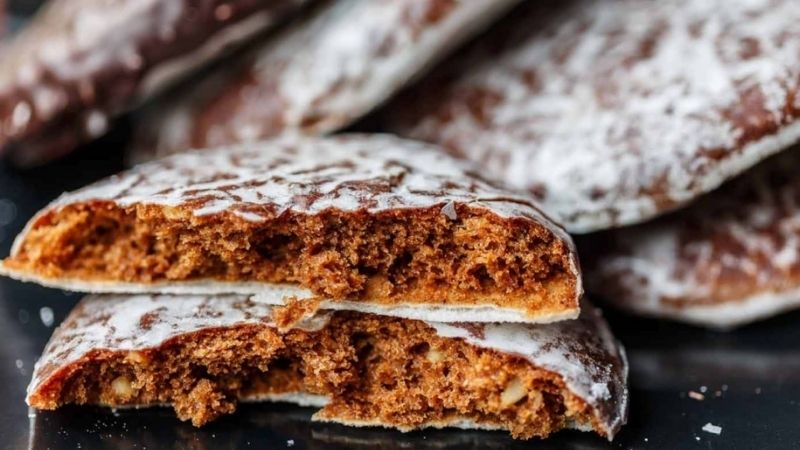 Lebkuchen
Lebkuchen, meaning "life," is a traditional German Christmas cake that is similar to gingerbread in Anglo-American countries. Lebkuchen has a diverse taste range from spicy to sweet and comes in many different shapes, although the round shape remains the most popular. It has been enjoyed since the 14th century, and the traditional cake-making process is still preserved while allowing for new variations.
The ingredients of traditional Lebkuchen include honey, flour, sugar, eggs, spices such as cardamom, cinnamon, ginger, nutmeg, almonds, candied fruit, or sugar trees. The sweet richness of honey combined with the gentle spiciness of ginger creates a warm sensation amidst the winter cold.
12 Tres Leches Cake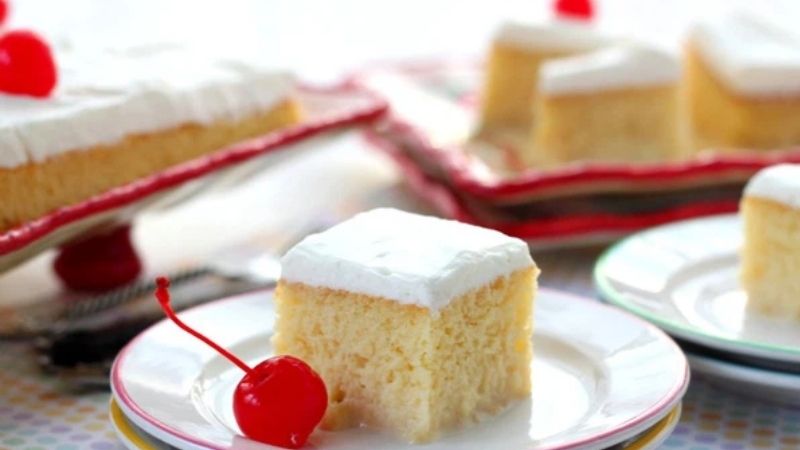 Tres Leches Cake
Tres Leches is a traditional Mexican cake that is famous not only in its home country but also throughout Latin America. It is a three-layer sponge cake soaked in a mixture of three types of milk: evaporated milk, condensed milk, and heavy cream.
Tres Leches cake has a soft and light texture that melts in your mouth. Sometimes, the baker adds one or two glasses of rum to enhance the cake's flavor. Due to its high milk content, Tres Leches cake should not be left outside overnight and should be stored in the refrigerator for a maximum of 4 days.
13Panettone Cake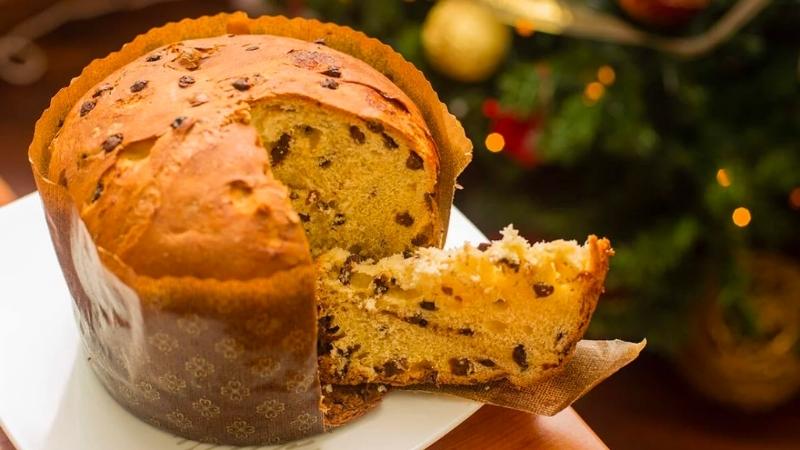 Panettone Cake
Panettone cake originates from Italy and is typically associated with Christmas. The first Panettone cake was created in 1490 in Milan, Southern Italy, and quickly gained popularity as a Christmas cake.
Italians usually enjoy Panettone cake with a hot cup of chocolate while chatting with loved ones, as the cake brings warmth and happiness, strengthening family relationships.
Through this article, we hope you have a better understanding of these 13 cakes and have a peaceful and joyful Christmas! Don't forget to explore more gift ideas to surprise your loved ones!